As Trayvon's killer poses at gun show, what hope of law reform?
Vigilante's latest stunt comes as Idaho passes law allowing students to carry weapons on campus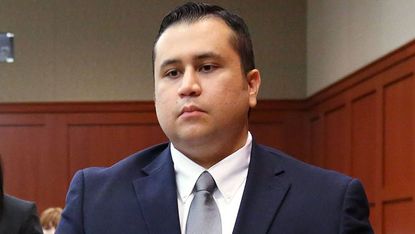 (Image credit: Joe Burbank-Pool/Getty Images)
Sign up to our 10 Things You Need to Know Today newsletter
A free daily digest of the biggest news stories of the day - and the best features from our website
Thank you for signing up to TheWeek. You will receive a verification email shortly.
There was a problem. Please refresh the page and try again.
WHAT is the civilised world beyond America to make of George Zimmerman's latest shameless stunt?
The Florida vigilante who notoriously shot and killed unarmed black teenager Trayvon Martin, and got away with it on the basis of "stand your ground" laws, was the "celebrity" guest at an Orlando gun show at the weekend, spending the day autographing photographs of himself for his "fans".
The only cheering news is that not very many people actually turned up. According to the New York Daily News, which labelled him the "guest of dishonor", only about 20 people asked him for his autograph or posed for a photograph with him during the six hours he spent at the show.
Subscribe to The Week
Escape your echo chamber. Get the facts behind the news, plus analysis from multiple perspectives.
SUBSCRIBE & SAVE
Sign up for The Week's Free Newsletters
From our morning news briefing to a weekly Good News Newsletter, get the best of The Week delivered directly to your inbox.
From our morning news briefing to a weekly Good News Newsletter, get the best of The Week delivered directly to your inbox.
That may have been partly because there was a local controversy when the New Orlando Gun Show advertised the opportunity to "meet and greet" the poster boy for the "stand your ground" laws beloved of the National Rifle Association.
Zimmerman had to be moved to a desk in an office at the back of the Arms Room gun shop, hosts of the show, out of sight of the customers perusing the latest military automatic rifles with which they could dream of shooting critters and safeguarding their homes, John Wayne style.
There, the Daily News reported, he autographed a photograph of himself playing with his Rottweiler dog for gun show visitors Melissa and Matt.
"He seemed nervous and actually a little scared to be there. He also appeared emotional, like he was really thankful and touched that people would come out to see him," said Melissa. "It was pretty weird to meet him in person - and wow, he has gained a lot of weight!"
It is not so surprising that Zimmerman seemed "scared". He continues to portray himself as the victim, just as he did on the night when he followed and then shot Martin, who was returning to his father's homes after walking to the convenience store for candies.
His plight as the victim of those who protest both at the law and his successful use of it, he argued at the gun show, reinforces the need for guns.
"I walk around armed; I walk around with a bullet proof vest; it's not so much for my safety as it is so much for those around me," he told Fox News. "I can be around my family and something might happen to them. There's children around me... Those threats… I have to be able to defend myself like any American."
That all this took place in Orlando, home of Disney World and a host of other family-orientated tourist businesses, might seem grotesquely ironic, but Americans are not much noted for a sense of irony.
Perhaps the oddity is really that anyone bothered to protest at Zimmerman's appearance at the show. The gun lobby and the defenders of American "gun rights" have won so many of the battles over gun control which follow each successive outrage that it begins to look like they have won the war.
Yesterday, a hundred miles or so south of Orlando in the Florida state capital of Tallahassee, the Reverend Al Sharpton, for 30 years New York's most colourful agitor on issues of race, led the latest rally demanding the reform of the "stand your ground" laws.
His march of maybe 200 included the father of Trayvon Martin and the family of Marissa Alexander, a black woman whose attempt to use the "stand your ground" defence was dismissed as she was sentenced to 20 years in jail for shooting and wounding, not killing, her ex-husband as he threatened her with violence.
"The law in effect says, based on your imagination – if you imagine I am a threat – you have the right to kill me," Sharpton told the march.
The laws are indeed deemed racist by almost everyone on the left of the political spectrum. They specify that you may shoot or use other lethal force against anyone who you "deem" to be a threat, with "no duty to retreat", and whatever the original intent, this has proved in practice to be legal defence for white people shooting black people, particularly young black men in hoodies.
But the chances of reform are more or less zero. As the Associated Press reported from Florida, "The Republican-dominated legislature has shown no interest in making any substantial changes to the stand your ground law enacted in 2005."
In fact, the tide is running the other way. Forty-six American states have some version of "castle doctrine" laws allowing for the use of lethal force in your own home under almost any circumstances, and 22 now have versions of the "stand your ground" law.
Last month, Michael Dunn, a white man who killed an unarmed black teenager, Jordan Davis, in an argument over loud rap music coming from his car in a petrol station, successfully used "stand your ground" in his defence, although he was sentenced to 20 years in jail for "attempted murder" of the other kids in the car.
Last week in Pensacola, Florida, a judge refused 24-year-old Keenan Finkelstein, 24, the right to invoke "stand your ground" after he shot a deputy sheriff in the leg as they confronted each other while the deputy was hunting for a robbery suspect, gun in hand. That, the law seems to have decided, was finally pushing "stand your ground" a bit too far.
But the fight over "stand your ground" has deflected attention from a host of other state laws which have just as much potential to keep the bullets flying in America.
The last attempt at cooling the gun culture came from President Obama after the massacre of 26 children and teachers at the Sandy Hook Elementary School in Newtown, Connecticut, in December 2012 by deranged 20-year-old Adam Lanza.
As usual, the proposals were modest: restrictions on the size of ammunition clips for military-style semi-automatic rifles, and closing loopholes in the background checks of buyers. As usual, even these proposals were shot down in Congress.
Instead, the Republican right and the gun lobby made skillful use of Obama's supposed plans to "strip Americans of their gun rights" to push their own laws through state capitols in the Republican red states.
The latest was signed by Congress in Idaho last week. It will allow students, teachers and visitors to carry "concealed" weapons onto the state university campus in back backs, purses or shoulder holsters.
Everyone will feel much safer – until the shooting starts.
Continue reading for free
We hope you're enjoying The Week's refreshingly open-minded journalism.
Subscribed to The Week? Register your account with the same email as your subscription.
Sign up to our 10 Things You Need to Know Today newsletter
A free daily digest of the biggest news stories of the day - and the best features from our website
Charles Laurence is a US correspondent for The Week.co.uk. He is a former New York bureau chief for The Daily Telegraph. He divides his time between Manhattan and Woodstock, upstate New York.