Fox-pox: Ebola crisis 'shows Obama's hatred for America'
President's refusal to stop all flights from Africa gets conspiracy theorists and TV pundits in a lather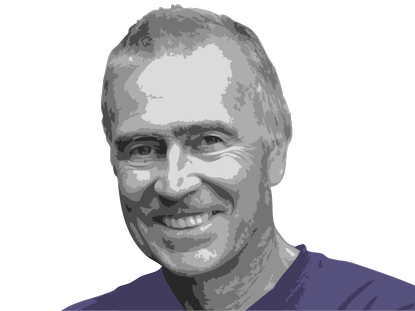 Sign up to our 10 Things You Need to Know Today newsletter
A free daily digest of the biggest news stories of the day - and the best features from our website
Thank you for signing up to TheWeek. You will receive a verification email shortly.
There was a problem. Please refresh the page and try again.
Is the Ebola outbreak the result of a conspiracy between the Big Pharma drug companies and the US government's Centers for Disease Control?
Or is it perhaps the work of the Pentagon, conspiring to wipe out Africans?
Either way, is President Obama refusing to close American airports to traffic from West Africa because he secretly hates America and wants Americans to die because they "owe" Africa for slavery and colonialism?
Subscribe to The Week
Escape your echo chamber. Get the facts behind the news, plus analysis from multiple perspectives.
SUBSCRIBE & SAVE
Sign up for The Week's Free Newsletters
From our morning news briefing to a weekly Good News Newsletter, get the best of The Week delivered directly to your inbox.
From our morning news briefing to a weekly Good News Newsletter, get the best of The Week delivered directly to your inbox.
While most of the world has been focusing on how to control the spread of the disease and how to safely treat those who fall victim to it, we might be forgiven for thinking America has been more interested in scare stories, brewing up conspiracy theories and throwing Ebola into the increasingly nasty maw of partisan politics.
Fox News, Rupert Murdoch's money-spinning outfit, leads the way as usual, alongside the right-wing loud-mouths of US talk radio. From the start they have indulged America's ever-present preoccupation with race by presenting Ebola as a black scourge threatening white countries beyond Africa. They have even invoked the threat of "Ebola-infected terrorists" storming into America through the Mexican border.
That is why they, along with right-wing politicians cranking up for the midterm elections next month, have seized on Obama's decision to institute health monitoring at airports but not to ban all flights between the US and Africa: it is 'house style' to talk of 'Africa' rather than Liberia or Sierra Leone.
Why will Obama not seize the reins of leadership and seal America's borders against the deadly African invasion? He wants instead to keep the air traffic flowing so America can help Africa!
Dr Keith Ablow, a psychiatrist who is a regular on Fox News, rushed to the studios to dispense expertise, explaining that Obama believes he is a "citizen and leader of the world" who has no love for any one country, "perhaps least of all this country because he has it in for us as disappointing people. People who've been a scourge on the face of the Earth."
For extra clarity, Ablow added: "It's psychologically difficult to defend and protect a country you have it in for."
This made perfect sense to Fox host Laura Ingraham. "If a few Americans have to die to make Africans' lives better, that's what has to happen," she said. "We owe a great debt to other countries, including Africa, and if that means Americans have to die, we just have to die."
Donald Trump, the property developer who flirts with presidential politics as a means of self-promotion, joined the fray. A germo-phobe who prefers not to shake hands, he demanded that even Americans infected abroad – five, so far, including medical staff and a TV cameraman – should be banned from returning home for treatment.
"I am starting to think that there is something seriously wrong with President Obama's mental health," he tweeted last week. "Why won't he stop the flights? Psycho."
A Texas Tea Party leader, Louis Gohmert, called Obama's refusal to ban the flights the "Democrat war on women nurses" on the grounds that two female nurses in Dallas had caught Ebola while treating Liberian visitor Thomas Eric Duncan, the only fatality in America so far. So Obama is conspiring to kill female nurses by importing black men from Africa?
That claim could be seen as the flipside of the first of the major conspiracy theories on the origins of the outbreak: that Ebola is a biological weapon unleashed by the Pentagon.
The New York Times suggested yesterday that this conspiracy theory began last month with a report in the Liberian newspaper the Daily Observer, which claimed that the Pentagon had invented the virus to decimate the populations of developing countries and so reduce the burden of defence against them while preserving global resources for white folks.
This is an echo of old conspiracy theories surrounding HIV/Aids. Websites have already elaborated, linking the conspiracy to the New World Order, a shadowy 'elite' of international bankers and so on who are plotting to take over the world and strip Americans of their guns.
As with the Aids theories, it is gaining traction among black people, whether African or American, who appear likely to be the disproportionate victims of Ebola.
"Just days ago," wrote the Times, "the hip-hop artist Chris Brown took to Twitter, announcing to his 13 million followers: 'I don't know ... but I think this Ebola epidemic is a form of population control.'"
The Times found that the roots of such theories lie in feelings of victimhood and powerlessness, and they work best when there is an element of "thruthyness".
This makes the theory that the Ebola virus is a plot hatched between the government's Centers for Disease Control and the major drug companies a potential runner. Just as the Military Industrial Complex goes to war for profit, the Medical Industrial Complex first spreads the disease, and then makes a fortune from curing it.
"The notion might sound like the plot to a cheesy summer thriller, but in fact it touches on a genuine aspect of our health care system," Prof Mark Fenster, author of Conspiracy Theories: Secrecy and Power in American Culture, told the New York Times.
"The truth is that we do rely on private corporations to develop and produce our pharmaceuticals. While we may not like that fact, it's not so hard or paranoid to imagine private companies acting in their own best interests."
Fenster believes conspiracy theories "allow us to vent and give voice to hidden fears". That thought offers little comfort to Allen Mann of Payson, Arizona.
He is a missionary just returned from Liberia, where he came into contact with Ebola. He went into voluntary quarantine in his house with his wife and children.
There is no sign of infection, but rumours have spread via local gossip and media that the whole family is carrying the virus, and Mann was horrified to find on a local website a "comment" from a neighbour suggesting their house should be burned down.
"People had this lynch-mob mentality," he said.
President Obama would surely understand.
Continue reading for free
We hope you're enjoying The Week's refreshingly open-minded journalism.
Subscribed to The Week? Register your account with the same email as your subscription.
Sign up to our 10 Things You Need to Know Today newsletter
A free daily digest of the biggest news stories of the day - and the best features from our website
Charles Laurence is a US correspondent for The Week.co.uk. He is a former New York bureau chief for The Daily Telegraph. He divides his time between Manhattan and Woodstock, upstate New York.