Khalid Masood: Police unlock Westminster attacker's final text
WhatsApp message reveals fatal assault was revenge for the west's action in the Middle East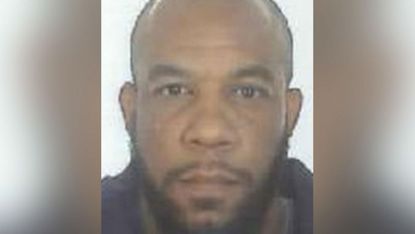 Sign up to our 10 Things You Need to Know Today newsletter
A free daily digest of the biggest news stories of the day - and the best features from our website
Thank you for signing up to TheWeek. You will receive a verification email shortly.
There was a problem. Please refresh the page and try again.
Westminster attack: Man arrested in Birmingham
27 March
Police hold 30-year-old following raid on city address close to where attacker Khalid Masood reportedly lived
A man has been arrested in Birmingham in connection with last week's terrorist attack in Westminster.
Subscribe to The Week
Escape your echo chamber. Get the facts behind the news, plus analysis from multiple perspectives.
SUBSCRIBE & SAVE
Sign up for The Week's Free Newsletters
From our morning news briefing to a weekly Good News Newsletter, get the best of The Week delivered directly to your inbox.
From our morning news briefing to a weekly Good News Newsletter, get the best of The Week delivered directly to your inbox.
Police detained the 30-year-old on suspicion of preparing of terrorist acts following a search of an address close to where attacker Khalid Masood is reported to have lived.
A total of 12 people have been arrested since Masood ploughed a vehicle into pedestrians on Westminster Bridge and stabbed a policeman to death outside the Houses of Parliament last Wednesday.
Police confirmed that another man detained in Birmingham remains in custody, while a woman from Manchester has been released on bail. Nine others have been released without charge.
Scotland Yard deputy assistant commissioner Neil Basu said they "still believe that Masood acted alone on the day".
He said: "Even if he acted alone in the preparation, we need to establish with absolute clarity why he did these unspeakable acts to bring reassurance to Londoners and to provide answers and closure for the families of those killed and the victims and survivors of this atrocity."
There was no intelligence to suggest further attacks are planned, he added.
Masood first came to the attention of MI5 six years ago, after he was exposed to the teachings of notorious hate preacher Anjem Choudary, reports the Sunday Times.
It says he had been "living in Luton, Bedfordshire, in 2010 when he picked up extremist literature from a stall run by Al-Muhajiroun, Choudary's banned extremist group".
Speaking in parliament last week, Theresa May told MPs Masood had come under MI5 radar as a "peripheral figure" in a terrorism investigation, but was considered not to pose a threat.
The exact details of how he came to be under surveillance and for how long are still being disputed, The Guardian reports, adding: "[There's] growing pressure for an official explanation as to how closely he had been monitored and why that surveillance had been halted."
Last week's attack has also prompted debate on whether intelligence agencies should be given access to encrypted messaging services after it emerged that Masood used Whatsapp minutes before carrying out the attack
Westminster attack: How Adrian Elms became Khalid Masood
24 March
Detectives investigating Wednesday's terror attack in Westminster have begun to unravel the many lives of its perpetrator, named yesterday as Khalid Masood.
The 52-year-old father of three, who drove a vehicle into pedestrians on Westminster Bridge before stabbing a policeman to death, "was once a Kent schoolboy" who may have converted to radical Islam in prison, writes the Daily Mirror.
Masood was born Adrian Russell Elms in Dartford, Kent, on Christmas Day 1964 and grew up in Rye, East Sussex.
He later changed his surname to that of his stepfather's, Ajao, the first of several aliases he used as he moved from place to place, including stints in Luton and London as well as Saudi Arabia.
Most recently, Masood is thought to have been living with his wife and at least one child in the West Midlands, where neighbours described him as calm, reserved and religious.
The Hyundai vehicle used in the attack has been traced to a rental facility in Birmingham and at least seven people from the city have been arrested in connection with Wednesday's attack. Two further arrests have been made in London and north-west England.
Masood's CV said he taught English in Saudi Arabia in 2005 and worked as a "senior English teacher" at a college in Luton after he returned to the UK in 2009, reports The Guardian, although the claims have not been verified.
He also had a string of criminal convictions for offences including grievous bodily harm and criminal damage, dating back to November 1983. He was last convicted in December 2003, for possession of a knife.
None of his convictions were terror-related, although it is thought he may have converted to Islam in prison and become radicalised either there or after his release.
The night before the attack, Masood stayed at a hotel in Brighton, telling staff as he checked out that he was off to visit the capital. "London isn't like what it used to be," he added, reports The Sun.
The death toll from Wednesday's attack rose to four victims last night, when 75-year-old Leslie Rhodes was taken off life support. He had been crossing Westminster Bridge when Masood's car struck him.
The retired window cleaner, who lived in south London, was described as "a lovely man" by one neighbour.
PC Keith Palmer, teacher Aysha Frade and American tourist Kurt Cochran also died in the attack.
Westminster attacker named as Khalid Masood
23 March
Police have named the man believed to be responsible for the Westminster attack as 52-year-old Khalid Masood originally from Kent.
In a statement, Scotland Yard said Masood, who died during the attack, was known to police and had previous convictions for assaults, including GBH, possession of offensive weapons and public order offences.
He has not been convicted for any terrorism offences, they added, and there had been no prior intelligence about his intention to carry out an attack.
Masood's first conviction was for criminal damage in November 1983. He was last convicted in December 2003, for possession of a knife.
Police believe he had been living in the West Midlands and said he was known by a number of aliases.
Islamic State earlier today claimed responsibility for the attack, calling the then unnamed attacker a "soldier of the Islamic State" who "carried out the operation in response to calls to target citizens of the coalition".
Eight people have been arrested in London and Birmingham following raids overnight.
BBC Newsnight reported the number plate of the attacker's car was linked to a car hire company in Birmingham.
At least three people were killed and many more were injured when a vehicle was driven into pedestrians walking along Westminster Bridge before the driver stabbed police officer Keith Palmer, 48, inside the grounds of the Houses of Parliament.
Speaking in parliament this morning, the Prime Minister called Palmer a "hero" whose "actions will never be forgotten".
Tributes have also been paid to Spanish teacher Aysha Frade, 43, who was walking to pick her two children up from school when she was killed on Westminster Bridge.
Rachel Borland, principal of DLD College London, where Frade worked, said she was "highly regarded and loved by our students and by her colleagues".
A third victim was American citizen Kurt Cochran, from Utah, who was visiting London with his wife to celebrate their 25th wedding anniversary. His wife Melissa is being treated for injuries in hospital.
Clint Payne, Melissa's brother and Kurt's brother-in-law, said the family was "heartbroken".
Seven people, including a police officer, remain in a critical condition and another 29 people have been treated in hospital.
Many of those injured were foreign nationals, with the Prime Minister saying their numbers included three French children, two Romanians, four South Koreans, one German, one Pole, one Irish, one Chinese, one Italian, one American and two Greeks.
Acting deputy commissioner Mark Rowley of the Metropolitan Police said they believed the attacker acted alone and was "inspired by international terrorism".
There were no threats to the public at present, he added.
Westminster attack 'sick and depraved', says Theresa May
23 March
Police are seeking to establish what led a man to mow down pedestrians on Westminster Bridge in London before launching an assault on the Houses of Parliament yesterday afternoon.
Four people died when the lone attacker drove on to the pavement of the bridge before stabbing a police officer. He was shot dead by armed police as he ran towards the Palace of Westminster.
Prime Minister Theresa May condemned the attack as "sick and depraved" and praised the actions of security forces.
"We will all move forward together, never giving in to terror and never allowing the voices of hate and evil to drive us apart," she said speaking outside No 10 last night.
Parliamentary business will resume this morning.
How the attack unfolded
Police say the attack began shortly after 2.30pm, when a dark grey Hyundai SUV mounted the pavement on Westminster Bridge, killing two people and injuring dozens more.
The attacker then crashed his vehicle into railings outside parliament and attempted to enter the complex, armed with two knives. He fatally wounded PC Keith Palmer, 48, before he was shot dead.
Police believe the attacker "was inspired by Islamist-related international terrorism", The Guardian reports. Officers "think they know his identity and are investigating possible associates".
The BBC says the SUV was linked to Enterprise Car Hire in Birmingham, while The Times reports "armed police raided an address" in the city overnight "and were said by witnesses to have made arrests".
Global tributes
Paris extinguished the lights on the Eiffel Tower in tribute to the victims last night, as world leaders voiced solidarity with the UK.
Tributes have also poured in for PC Palmer, a 15-year veteran of the force and a father of two.
Acting deputy commissioner Mark Rowley, head of counter-terrorism at the Metropolitan Police, said: "He was someone who left for work today expecting to return home at the end of his shift and he had every right to expect that would happen."
London Mayor Sadiq Khan said the officer "personifies the brave men and women of our police and emergency services who work around the clock to keep us safe.
"Tonight all Londoners are grateful to them."
More armed and unarmed officers will be on duty in London and across the country today as a "precautionary measure" in the wake of the attack, the BBC reports.
Westminster 'terror' attack leaves four dead
22 March
Four people have died, including a police officer and the suspected attacker, and several others are "catastrophically injured" after a violent assault outside the Houses of Parliament in London this afternoon.
One woman died after a car was driven at high speed down Westminster Bridge, knocking down several pedestrians before being driven into the railings of the Palace of Westminster.
The attacker was shot after allegedly stabbing a police officer. He was taken away by paramedics and later pronounced dead.
The police officer died from his injuries, said MP Tobias Ellwood, a former Army officer who was seen giving mouth-to-mouth resuscitation to the officer in an attempt to save his life.
A doctor at St Thomas' Hospital also confirmed the death of a woman who had been struck on Westminster Bridge and said a number of other people had suffered "catastrophic" injuries. One other death has been confirmed.
Some reports suggest police are still looking for a second assailant inside the Houses of Parliament after witnesses said they saw two people in the vehicle on Westminster Bridge. But The Guardian says officers are "working on the assumption there was only one attacker".
Witnesses to the attack reported seeing a middle-aged man charging through the gates of parliament wielding a knife.
Footage shared on social media showed injured people in the middle of the road being helped by fellow pedestrians.
French prime minister Bernard Cazeneuve announced that French schoolchildren were among the pedestrians hit when the vehicle reportedly veered onto the pavement at high speed.
The Metropolitan Police said it was treating it as a terrorist incident.
The Port of London Authority confirmed that a woman seen in the River Thames after apparently falling in during the attack had been rescued alive but with serious injuries.
Radoslaw Sikorski, a senior fellow at Harvard's Centre for European Studies, witnessed the incident from a taxi on Westminster Bridge.
"I heard what I thought was just a collision and then I looked through the window of the taxi and I saw someone down and then I saw a second person down and then I started filming and I saw three more people down," he said.
Daily Mail political correspondent Quentin Letts said he had seen a man dressed in black stabbing a uniformed police officer. Another officer went for help, which arrived "very, very quickly", Letts told the BBC.
He added: "As the attacker was running towards the entrance that was used by MPs, two plain-clothed officers shouted what sounded like a warning. He ignored it and they shot him two or three times."
Politico correspondent Charlie Cooper tweeted that he had seen a man outside parliament wielding a knife.
Tom Peck, political editor for The Independent, tweeted: "There was a loud bang. Screams. Commotion. Then the sound of gunshots. Armed police everywhere."
MPs and journalists were told to stay in their offices as the incident unfolded. The building was placed on lockdown and all parliamentary business suspended.
Transport for London said Westminster underground station has been shut at the police's request.
Continue reading for free
We hope you're enjoying The Week's refreshingly open-minded journalism.
Subscribed to The Week? Register your account with the same email as your subscription.
Sign up to our 10 Things You Need to Know Today newsletter
A free daily digest of the biggest news stories of the day - and the best features from our website