How safe is chlorine-washed chicken?
US ambassador to the UK says claims about dangers of imported American poultry are 'misleading'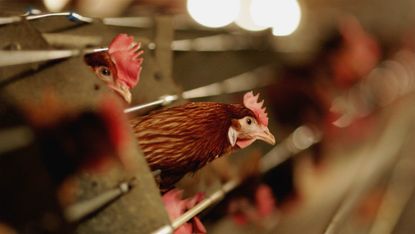 (Image credit: Getty Images)
Talks between Britain and the US over post-Brexit trade deals have sparked debate about the safety of chlorine-washed chicken.
The process of washing chicken in chlorine and other disinfectants was banned by the European Union in 1997 because of safety concerns, a move that has "stopped virtually all imports of US chicken meat which is generally treated by this process", the BBC reports.
So why is it in the news again?
Subscribe to The Week
Escape your echo chamber. Get the facts behind the news, plus analysis from multiple perspectives.
SUBSCRIBE & SAVE
Sign up for The Week's Free Newsletters
From our morning news briefing to a weekly Good News Newsletter, get the best of The Week delivered directly to your inbox.
From our morning news briefing to a weekly Good News Newsletter, get the best of The Week delivered directly to your inbox.
The UK and US are negotiating a trade deal that may see Britain open up to US farmers for meat, which is not bound by the same strict food safety rules as meat from the EU. But opponents of chlorine-washed chicken "say that British farming standards must not be sacrificed in any future US trade deal", says Food Ingredients First.
This week, the US ambassador to the UK, Woody Johnson, caused controversy by writing an article in The Daily Telegraph that claimed the chlorination process used on US chicken is similar to those used by European farmers to treat fruit and vegetables.
"Inflammatory and misleading terms like 'chlorinated chicken' and 'hormone beef' are deployed to cast American farming in the worst possible light," he wrote.
What is chlorine-washed chicken?
In the US, it is common practice for chicken meat to be treated with antimicrobial rinses to remove bacteria deemed to be harmful to humans. These rinses, known as pathogen reduction treatments (PRTs), contain chlorine dioxide solution, acidified sodium chlorite and trisodium phosphate.
A 2017 report by the Adam Smith Institute, which argues in favour of allowing chlorinated chicken in the UK, states that "immersing carcasses in a chlorine dioxide solution of the strength used in the US has been shown to reduce salmonella prevalence from 14% in controls to 2%".
Food Ingredients First notes that the US "has some voluntary codes but compared with the EU, the US poultry industry is unregulated which allows for flocks to be kept in greater densities". This can lead to a greater incidence of infection, so chlorine treatment is sometimes touted as a solution.
Why is it banned in the EU?
Producers in Europe are only allowed to use cold air and water to decontaminate poultry carcasses.
The EU banned the import of PRT-treated chicken in 1997, but not because of the explicit use of chlorine and other chemicals in the preparation process. In fact, a 2005 report from the European Food Safety Authority concluded that "exposure to chlorite residues arising from treated poultry carcasses would be of no safety concern", and noted that chlorine-rinsed bagged salads are common in the UK and other countries in the EU.
Instead, the EU cited concerns that the "use of antimicrobial treatments like chlorine washes compensates for poor hygiene behaviour elsewhere in the supply chain", The Grocer says, adding that "consumers are better protected by a system that doesn't allow processors the simple 'get-out' of treating their chicken with chemicals".
Tom Super, of the National Chicken Council, the trade association for American chicken farmers, told The Guardian last year that concerns over chlorine washing were "silly", adding that the dispute "has never been an issue of science, rather one of politics and protectionism".
However, the US Department of Agriculture's National Antimicrobial Resistance Monitoring System found a significant amount of the bacteria campylobacter in 30% of chlorine-washed chicken carcasses, 26% of chicken parts and 58% of "mechanically separated" chicken, which is used to make things like chicken nuggets. The BBC notes that these chicken products contained more than 400 units of bacteria per gram.
The Food Standards Agency in the UK found similar results with British chicken, indicating that chlorine-washed chicken does not contain more harmful bacteria than that produced in the EU.
A recent study by the University of Southampton found that while chlorine appears to remove bacteria, they can hide in and under "folds of skin" and lie "dormant" once treated with chlorine, only to re-emerge in new conditions – on a chopping board, for example, iNews reports.

Continue reading for free
We hope you're enjoying The Week's refreshingly open-minded journalism.
Subscribed to The Week? Register your account with the same email as your subscription.