Are badgers 'mean to people'? Donald Trump's strangest quotes
New book details the president's bizarre obsession with the short-legged omnivore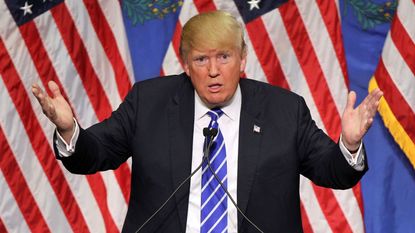 (Image credit: Isaac Brekken/Getty Images)
Donald Trump is obsessed with badgers and has asked an aide whether the creatures are "friendly" or "mean to people," according to a new book.
The US president is notorious for making peculiar outbursts on Twitter, during speeches and on television but this latest revelation has tickled even the most weary Trump watchers.
In the upcoming new book, Sinking in the Swamp: How Trump's Minions and Misfits Poisoned Washington, reporters Lachlan Markay and Asawin Suebsaeng say the president would quiz his former chief of staff Reince Priebus about badgers.
Subscribe to The Week
Escape your echo chamber. Get the facts behind the news, plus analysis from multiple perspectives.
SUBSCRIBE & SAVE
Sign up for The Week's Free Newsletters
From our morning news briefing to a weekly Good News Newsletter, get the best of The Week delivered directly to your inbox.
From our morning news briefing to a weekly Good News Newsletter, get the best of The Week delivered directly to your inbox.
"Are they mean to people?" Trump reportedly asked Priebus. "Or are they friendly creatures?"
He would also ask to see photos of badgers, asking Priebus to explain how the creatures "work", and whether they had a "personality" or were boring.
Priebus was also called upon to explain to the president "how the critters function and behave, what kind of food they like, and how aggressive or deadly they could be when presented with perceived existential threats".
Here are some of Trump's other strangest quotes in recent times:
"I had a meeting at the Pentagon with lots of generals... they were like from a movie, better looking than Tom Cruise and stronger. And I had more generals than I've ever seen."
A totally normal way for the US leader to describe a cabinet meeting, following his first of 2019.
"When during the campaign I would say, 'Mexico's' going to pay for it,' obviously I never said this and I never meant they're going to write out a cheque."
Trump clarifies his stance on his planned US-Mexico border wall during a news conference in January.
"I haven't actually left the White House in months."
Apart from having met with border patrol agents in Texas two days earlier during a televised trip, that is.
"Is there any place that's more fun to be than a Trump rally? Is there any place?"
A question addressed to a 11 February rally in the Texas city of El Paso - answers on a postcard, please.
"Yeah, Obama had a dog. You're right. Both parties should come together to finally create a safe and lawful system of immigration."
It was a really good rally.
"But, you know, I never did politics before. Now I do politics."
The president of the United States keeps supporters up to date on his career progress while declaring a national emergency at the US-Mexico border on 15 February.
"I think Pocahontas, she's finished, she's out. She's gone. No, when it was found that I had more Indian blood in me than she did."
Trump uses the name "Pocahontas" as a slur during an attack on Massachusetts Senator Elizabeth Warren at an April rally in Green Bay, Wisconsin. The National Congress of American Indians subsequently said that such slurs are deployed by "the forces of racism and intolerance" in order to "dehumanise our people, mock our cultures, and interfere with our inherent right to control our own lands and destinies", according to The Independent.
In the wake of which, no doubt many shared Trump's sentiment expressed at the same rally:
"Can you believe I'm a politician? I can't even."
Quite.
"In Michigan, they gave me an award six years, seven years ago, I had no idea. It was the Man of the Year in Michigan."
Another, later debunked, statement from the Green Bay meeting.
"In London you have stabbings all over. I read an article where everybody's being stabbed. They said your hospital is a sea of blood all over the floors."
This article has never been traced. But the 4 June interview was with Piers Morgan, who isn't really in a position to take a stand against making things up.
"The meeting with the Queen was incredible, I think I can say I really got to know her because I sat with her many times. And we had automatic chemistry. You understand that feeling."
Her Majesty has yet to say whether she shares the president's feelings, after he discussed their special bond during a 6 June interview in Normandy. He added:
"There are those that say they have never seen the Queen have a better time, a more animated time."
Maybe, though she seems to have the odd laugh in The Crown.
"Nobody's ever been treated badly like me... Although they do say Abraham Lincoln was treated really badly. I must say that's the one. If you can believe it, Abraham Lincoln was treated supposedly very badly."
Lincoln was shot in the head, which probably does qualify as being treated quite badly. Trump compared his plight with that of the 17th century US president during an interview with ABC News in June.
"I was a good builder. I built good. I loved building."
Trump describes how good he built during a 13 August rally in Pennsylvania.
"They just said, 'Sir, could you sign?' the Border Patrol said, 'Could you sign your name?' And I did. I autographed one of the bollards.
Get elected president, autograph a bollard, get impeached. All in a term's work for Trump, who made the comments to accompanying press during a flight on Air Force One in September.

Continue reading for free
We hope you're enjoying The Week's refreshingly open-minded journalism.
Subscribed to The Week? Register your account with the same email as your subscription.