Instant Opinion: Brexit is 'triggering a race to the bottom'
Your guide to the best columns and commentary on Monday 8 June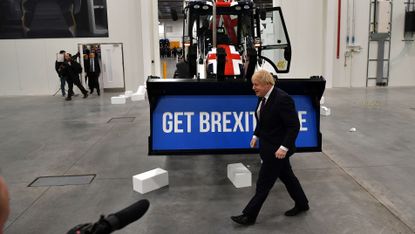 (Image credit: Ben Stansall/WPA Pool/Getty Images)
Sign up to our 10 Things You Need to Know Today newsletter
A free daily digest of the biggest news stories of the day - and the best features from our website
Thank you for signing up to TheWeek. You will receive a verification email shortly.
There was a problem. Please refresh the page and try again.
The Week's daily round-up highlights the five best opinion pieces from across the British and international media, with excerpts from each.
1. Clare Foges in The Times
on what chlorinated chicken says about Britain's reputation
Subscribe to The Week
Escape your echo chamber. Get the facts behind the news, plus analysis from multiple perspectives.
SUBSCRIBE & SAVE
Sign up for The Week's Free Newsletters
From our morning news briefing to a weekly Good News Newsletter, get the best of The Week delivered directly to your inbox.
From our morning news briefing to a weekly Good News Newsletter, get the best of The Week delivered directly to your inbox.
Brexit risks triggering a race to the bottom
"The decision about whether or not to permit chlorinated chicken has implications far beyond animal welfare. Capitulation from the government on this would immediately dispel the Brexit delusion that we would be in a strong bargaining position when striking new trade deals because, well... we're Britain. You remember the hubris: we would hold all the cards; we would have our cake and eat it. The rest of the world - witnessing the swagger of Global Britain, smelling our neo-imperial pheromones - would feel an inexplicable compulsion to subsume their own interests to ours. Any back-tracking on chlorinated chicken would demonstrate how ludicrous this was, and betray how weak our bargaining position is. This weakness is not the fault of the British negotiators; it is down to the facts of economic life. The US economy is ten times the size of our own. Exports make up about 12 per cent of its GDP; for us it is 30 per cent. To coin a phrase, we need them more than they need us."
2. Sean O'Grady in The Independent
on the toppling of a Bristol slave trader
Statues are a mark of honour. Like Edward Colston, Cecil Rhodes and Oliver Cromwell have to go
"Given everything, I'm quite surprised the statue of Edward Colston in Bristol survived for as long as it did. His reputation, after all, was trashed long before his memorial. He acquired his vast fortune, later used philanthropically, from the slave trade. He was thus responsible for the death of thousands of the African slaves - that is, his fellow human beings - that he so profitably shipped across the Atlantic. If a ship transport was too heavy or running out of food, women and children were thrown over the side. Now the iconoclasts of Bristol have tossed Colston into the drink. Of course, the moral compass of Colston's time is unrecognisable today, but contemporaries such as William Wilberforce recognised evil when they saw it: nobody forced Colston to make money from misery. There is no reason for Colston to cause ongoing misery in 2020. When people feel so wounded by a statue that they are moved to assault it, then there is little point in keeping it in situ, even though others feel it serves our collective memory. More who passed it, I suspect, had no idea who he was. They may have learned more about his legacy through the dispatching of his image than they did the entire time it stood."
3. Gawain Towler in The Daily Telegraph
on the policing of the London Black Lives Matter protests
If the authorities won't protect us from predictable disorder, who will?
"The job of the Met was primarily maintaining public order and protecting law-abiding citizens and property. Their priorities need a shake-up. Under the Commissioner Cressida Dick, and with Sadiq Khan, the Labour Mayor who initially called for people to join the protests, then later weakly hoped that they would abide by lockdown regulations; the Met has placed itself firmly in the protesters' camp, and against private citizens and public property. So who do Middle England look to if they cannot look to those they pay to protect them and their society?... I read that Tommy Robinson (or Yaxley Lennon if you prefer) and his fellow travelers are sending hundreds of people to London 'to protect' [London] monuments. And if they do, and violence kicks off, please don't think there will be no sympathy for them, there will. That sympathy will be entirely down to the weakness of those who were elected to lead and protect us from predictable disorder."
4. John Harris in The Guardian
on the communal effort needed for Britain's post-coronavirus recovery
Millions of Britons are suffering right now as the economy tanks. Can you help?
"Two kinds of places are experiencing the worst of Covid-19's social and economic effects: our inner cities, where people's suffering is made even worse by the structural and everyday prejudices that are now being so loudly contested; and the post-industrial areas now crudely associated with the Brexit vote and Tory success along the so-called red wall. In different ways, both still seem too far from too many people's thoughts. The fact that that distance has been formalised by the restrictions of lockdown – on reporting, as much as anything else – has clearly deepened that problem. To even begin to relieve such places' predicament will obviously demand unprecedented action from the government. What the state can do to help ought to be the defining political question of the coming years; the weekend's rumblings about rescuing the economy via a bonfire of regulation suggest that grave problems may be met with stock Tory answers that will offer no convincing remedies. But what I heard from Middlesbrough also pointed to something else: the fact that in an era of community activism and self-help, those things will now require the support and involvement of as many people as possible."
–––––––––––––––––––––––––––––––For a round-up of the most important stories from around the world - and a concise, refreshing and balanced take on the week's news agenda - try The Week magazine. Start your trial subscription today –––––––––––––––––––––––––––––––
5. Michelle Alexander in The New York Times
on a moment of opportunity in US history
America, This Is Your Chance
"Our democracy hangs in the balance. This is not an overstatement. As protests, riots, and police violence roiled the nation last week, the president vowed to send the military to quell persistent rebellions and looting, whether governors wanted a military occupation or not. John Allen, a retired four-star Marine general, wrote that we may be witnessing the 'beginning of the end of the American experiment' because of President Trump's catastrophic failures. Trump's leadership has been disastrous. But it would be a mistake to place the blame on him alone. In part, we find ourselves here for the same reasons a civil war tore our nation apart more than 200 years ago: Too many citizens prefer to cling to brutal and unjust systems than to give up political power, the perceived benefits of white supremacy and an exploitative economic system. If we do not learn the lessons of history and choose a radically different path forward, we may lose our last chance at creating a truly inclusive, egalitarian democracy."
Continue reading for free
We hope you're enjoying The Week's refreshingly open-minded journalism.
Subscribed to The Week? Register your account with the same email as your subscription.
Sign up to our 10 Things You Need to Know Today newsletter
A free daily digest of the biggest news stories of the day - and the best features from our website