'Operation Red Wall': how Keir Starmer could win back Labour's heartlands
Party leader targets lost voters with pitch to patriotism and competence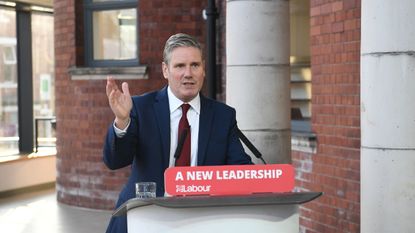 (Image credit: Stefan Rousseau/POOL/AFP via Getty Images)
Keir Starmer has used his first party conference address as leader to set out Labour's stall as a "competent, credible" opposition to the Conservatives - in a clear bid to win back lost "red wall" strongholds.
In a message targeted at Labour's former working-class supporters, Starmer said his party had deserved to lose last year's election, adding: "You don't look at the electorate and ask them, 'What were you thinking? You look at yourself and ask: 'What were we doing?'"
Team Starmer has made regaining the so-called red wall a key tenant in rebuilding the party's electoral credibility. So what might that involve - and what is the Labour boss doing already?
Subscribe to The Week
Escape your echo chamber. Get the facts behind the news, plus analysis from multiple perspectives.
SUBSCRIBE & SAVE
Sign up for The Week's Free Newsletters
From our morning news briefing to a weekly Good News Newsletter, get the best of The Week delivered directly to your inbox.
From our morning news briefing to a weekly Good News Newsletter, get the best of The Week delivered directly to your inbox.
Casting off Corbynism
"Significant sections" of today's speech at the virtual conference "sought to recast Starmer as a different leader to Corbyn", says The Guardian.
Starmer referenced his efforts to stamp out alleged anti-Semitism within his party - allegations that blighted Corbyn's leadership - while also making "repeated references to his patriotism", the newspaper adds.
The Independent agrees that his speech sought to "draw a clear line under the recent past", with Starmer telling voters: "We love this country as you do."
In a thinly veiled reference to Corbyn's unpopular stances on national security and spending, Starmer also said that "never again will Labour go into an election not being trusted on national security, with your job, with your community and with your money".
Underlining this message, he added: "I ask you: take another look at Labour. We're under new leadership."
The adult in the room
Starmer's leadership so far has been characterised by an air of professionalism - and it is paying dividends.
The New Statesman reports that polling shows "more Brits now view Labour as competent and capable" than under Corbyn, while "a notable trend for Labour since Starmer became leader has been a steady drop in the number of voters with an unfavourable opinion about the party".
"In the run-up to the 2019 election, nearly half of Brits viewed Labour negatively. That has now fallen to 39%," the magazine says.
Rattling Johnson's cage
If Starmer is going to win over Labour's ex-supporters, he will need to defeat the man who won their vote in December. And while Starmer's catchphrase has previously been "constructive opposition", he used his conference speech to deconstruct the prime minister's weaknesses.
Times Radio chief political commentator Tom Newton Dunn tweets that Starmer hit Boris Johnson with an "absolutely brutal personal attack… Not just going for him over competence, but studs in on his character too."
The Labour leader said that his opposite number was "not serious" and "just not up to the job", adding: "Whenever he encounters a problem, Johnson responds either by wishing it away or by lashing out."
Emphasising his own competence, Starmer continued: "While Boris Johnson was writing flippant columns about bendy bananas, I was defending victims and prosecuting terrorists. While he was being sacked by a newspaper for making up quotes, I was fighting for justice and the rule of law."
Rebuilding trust
Starmer's campaign to become Labour leader is only briefly mentioned in a recently released memoir about Corbyn, Left Out. But the book, written by The Times journalists Patrick Maguire and Gabriel Pogrund, does describe one of Starmer's first allies: Morgan McSweeney, director of the campaign group Labour Together.
"Nobody understood Labour's membership as well as [McSweeney]," they write, adding that the spin doctor would go on to use detailed polling to "school Starmer in what it meant to win a Labour membership that few understood".
Judging by his conference speech, delivered at an arts centre in Doncaster, Starmer now appears to have adapted that plan to win back former Labour supporters.
He asked "those people in Doncaster and Deeside, in Glasgow and Grimsby, in Stoke and in Stevenage... those who have turned away from the party" to "take another look at Labour", adding: "We hear you."
"We're not going to win back those we have lost with a single speech or clever policy offer. Trust takes time."
Abandoning Brexit
Britain's decision to quit the EU has posed problems for both Corbyn and Starmer. During the party's post-election post-mortem, Corbyn told MPs that while he was "very sorry for the result, for which I take responsibility", the devastating defeat was "ultimately about Brexit".
Starmer made only a "relatively brief" reference to Brexit in his conference speech, saying that the Leave or Remain debate was "over", reports The Guardian - an indication of his discomfort about the issue.
Agreeing a policy position on leaving the EU tore Labour apart prior to the election, while Johnson's "get Brexit done" slogan was credited with helping to secure victory for the Tories.
By contrast, Starmer has rarely spoken about Brexit since winning the Labour leadership.
And that, says Politico, is because while "he doesn't like Brexit", Starmer "will have to go along with it" if he is to win back Labour leavers.

Continue reading for free
We hope you're enjoying The Week's refreshingly open-minded journalism.
Subscribed to The Week? Register your account with the same email as your subscription.