10 things you need to know today: November 26, 2016
Cuba's Fidel Castro dies at 90, world reacts to Castro's death with joy and grief alike, and more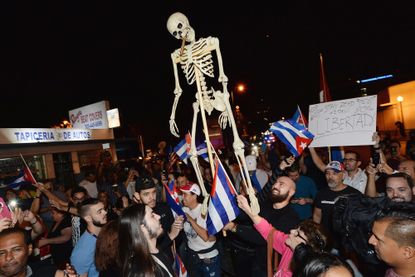 (Image credit: Gustavo Caballero/Getty Images)
1. Cuba's Fidel Castro dies at 90
Former Cuban President Fidel Castro has died at the age of 90, Cuban state TV announced early Saturday. Castro led Cuba as a one-party state for 49 years, helming the country's Communist movement in an effort to reduce rampant inequality. He leaves a complicated human rights legacy, including a practice of jailing political dissidents. In 2008, Castro transferred power to his brother Raul, now 85, who negotiated a thawing of diplomatic relations with the U.S. earlier this year. In April, Castro, who often criticized America, said of his brother's negotiations: "I don't trust the policy of the United States ... but this does not mean I reject a pacific solution to the conflicts."
2. World reacts to Castro's death with joy and grief alike
The death of former Cuban President Fidel Castro sparked widely divergent reactions Saturday as news spread of the aged communist's demise. Russian President Vladimir Putin called Castro an "inspiring example for many countries," while Mikhail Gorbachev, the last leader of the Soviet Union, praised Castro's resilience in the face of "the harshest American blockade." French President Francois Hollande took a more measured approach, recognizing Castro's significance while critiquing his human rights record and praising new dialogue between Cuba and the United States. In America — and particularly among the large Cuban expatriate community in Miami — Castro's death was hailed as a step toward Cuban freedom. "A tyrant is dead and a new beginning can dawn on the last remaining communist bastion of the Western Hemisphere," said Cuban-American Rep. Ileana Ros-Lehtinen (R-Fla.). By contrast, the Cuban capital of Havana is in a somber mood.
Subscribe to The Week
Escape your echo chamber. Get the facts behind the news, plus analysis from multiple perspectives.
SUBSCRIBE & SAVE
Sign up for The Week's Free Newsletters
From our morning news briefing to a weekly Good News Newsletter, get the best of The Week delivered directly to your inbox.
From our morning news briefing to a weekly Good News Newsletter, get the best of The Week delivered directly to your inbox.
3. Wisconsin presidential recount to move forward
The state election board of Wisconsin agreed Friday to a recount of presidential votes at the request of the Green Party's candidate, Jill Stein. The recount will be completed by Dec. 13 and will be paid for by Stein's campaign. Though the state has yet to declare an exact fee, it is expected to be about $1 million, and the Stein campaign has raised some $5 million to fund recount efforts in Wisconsin, Michigan, and Pennsylvania. If all three states flipped to Democrat Hillary Clinton — an unlikely prospect — she could defeat President-elect Donald Trump.
4. White House: The election results 'accurately reflect the will of the American people'
More than a month after formally accusing Russia of attempting to influence the United States' presidential selection process, the White House on Friday discouraged challenges to the legitimacy of the election. "The Kremlin probably expected that publicity surrounding the disclosures that followed the Russian government-directed compromises of emails from U.S. persons and institutions, including from U.S. political organizations, would raise questions about the integrity of the election process that could have undermined the legitimacy of the president-elect," said a statement from the administration. "Nevertheless, we stand behind our election results, which accurately reflect the will of the American people." Meanwhile, an excerpt from a forthcoming book on Hillary Clinton's loss to Donald Trump revealed Friday that Clinton conceded the election at President Obama's urging.
5. Pipeline protesters ordered to leave by Dec. 5
All members of the public, including the Standing Rock Sioux Tribe, will not be allowed on the land currently being used to protest the Dakota Access Pipeline after Dec. 5, the U.S. Army Corps of Engineers said Friday. "This decision is necessary" for safety reasons, the Corps said in a statement, and anyone found in the area after the deadline date will be subject to arrest for trespassing. "The best way to protect people during the winter, and reduce the risk of conflict between water protectors and militarized police, is to deny the easement for the Oahe crossing, and deny it now," countered Sioux Tribal Chairman Cave Archambault II. Protesters will be able to move to a nearby "free speech zone," which the Corps said is easier for emergency services to access.
6. Online Black Friday sales surge to record $3 billion
Online shopping sales on Black Friday surged to a record peak of $3 billion this year, with more than a third of that spending done via mobile devices. For some retailers like Walmart and Target, about two in three purchases were made on smartphones, and overall online shopping increased 20 percent over Black Friday 2015. In-store sales saw a slower morning followed by increased foot traffic Friday afternoon and evening, with many malls reporting crowds but few long lines.
7. Charleston shooting suspect Dylann Roof deemed competent to stand trial
A judge ruled Friday that Dylann Roof, the 22-year-old white man accused of killing nine people in a historic black church in Charleston, South Carolina, last year, is mentally fit to stand trial. "After carefully considering the record before the Court, the relevant legal standards, and the arguments of counsel, the Court now finds and concludes that the Defendant is competent to stand trial," wrote Judge Richard Gergel. Roof has been indicted on 33 counts for the attack, which he is believed to have planned in an effort to increase racial tensions in America.
8. Hundreds of thousands flood Seoul streets for 5th weekend of protests
For the 5th consecutive weekend, hundreds of thousands of South Koreans flooded the streets of Seoul Saturday demanding the resignation of their president, Park Geun-hye, over allegations that she gave undue influence and favors to a personal friend. Estimates of this weekend's crowd vary from 270,000 to 1.5 million people participating in the peaceful march. Park has apologized and spoken with prosecutors but so far refuses to resign, leading to talk of impeachment. "I was watching the news and thought this cannot go on," said protester Kwak Bo-youn.
9. Car bomb kills 11 in Somalia
A car bomb near a police station in the Somali capital, Mogadishu, killed 11 people and wounded 16 more on Saturday, local officials said. "The whole market is ruined and people perished. The death toll is sure to rise," said police Colonel Abdikadir Farah. Though no group has yet claimed responsibility for the attack, this sort of violence is typical of al Shabaab, an Islamic extremist group that seeks to overthrow the Somali government. President Hassan Sheikh Mohamud recently visited a university in the neighborhood where the bomb exploded.
10. Alaskan hotel killings believed to be a murder-suicide
Police in Fairbanks, Alaska, said Saturday they are investigating as a murder-suicide the deaths of four people discovered in a local hotel room Friday afternoon. The bodies, including a toddler, a young couple, and a middle-aged woman, were found by officers who were led to the room by an unidentified man found crying in the hotel hallway. "All we can say is that it's a family," said Fairbanks Police Officer Doug Welborn, declining to offer further details on the case or the relationships of the victims, who all had gunshot wounds.
Associated Press NY Daily News

Continue reading for free
We hope you're enjoying The Week's refreshingly open-minded journalism.
Subscribed to The Week? Register your account with the same email as your subscription.