10 things you need to know today: January 30, 2017
Trump defends his immigration order amid protests, attackers kill six people at a Canadian mosque, and more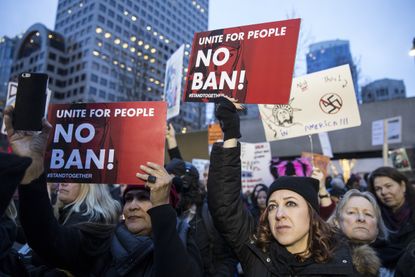 (Image credit: Stephen Brashear/Getty Images)
1. Trump defends travel ban as protests continue
Tens of thousands of people rallied at airports across the country on Sunday to protest President Trump's executive order temporarily halting a refugee program and restricting entry into the U.S. by people coming from seven predominantly Muslim nations. The demonstrations marked a second day of rallies that erupted spontaneously in New York, Washington, D.C., and other major cities. Hundreds of people arriving from Syria, Iraq, Iran, and four other countries where terrorists have been active have been stopped and sent back. In a statement released Sunday, President Trump said the executive order he signed on Friday "is not a Muslim ban" but a move to prevent terrorists from entering the country. Trump said he had "tremendous feeling" for the refugees fleeing Syria, but "my first priority will always be to protect and serve our country."
2. Six killed in attack at Canadian mosque
Gunmen killed six people and wounded eight others at a Quebec City mosque in what Canadian Prime Minister Justin Trudeau called a "terrorist attack on Muslims" and the religious tolerance "that we, as Canadians, hold dear." One suspect was arrested at the mosque, the Islamic Cultural Center of Quebec. Another suspect was arrested nearby in d'Orleans, Quebec. Police did not immediately identify the suspects, or what investigators thought had motivated the attack. Mass shootings are rare in Canada, which has welcomed refugees fleeing war and terrorism in Syria and other predominantly Muslim nations.
Subscribe to The Week
Escape your echo chamber. Get the facts behind the news, plus analysis from multiple perspectives.
SUBSCRIBE & SAVE
Sign up for The Week's Free Newsletters
From our morning news briefing to a weekly Good News Newsletter, get the best of The Week delivered directly to your inbox.
From our morning news briefing to a weekly Good News Newsletter, get the best of The Week delivered directly to your inbox.
The Associated Press The New York Times
3. Steve Bannon gets a National Security Council seat
President Trump shook up the National Security Council by giving his top political strategist, Steve Bannon, a permanent spot on its interagency principals committee, while curbing the role of the director of national intelligence and the chairman of the Joint Chiefs of Staff. White House Press Secretary Sean Spicer defended the controversial move, saying it was part of an effort to "streamline the process for the president to make decisions on key, important intelligence matters." Senate Armed Services Committee Chairman John McCain (R-Ariz.) said giving Bannon, a former chief of Breitbart News, such a spot was a "radical departure," and former President Barack Obama's national security adviser, Susan Rice, called Trump's changes "stone cold crazy."
4. Saudi king reportedly backs Trump push for refugee safe zones
President Trump spoke by phone with King Salman of Saudi Arabia and Abu Dhabi Crown Prince Sheikh Mohammad bin Zayed Al Nuhayan, requesting their support in establishing safe zones for refugees in Syria and Yemen displaced by civil war. White House readouts of the calls did not indicate any discussion of Trump's Friday executive order halting entry into the U.S. by people from seven Muslim-majority countries, including Iraq, Syria, and Yemen. The White House says the ban covers countries known to harbor terrorists, but critics note that it doesn't cover Saudi Arabia, even though 15 of the 19 Sept. 11, 2001, hijackers came from the Arab kingdom.
5. Left-leaning candidate Benoit Hamon wins France's Socialist presidential nomination
Benoit Hamon, the most left-leaning of seven primary candidates, on Sunday won the Socialist nomination for France's upcoming presidential election, beating centrist former prime minister Manuel Valls 58 percent to 41 percent. The upset came after polls before the primary's first round last week indicated that the pro-free-market Valls would wind up in a run-off with one of the other candidates. "Tonight the left holds its head up high again; it is looking to the future," Hamon said. His win was the latest sign that the left is looking for a clean break with the policies of President Francois Hollande, although left-leaning candidates are considered unlikely to make it past the first round of the general election in April.
6. U.K. petition against Trump visit gets more than 1 million signatures
A once dormant petition by a British lawyer to prevent President Trump's planned state visit to the U.K. took off over the weekend in response to the U.S. leader's travel ban on people from seven predominantly Muslim nations. Before Trump issued his executive order on Friday, the petition had received about 10,000 signatures. By Monday, the number had rocketed to more than 1 million. Any petition receiving 100,000 signatures on the government website qualifies to be debated in Parliament, although that does not guarantee that lawmakers will change the plans for the visit, announced Friday by Prime Minister Theresa May.
7. Teachers and parents rally against education secretary nominee DeVos
Thousands of teachers, parents, and children rallied near the U.S. Capitol on Sunday to protest President Trump's nominee for education secretary, Betsy DeVos. Banging drums and noisemakers, the demonstrators called for the Senate to reject DeVos as unqualified and a threat to public education, chanting "Toss DeVos!" and "A, B, C, D, E, F, G, Betsy DeVos is not for me." The Senate education committee is scheduled to vote Tuesday on whether to recommend DeVos' confirmation. She has been a big-money advocate of taxpayer-funded voucher programs and charter schools, but has no work experience in public education.
8. ACLU shatters fundraising record
Over the weekend, the American Civil Liberties Union received 356,306 online donations totaling more than $24 million, six times as much as the ACLU typically receives in a year online. The record surge in contributions came in response to President Trump's executive order suspending the U.S. refugee program and barring travelers from seven predominantly Muslim countries. "People are fired up and want to be engaged," ACLU executive director Anthony Romero said. The ACLU spearheaded opposition to Trump's order, filing a lawsuit on behalf of two Iraqi men detained at New York's John F. Kennedy International Airport. A judge issued a stay on Trump's order allowing people with valid visas who were already in transit to enter the country.
9. Uber faces backlash for not backing taxi strike over Trump refugee ban
Uber is facing a boycott movement started by Twitter users over its decision to continue operating while taxi drivers went on strike at New York's John F. Kennedy International Airport to protest President Trump's refugee ban. On Sunday morning, Uber rival Lyft capitalized on the controversy by pledging a $1 million donation to the American Civil Liberties Union, which won a stay on the policy to provide relief to refugees and others with valid visas who were already in transit from any of the seven Muslim-majority nations covered by Trump's policy.
10. SAG Award speeches target Trump immigration policies
The acceptance speeches at Sunday's Screen Actors Guild Awards turned sharply political, with one actor after another lashing out against President Trump's policies on immigration. Julia Louis-Dreyfus, who won the latest in a series of awards for her role in Veep, said that as an "American patriot" and daughter of an immigrant who fled religious persecution in Nazi-occupied France, she loves this country and is "horrified by its blemishes." "And this immigrant ban is a blemish and it is un-American." The barrage of political speeches nearly overshadowed what turned out to be an evening of upsets, with Hidden Figures beating out Moonlight for Best Film Ensemble, and Denzel Washington of Fences winning Best Actor over Casey Affleck in Manchester by the Sea.

Continue reading for free
We hope you're enjoying The Week's refreshingly open-minded journalism.
Subscribed to The Week? Register your account with the same email as your subscription.