10 things you need to know today: April 5, 2017
Trump blames Syrian government for deadly chemical attack, Susan Rice denies playing politics with surveillance, and more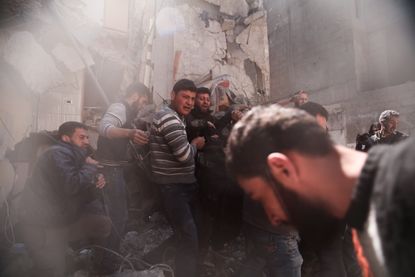 (Image credit: MSALLAM ABDALBASET/AFP/Getty Images)
Sign up to our 10 Things You Need to Know Today newsletter
A free daily digest of the biggest news stories of the day - and the best features from our website
Thank you for signing up to TheWeek. You will receive a verification email shortly.
There was a problem. Please refresh the page and try again.
1. Trump blames Syrian government for reported chemical weapons attack
President Trump on Tuesday blamed the Syrian government for what appeared to be one of the deadliest chemical weapon attacks in Syria's civil war. Trump called the attack, which killed an estimated 72 people, "reprehensible," but he reserved some of his harshest criticism for his predecessor, Barack Obama. "These heinous actions by the Bashar al-Assad regime are a consequence of the past administration's weakness and irresolution," Trump said. The U.S. said the toxin used may have been sarin, a deadly, banned nerve agent. On Wednesday, Russia's defense ministry claimed the chemicals came from a Syrian airstrike targeting rebel workshops producing chemical weapons. The United Nations Security Council called a Wednesday emergency summit on the attack, which came days after America's U.N. ambassador, Nikki Haley, said Washington's "priority is no longer to sit there and focus on getting Assad out."
2. Rice refutes accusations of politically motivated bid to 'unmask' Trump allies
Susan Rice, who served as former President Barack Obama's national security adviser, denied Tuesday that she ever improperly asked intelligence agencies to "unmask" associates of President Trump whose communications were caught in normal surveillance of foreign officials. "The allegation is that somehow the Obama administration officials utilized intelligence for political purposes," Rice told NBC's Andrea Mitchell. "That's absolutely false." Rice said sometimes it is necessary to request the identities of people not targeted in electronic eavesdropping, but that she "leaked nothing to nobody." Conservative news outlets have suggested the story might back up Trump's unsubstantiated claim that Obama had him "wiretapped."
Subscribe to The Week
Escape your echo chamber. Get the facts behind the news, plus analysis from multiple perspectives.
SUBSCRIBE & SAVE
Sign up for The Week's Free Newsletters
From our morning news briefing to a weekly Good News Newsletter, get the best of The Week delivered directly to your inbox.
From our morning news briefing to a weekly Good News Newsletter, get the best of The Week delivered directly to your inbox.
3. Senate starts debate on Gorsuch confirmation with filibuster clash looming
The Senate formally started its debate on the confirmation of Judge Neil Gorsuch, whom President Trump has nominated to fill the Supreme Court seat left vacant more than a year ago by the death of leading conservative Justice Antonin Scalia. Democrats, angry that Republicans kept the spot open by refusing to even consider anybody nominated by former President Barack Obama, have enough votes to filibuster the nomination, but Senate Majority Leader Mitch McConnell has vowed to hold a vote and confirm Gorsuch, even if it means resorting to the so-called nuclear option — changing Senate rules so that he can end debate on Gorsuch with a simple majority, instead of the 60 votes needed to beat a filibuster.
4. Russia seeks possible accomplices of subway suicide bomber
Russian police on Wednesday hunted for possible accomplices of the suicide bomber who attacked a subway train in St. Petersburg on Monday, killing 14 commuters and students in the worst terrorist attack in Russia's second largest city since the Soviet Union collapsed. The alleged bomber, Akbarzhon Dzhalilov, was a 22-year-old native of the Central Asian country of Kyrgyzstan, whose social media posts showed interest in radical Islam and boxing. People who knew Dzhalilov described him as friendly. He had lived in St. Petersburg for several years doing work as a car mechanic and an employee in a sushi bar.
5. North Korea launches another missile
North Korea fired a ballistic missile into the Sea of Japan from the east coast city of Sinpo, the South Korean military said early Wednesday. U.S. Pacific Command said it detected and tracked "what we assess was a North Korean missile launch," and kept watch on the medium-range ballistic missile until it came down about 9 minutes later, after traveling about 40 miles. Sinpo is the site of a submarine base. The launch was the latest in a series of missile and nuclear weapons tests that have drawn harsh condemnation from the U.S. and other world powers. Pyongyang has said it is developing technology that could threaten the U.S. President Trump is expected to press Chinese President Xi Jinping to increase pressure on North Korea when they meet in Florida on Thursday and Friday. Secretary of State Rex Tillerson said the U.S. "has spoken enough about North Korea. We have no further comment."
6. Court rules civil rights law protects gay workers from discrimination
A federal appeals court in Chicago ruled Tuesday that the 1964 Civil Rights Act protects gay people from job discrimination, a potentially huge victory for gay rights advocates. Another appellate court, in Georgia, ruled last month that the law did not protect gay workers, and the opposing rulings increased the likelihood that the Supreme Court would have to resolve the issue. Tuesday's 8-3 ruling by the full 7th U.S. Circuit Court of Appeals in Chicago came in the case of Indiana teacher Kimberly Hively, who sued a community college she said did not hire her full time because she is a lesbian. "This decision is game changer for lesbian and gay employees facing discrimination in the workplace and sends a clear message to employers," said Greg Nevins, of Lambda Legal, which advocates for LGBT issues. "It is against the law to discriminate on the basis of sexual orientation."
The New York Times The Associated Press
7. Quinnipiac poll: Most Americans embarrassed by Trump
A majority of American voters, 52 percent, are embarrassed that President Trump is the nation's leader, according to a Quinnipiac University poll released Tuesday. Eighty-five percent of Democrats said they were embarrassed by Trump. Only 27 percent of voters said they were proud to have Trump as president. The poll also found Trump losing ground with key segments of his supporter base, including men and white voters: Fifty-one percent of men disapproved of Trump, while 39 percent approved, and 48 percent of white voters disapproved with just 43 percent approving. Overall, Trump's net approval rating is -22 percent, with 35 percent of voters approving of his job as president and 57 percent disapproving.
8. Advertiser exodus from Bill O'Reilly's show gets bigger
More advertisers left Bill O'Reilly's Fox News show on Tuesday, following the lead of automakers Mercedes Benz and Hyundai. More than 20 major advertisers, including BMW, insurer Allstate, and financial firm T.Rowe Price, have joined the exodus, which began after The New York Times reported over the weekend that O'Reilly and his employer had paid five women $13 million to settle allegations of sexual harassment or other offensive behavior. O'Reilly has long dominated cable ratings and made a fortune as Fox News' top money maker, earning the company $178 million in ad dollars in 2015, and $118.6 million in the first nine months of 2016, according to research firm Kantar Media.
9. ISIS calls Trump an 'idiot' in first official statement on him since inauguration
The Islamic State ended its silence on President Trump on Tuesday with a statement from the terrorist group's spokesman calling Trump an "idiot who does not know what Syria or Iraq or Islam is." In the first comment in official ISIS media on Trump since his January inauguration, the spokesman said in an audio recording, "America, you have drowned and there is no savior." The spokesman also derided Trump for his statements against Muslims. Trump's domestic critics have said his statements and policies, including his now-blocked order temporarily banning visas for people from some predominantly Muslim countries, could be used by ISIS in recruitment and propaganda.
10. NCAA lifts North Carolina ban after state repeals 'bathroom law'
The NCAA said Tuesday that it was "reluctantly" ending its boycott on holding championship events in North Carolina over the "bathroom bill" Republican lawmakers pushed through last year, but repealed last week. The six-month boycott started after state lawmakers voted to require transgender people to use public restrooms corresponding to the gender on their birth certificate, rather than the one with which they identify. The NCAA said the repeal, which also bars local government from enacting their own anti-discrimination protections for LGBT people until 2020, "minimally achieved a situation where we believe NCAA championships may be conducted in a nondiscriminatory environment."