10 things you need to know today: April 7, 2017
Trump orders firing of 59 cruise missiles in Syria, Republicans invoke 'nuclear option' after Democrats filibuster Gorsuch, and more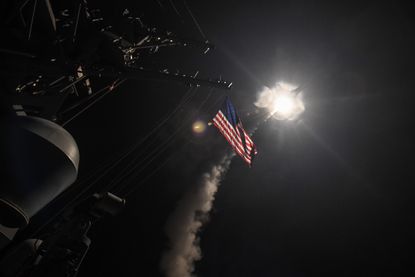 (Image credit: Ford Williams/U.S. Navy via Getty Images)
Sign up to our 10 Things You Need to Know Today newsletter
A free daily digest of the biggest news stories of the day - and the best features from our website
Thank you for signing up to TheWeek. You will receive a verification email shortly.
There was a problem. Please refresh the page and try again.
1. Trump orders launch of 59 cruise missiles at Syrian air base
The U.S. fired 59 Tomahawk cruise missiles at a Syrian military airfield in response to a Tuesday chemical weapons attack in rebel-held territory in northwestern Syria. President Trump said the base was the one that launched the chemical attack, which killed more than 80 civilians, including children. Trump said Thursday night that the barrage of missiles — the first direct U.S. strike against the Syrian government in its six-year civil war — was necessary to protect America's "vital national security interest." Trump urged "all civilized nations to join us in seeking to end the slaughter and bloodshed in Syria." Administration officials had said in the days before that attack that the U.S. shouldn't focus on bringing down Syrian President Bashar al-Assad, but Secretary of State Rex Tillerson said the chemical attack changed that logic. "Assad's role in the future is uncertain, clearly," Tillerson said. "With the action he's taken, it would seem there would be no role for him to govern the Syrian people."
The Washington Post The Associated Press
2. Senate GOP leadership invokes 'nuclear option' to beat Democrats' Gorsuch filibuster
Senate Republicans used the "nuclear option" to advance the nomination of Judge Neil Gorsuch. The GOP leadership got around an unprecedented Democratic filibuster by scrapping a longstanding rule requiring 60 votes to close debate on a Supreme Court nomination and move on to a confirmation vote. That cleared the way for Republicans to hold a vote to change the rules, which passed in a party-line 52-48 vote, then to close debate in a 55-45 vote. Senate Majority Leader Mitch McConnell blamed the historic change, which ended one of the last restraints on partisanship in Supreme Court matters, on Democrats, while Democrats said Republicans created the clash by refusing to even hold hearings on Merrick Garland, whom former President Barack Obama nominated for the same position last year. Gorsuch's confirmation vote was scheduled for Friday.
Subscribe to The Week
Escape your echo chamber. Get the facts behind the news, plus analysis from multiple perspectives.
SUBSCRIBE & SAVE
Sign up for The Week's Free Newsletters
From our morning news briefing to a weekly Good News Newsletter, get the best of The Week delivered directly to your inbox.
From our morning news briefing to a weekly Good News Newsletter, get the best of The Week delivered directly to your inbox.
3. Trump and Chinese President Xi Jinping discuss trade, North Korea
President Trump met with Chinese President Xi Jinping on Thursday at Mar-a-Lago, Trump's private club in Palm Beach, Florida, for their first summit. Meetings between the two leaders and key aides were expected to focus largely on trade and reining in North Korea. The leaders of the world's two biggest economies dined together Thursday night and will end the 24-hour visit with a working lunch on Friday. Trump told reporters he would bring up his complaint that the U.S. has been "treated unfairly" and "made terrible trade deals with China for many, many years." He also has criticized China for not doing enough to get its ally North Korea to curb its nuclear weapons program. "Ensuring President Xi does not lose face is a top priority for China," one Chinese official said.
4. House Intelligence Committee Chairman Devin Nunes bows out of Russia inquiry
House Intelligence Committee Chairman Devin Nunes announced Thursday that he was recusing himself from the panel's investigation into Russia's meddling in last year's presidential election, and possible collaboration between Moscow and associates of President Trump. Democrats had raised questions about the ability of Nunes, a Trump supporter and member of Trump's transition team, to be impartial after Nunes rushed to the White House to tell Trump about intelligence reports indicating that Trump associates had been caught up in normal surveillance of foreign officials by U.S. intelligence services. The House Ethics Committee confirmed Thursday that it is looking into whether Nunes "made unauthorized disclosures of classified information."
5. Russia and Iran condemn Syria strike while U.S. allies express support
Russia and Iran on Friday condemned the U.S. for firing 59 Tomahawk cruise missiles at the Syrian military base where the U.S. said forces loyal to Syrian President Bashar al-Assad launched a Tuesday chemical weapons attack that killed dozens of civilians. Russia and Iran are Assad's most powerful allies. A spokesman for Russian President Vladimir Putin said Washington's "aggression against a sovereign nation" had caused "significant damage to Russian-American relations, which were already in a deplorable state." Russia said Trump used a "made-up pretext" to justify the strike. Moscow has blamed rebels for the chemical-weapons deaths, saying the toxins were released into the air when Syria bombed a rebel weapons depot and that any international response should wait until an investigation determines what happened. Several key U.S. allies, including Britain, Australia, Saudi Arabia, and Israel, supported the U.S. action.
6. Lawmakers split over Trump's Syria missile strike
Many leading lawmakers from both parties expressed support for President Trump's decision to fire missiles at the Syrian air base believed to have launched a Tuesday chemical weapons attack that killed roughly 80 civilians. Rep. Nancy Pelosi, the House's Democratic leader, said the strike "appears to be a proportional response to the regime's use of chemical weapons." Republican Sens. John McCain and Lindsey Graham, leading Senate hawks, praised Trump for taking decisive action at a "pivotal moment." The Trump administration said the strike was a one-off, but some lawmakers from both parties said Trump already had violated the Constitution. "While we all condemn the atrocities in Syria, the United States was not attacked," Sen. Rand Paul (R-Ky.) said on Twitter. "The president needs Congressional authorization for military action as required by the Constitution. Our prior interventions in this region have done nothing to make us safer and Syria will be no different."
7. Twitter fights to protect identity of person behind anti-Trump account
Twitter on Thursday sued the U.S. government to keep it from identifying the person behind an anonymous anti-Trump account. Twitter said in a court filing that it had received a summons to disclose the user of the account, @ALT_USCIS, one of several accounts attributed to dissident current or former federal employees. As they did in fights for information with Facebook, Google, Apple, and other companies, federal officials say they need access to the data for national security reasons. "To unmask an anonymous speaker online, the government must have a strong justification," said Nathan Freed Wessler, an ACLU attorney involved in the case. "But in this case the government has given no reason at all, leading to concerns that it is simply trying to stifle dissent."
8. Judge stays execution of inmate scheduled to die in Arkansas execution flurry
A federal judge on Thursday delayed the execution of one of eight inmates scheduled to be put to death in Arkansas over an 11-day stretch this month. U.S. District Judge D.P. Marshall Jr. said the execution of Jason McGehee, who was sentenced to death for a 1996 murder, would have to be delayed because the state parole board had said it would recommend changing McGehee's sentence to life in prison without parole, and any decision on his fate now has to wait for the end of a 30-day comment period on the recommendation. Arkansas Gov. Asa Hutchinson (R) scheduled the unprecedented flurry of executions earlier this year so they could be carried out before the state's supply of a hard-to-get lethal injection drug expires at the end of the month. The inmates have filed court challenges, calling the rush cruel and unusual punishment. The judge's decision delays McGehee's case until after the lethal injection drugs expire.
9. Fifth victim dies from injuries suffered in last month's London attack
A 31-year-old Romanian architect who was thrown into the River Thames when a terrorist plowed a vehicle into pedestrians on a bridge near the U.K. Parliament building has died, bringing the death toll from last month's attack to five, police said Friday. The Romanian woman, Andreea Cristea, had been on life support in a London hospital, but it was discontinued on Thursday. Her story provoked worldwide interest and expressions of support. Cristea was in London with her boyfriend, Andrei Burnaz, to celebrate his birthday, and he had planned to ask her to marry him on the day of the attack.
10. Comedian Don Rickles dies at 90
Legendary insult comic Don Rickles, famous for mouthing off to generations of fellow celebrities, died Thursday of kidney failure. He was 90. Rickles spared no one — not fans, not presidents, not Hollywood royalty. He once told Frank Sinatra, "Hey, Frank, make yourself at home. Hit somebody." Carl Reiner once said he knew he had made it in show business when Rickles insulted him. Rickles was idolized by generations of comedians. "A giant loss," tweeted Billy Crystal. Along with a long career in stand-up comedy, Rickles appeared in numerous films, including Run Silent, Run Deep, The Rat Race, Kelly's Heroes, and Martin Scorsese's Casino. He also voiced Mr. Potato Head in the Toy Story films.
Continue reading for free
We hope you're enjoying The Week's refreshingly open-minded journalism.
Subscribed to The Week? Register your account with the same email as your subscription.
Sign up to our 10 Things You Need to Know Today newsletter
A free daily digest of the biggest news stories of the day - and the best features from our website
Harold Maass is a contributing editor at TheWeek.com. He has been writing for The Week since the 2001 launch of the U.S. print edition. Harold has worked for a variety of news outlets, including The Miami Herald, Fox News, and ABC News. For several years, he wrote a daily round-up of financial news for The Week and Yahoo Finance. He lives in North Carolina with his wife and two sons.