10 things you need to know today: July 6, 2017
Trump stops in Poland ahead of G-20 summit in Germany, Nikki Haley scolds Russia and China over North Korea, and more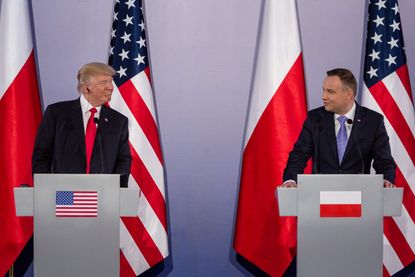 (Image credit: WOJTEK RADWANSKI/AFP/Getty Images)
Sign up to our 10 Things You Need to Know Today newsletter
A free daily digest of the biggest news stories of the day - and the best features from our website
Thank you for signing up to TheWeek. You will receive a verification email shortly.
There was a problem. Please refresh the page and try again.
1. Trump starts Europe trip with visit to friendly Poland before G-20 summit
President Trump started his second trip abroad as president with a stop in Poland, where he met with Polish President Andrzej Duda. In a joint news conference, Trump warned North Korea he was considering "some pretty severe things" in response to its testing of a missile that could reach Alaska with a nuclear warhead. He also repeated a call for NATO allies to spend more on defense. Trump was also scheduled to deliver a speech from Krasinski Square, where Polish media says the government has promised Trump cheering crowds. Next Trump will head to Hamburg for a more challenging G-20 summit. On Thursday night, Trump will meet privately with German Chancellor Angela Merkel, who has called his decision to withdraw the U.S. from the Paris Climate Agreement "extremely regrettable." Trump also is scheduled to have his first meeting with Russian President Vladimir Putin as president. The Kremlin said Tuesday that the long-anticipated meeting will take place on Friday.
2. U.N. ambassador Nikki Haley scolds Russia and China over North Korea
Diplomats from the U.S., Russia, and China clashed during a United Nations Security Council meeting on Wednesday over how to respond to North Korea's successful test launch of an intercontinental ballistic missile capable of carrying a nuclear warhead to Alaska. The U.S. ambassador to the U.N., Nikki Haley, chided Russia and China for "holding the hand" of North Korean leader Kim Jong Un by opposing a Security Council resolution condemning North Korea and stepping up economic sanctions over its latest "sharp military escalation." Russian and Chinese diplomats countered by pushing their joint proposal for North Korea to suspend nuclear and missile testing in exchange for a halt to joint military exercises by the U.S. and South Korea, something Daniel Pinkston, an international relations lecturer at Troy University in Seoul called "a non-starter."
Subscribe to The Week
Escape your echo chamber. Get the facts behind the news, plus analysis from multiple perspectives.
SUBSCRIBE & SAVE
Sign up for The Week's Free Newsletters
From our morning news briefing to a weekly Good News Newsletter, get the best of The Week delivered directly to your inbox.
From our morning news briefing to a weekly Good News Newsletter, get the best of The Week delivered directly to your inbox.
3. Trump ready to discuss cooperating with Russia in Syria, Tillerson says
President Trump will raise the possibility of cooperation between the U.S. and Russia in Syria when he meets with Russian President Vladimir Putin in Hamburg on the sidelines of the G-20 summit, Secretary of State Rex Tillerson said late Wednesday. Joint operations aiming to ease the Syria conflict could include no-fly zones, ceasefire monitoring, and coordination of humanitarian aid deliveries. Tillerson's statement, issued as he prepared to leave to join Trump in Germany on Thursday, appeared to be an effort to set an agenda for Trump's scheduled Friday meeting with Putin, their first face-to-face talks since Trump took office in January. Tillerson noted that the U.S. and Russia have already shown they can work together in Syria by establishing deconfliction areas to avoid contact between their warplanes.
4. Maduro supporters injure opposition lawmakers in Venezuela
Supporters of embattled Venezuelan President Nicolas Maduro stormed the South American nation's National Assembly, attacking opposition lawmakers with stones and metal pipes. At least six lawmakers in the opposition-dominated legislature were injured in the melee, which occurred on Venezuela's independence day as national guard officers watched. Opposition member Tomas Guanipa accused Maduro and his supporters of using "disproportionate violence to maintain himself in power." Since March, at least 91 people have been killed and 2,500 injured during anti-government protests, and more than 3,000 demonstrators have been arrested. The country is being rocked by an economic crash, food shortages, and violent crime, and polls show a majority of Venezuelans oppose Maduro's push for a new constitutional convention, which will be voted on July 30.
5. Police commissioner: Bronx officer 'assassinated' in unprovoked attack on cops
New York City Police Commissioner James O'Neill said Wednesday that officer Miosotis Familia, who was fatally shot as she sat writing in a mobile police command post early in the morning, had been "assassinated in an unprovoked attack on cops." A gunman killed Familia, a 12-year police veteran and mother of three described as a "good cop" and caring neighbor, with a single gunshot to the head fired through the RV-sized vehicle's front passenger-side window. Familia's partner frantically radioed for help, and officers caught up with the suspect, 34-year-old ex-convict Alexander Bonds, a block away and killed him with 20 shots before he could fire his stolen pistol. Months earlier, Bonds had ranted against police in a Facebook video, threatening to harm cops and saying, "we gonna do something." His girlfriend called 911 Tuesday night to say he "was acting in a manic, depressed state — paranoid."
6. Hobby Lobby to pay $3 million to settle antiquities smuggling case
Hobby Lobby has agreed to give up more than 5,500 ancient Iraqi artifacts in a settlement with the Justice Department that was announced Wednesday. The arts-and-crafts retailer bought the items, which included cuneiform tablets and other objects, for $1.6 million from dealers in Israel and the United Arab Emirates in 2010. The Justice Department said Hobby Lobby ignored an expert's warning that the artifacts could have been smuggled after being taken illegally from archaeological sites, and ignored other "red flags," including conflicting accounts on where the items were stored before they were inspected in the U.A.E. Hobby Lobby, which will pay a $3 million fine, pledged to change how it acquires "cultural property." "We should have exercised more oversight and carefully questioned how the acquisitions were handled," Hobby Lobby's president, Steve Green, said.
7. Congressman apologizes for video filmed at Auschwitz
Rep. Clay Higgins (R-La.) apologized Wednesday for filming a five-minute video inside a former gas chamber at the Auschwitz death camp after Jewish groups called the move insensitive. "As a site for reflection, one that often evokes deep personal pain for survivors and their families, Auschwitz should never be politicized or used as a platform for giving personal views," Anti-Defamation League CEO Jonathan Greenblatt said in a statement to NBC News. The video was meant to show "reverent homage to those who were murdered in Auschwitz and to remind the world that evil exists, that free nations must remember, and stand strong," Higgins said. "My message has caused pain to some whom I love and respect. For that, my own heart feels sorrow. Out of respect to any who may feel that my video posting was wrong or caused pain, I have retracted my video."
8. Scalise readmitted to hospital over fear of infection
Rep. Steve Scalise (R-La.), who was shot in the hip on June 14, was readmitted to MedStar Washington's intensive care unit on Wednesday over concerns he may be susceptible to infection, the hospital and Scalise's congressional office said. The hospital explained in a brief statement on Twitter that doctors believed Scalise could face a new infection risk after several surgeries. Scalise, the House majority whip, was wounded when a gunman opened fire at a field in Alexandria, Virginia, as Republicans practiced for the Congressional Baseball Game. Scalise and four others were taken to hospitals. The gunman, 66-year-old gunman James T. Hodgkinson, was fatally shot by police. Scalise, who spent nine days in intensive care, is listed as being in serious condition. The hospital said it will give an update on Scalise on Thursday.
9. Fed minutes show disagreement on timing of reducing debt holdings
Federal Reserve policy makers hinted in meeting minutes released Wednesday that they might start reducing the debt holdings the central bank bought up to help the economy recover from the 2008 financial crisis. Fed leaders remained divided about the timing of the drawdown. The Fed said after its June meeting that it would start reducing its pile of Treasury bonds and mortgage-backed securities at some point this year, although the minutes said that several senior Fed officials "preferred to announce the start of the process within a couple of months." Still others wanted to wait to announce anything until they could see where an unexpected slowdown in inflation would lead.
10. Photo suggests Amelia Earhart might not have died in plane crash
A newly discovered but blurry photograph in the National Archives appears to show Amelia Earhart and her navigator, Fred Noonan, in Japanese captivity, suggesting the pair survived after they went missing in 1937 during an attempt to fly around the world, and may have died after being captured by Japan. The photo shows a woman resembling Earhart sitting on a dock in the Marshall Islands, and a man who analysts say appears to be the famed aviator's navigator standing nearby. The discovery is featured in a new History Channel special, "Amelia Earhart: The Lost Evidence," that airs Sunday. Experts who have examined the photo say it could be a convincing new lead in an international mystery that has puzzled searchers for decades. Earhart and Noonan were long thought to have crashed into the sea or perhaps landed on the remote island of Nikumaroro only to later perish. Japan says it has no evidence Earhart was ever in its custody, but many military documents were destroyed during World War II.
Continue reading for free
We hope you're enjoying The Week's refreshingly open-minded journalism.
Subscribed to The Week? Register your account with the same email as your subscription.
Sign up to our 10 Things You Need to Know Today newsletter
A free daily digest of the biggest news stories of the day - and the best features from our website
Harold Maass is a contributing editor at TheWeek.com. He has been writing for The Week since the 2001 launch of the U.S. print edition. Harold has worked for a variety of news outlets, including The Miami Herald, Fox News, and ABC News. For several years, he wrote a daily round-up of financial news for The Week and Yahoo Finance. He lives in North Carolina with his wife and two sons.