10 things you need to know today: October 19, 2017
Mother of slain soldier says Trump's call was disrespectful, Trump dials back support of health-care deal, and more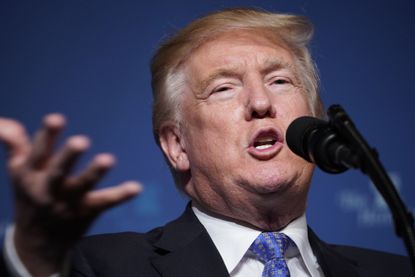 (Image credit: MANDEL NGAN/AFP/Getty Images)
1. Mother of slain soldier confirms Trump showed 'disrespect' in call
President Trump tweeted Wednesday that a Democratic lawmaker's claim that he made insensitive remarks to the widow of an Army soldier killed in action was "totally fabricated," but the late soldier's mother said she heard the conversation on speakerphone and Trump had indeed "disrespected" her son and his widow. Army Sgt. La David Johnson was one of four Americans killed in Niger nearly two weeks ago whose families did not hear from Trump until this week, after he claimed — falsely, critics noted — that he called fallen soldiers' families but his predecessors, including Barack Obama, had not. Trump called Johnson's widow, Myeshia Johnson, on Tuesday and, according to Rep. Frederica Wilson (D-Fla.), said Johnson "knew what he signed up for." Johnson's mother, Cowanda Jones-Johnson, said Wilson's account was accurate.
The Associated Press The Washington Post
2. Trump casts doubt on support for bipartisan health-care deal
President Trump on Wednesday walked back his early support of a bipartisan Senate proposal to restore ObamaCare insurance subsidies, tweeting that he "can never support bailing out" insurance companies. Trump said he did, however, support the bipartisan push led by Sens. Lamar Alexander (R-Tenn.) and Patty Murray (D-Wash.) to help stabilize health insurance markets. Their proposal seeks to restore payments to insurance companies to help cover out-of-pocket health-care costs for low-income Americans through 2019. Alexander predicted the bill would pass by the end of the year, and said Trump, who has called the subsidies a bailout for insurers, had promised to "review it carefully to see if he wants to add anything" to the deal.
Subscribe to The Week
Escape your echo chamber. Get the facts behind the news, plus analysis from multiple perspectives.
SUBSCRIBE & SAVE
Sign up for The Week's Free Newsletters
From our morning news briefing to a weekly Good News Newsletter, get the best of The Week delivered directly to your inbox.
From our morning news briefing to a weekly Good News Newsletter, get the best of The Week delivered directly to your inbox.
3. Taliban overruns military base, killing at least 43 Afghan soldiers
The Afghan Taliban attacked a military base in southern Afghanistan, killing at least 43 of the 60 stationed there, the country's defense ministry said Thursday. Another nine of the Afghan soldiers were wounded, and six were reported missing. The attack started when suicide bombers detonated two Humvees packed with explosives. Taliban fighters then stormed the Afghan National Army base in Kandahar's Maiwand district, overrunning it. NATO officials said the battle ended with a U.S. airstrike that killed nine Taliban fighters. The Taliban, fighting to re-establish a fundamentalist Islamic regime, conducted a string of attacks earlier in the week that killed 74 people in three separate provinces.
4. Sessions refuses to answer senators' questions on Russia
Attorney General Jeff Sessions on Wednesday refused to answer senators' questions about his conversations with President Trump about the firing of former FBI Director James Comey and the investigation into Russia's election meddling, citing executive privilege. "I'm just not able to comment," Sessions said. Democrats have maintained that because Trump did not invoke the privilege himself, the attorney general is not required to adhere to it. Sessions faced intense pressure from senators including Vermont's Patrick Leahy (D), who forced Sessions to admit he has not yet been interviewed by Special Counsel Robert Mueller in the Russia investigation, and Minnesota's Al Franken (D), who accused Sessions of "moving the goal posts" with "morphing" accounts of his conversations with Russia's ambassador.
5. Republicans line up votes for budget proposal
Senate Republicans appear to have lined up enough votes to pass their budget proposal, Senate Republican whip John Cornyn, who is in charge of mustering votes, said Wednesday. A vote on the budget resolution is expected Thursday. If Republicans pass the spending blueprint, which contains a legislative tool called reconciliation, they will be able to approve the tax reform with a simple majority, sidestepping the possibility of a filibuster by Democrats who oppose Trump's plan for up to $6 trillion in tax cuts for businesses and individuals. The budget measure would allow adding up to $1.5 trillion to the federal deficit over a decade to pay for tax cuts.
6. Judge hears arguments in Trump emoluments lawsuit
Federal attorneys on Wednesday asked a New York federal judge to dismiss a lawsuit accusing President Trump of violating the so-called emoluments clause of the Constitution, which prohibits federal employees from accepting compensation from foreign governments. The plaintiffs say Trump violates it whenever a foreign government uses his hotels or other properties. Justice Department lawyers said other presidents, including George Washington and Thomas Jefferson, had businesses, so Trump can, too. The lawsuit was filed by the watchdog group Citizens for Responsibility and Ethics and Washington, and representatives of hotels and restaurants, who say potential foreign customers pass them by to patronize Trump businesses, seeking influence. Judge George B. Daniels said he would rule on the government's request to throw out the suit within 60 days.
7. Mississippi school to drop Confederate leader's name for Obama's
In a new twist in the debate over Confederate memorials, a predominately black public school in Jackson, Mississippi, is dropping the name of Confederate President Jefferson Davis and being renamed after former President Barack Obama. Davis Magnet IB PTA President Janelle Jefferson announced at a school board meeting this week that school stakeholders had approved the name change this month, saying that Davis "would probably not be too happy about a diverse school promoting the education of the very individuals he fought to keep enslaved being named after him." She said the school community preferred a name reflecting "a person who fully represents ideals and public stances consistent with what we want our children to believe about themselves."
8. Spain moves to take over Catalonia powers
Spain's government said Thursday that Prime Minister Mariano Rajoy will hold a special Cabinet meeting on Saturday to start the process of stripping Catalonia's regional government of its semi-autonomy. The decision to invoke Article 155 of Spain's 1978 Constitution for the first time came after Catalan president Carles Puigdemont failed to clearly drop any plan to declare independence, and instead called for negotiations with the national government. Puigdemont said in a letter to Rajoy that if Madrid refuses to enter talks "and continues with the repression, the Catalan Parliament could proceed, if it is considered opportune, to vote on a formal declaration of independence." Catalan voters overwhelmingly backed independence in a recent referendum Madrid called illegal, but pro-Spain voters boycotted.
9. Olympic medalist McKayla Maroney says gymnastics team doctor abused her
Former Olympic gymnast McKayla Maroney, a two-time medalist, said Wednesday that she was sexually abused by former Michigan State and USA Gymnastics team doctor Larry Nassar, who already faces criminal charges for molesting gymnasts and could face life in prison. Maroney, now 21, said the abuse started when she was 13, about two years before she helped the "Fierce Five" U.S. team win the women's gold medal in gymnastics at the 2012 Summer Olympics in London. She spoke out on social media as part of the "#MeToo" movement. "Silence has given the wrong people power for too long, and it's time to take our power back," she said.
10. Stock futures fall after the Dow's first close above 23,000
U.S. stock futures dropped early Thursday, signaling a pullback after the Dow Jones Industrial Average jumped by 160 points, or 0.7 percent, on Wednesday to close above 23,000 for the first time ever. The Dow got a boost Wednesday from IBM's biggest one-day jump since 2009. It was the blue-chip index's fourth 1,000-point milestone in 2017, starting when it vaulted over the 20,000 mark in January. Some analysts said the day's rise was partly due to optimism about President Trump's tax cuts, although they cautioned against reading too much into the milestone. "Ultimately, this is just a psychological factor," said Jeff Carbone, managing partner of Cornerstone Financial Partners. But "what it does is bring up the question of how much higher can we go?"

Continue reading for free
We hope you're enjoying The Week's refreshingly open-minded journalism.
Subscribed to The Week? Register your account with the same email as your subscription.