10 things you need to know today: October 29, 2017
Mattis says 'outlaw' North Korea threat has 'accelerated,' Mueller's office reportedly will serve first indictment Monday, and more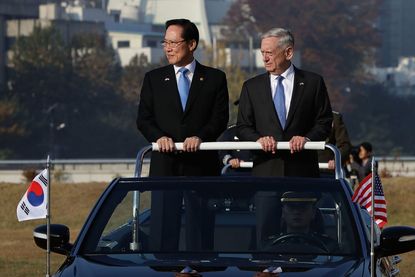 (Image credit: Chung Sung-Jun/Getty Images)
1. Mattis says 'outlaw' North Korea threat has 'accelerated'
Secretary of Defense James Mattis offered a grim assessment of U.S.-North Korean relations while speaking in Seoul, South Korea, on Saturday in a visit in advance of President Trump's early November Asia tour. Accusing the Kim Jong Un regime of "outlaw" behavior, Mattis said "North Korea has accelerated the threat that it poses to its neighbors and the world through its illegal and unnecessary missile and nuclear weapons programs," adding that he "cannot imagine a condition under which the United States would accept North Korea as a nuclear power." Mattis emphasized his preference for diplomacy to resolve nuclear tensions, though critics argue absolute rejection of Pyongyang as a nuclear power make negotiations difficult to begin.
2. Mueller's office reportedly will serve first indictment Monday
Special Counsel Robert Mueller's office will serve the first indictment in connection to the Russian election meddling investigation on Monday, NBC News reported Saturday, citing an unnamed official familiar with the situation. CNN on Friday broke the story that a grand jury had approved initial charges, but the nature of the charges and the identity of the person targeted are at present sealed by a federal judge. President Trump's legal team worked over the weekend attempting to determine what Monday's announcement might be; they reportedly believe the most likely candidates for indictment are former Trump campaign chair Paul Manafort or ousted National Security Adviser Michael Flynn.
Subscribe to The Week
Escape your echo chamber. Get the facts behind the news, plus analysis from multiple perspectives.
SUBSCRIBE & SAVE
Sign up for The Week's Free Newsletters
From our morning news briefing to a weekly Good News Newsletter, get the best of The Week delivered directly to your inbox.
From our morning news briefing to a weekly Good News Newsletter, get the best of The Week delivered directly to your inbox.
3. Trump reportedly prefers Jerome Powell for Fed chair
President Trump is reportedly leaning toward Jerome Powell, a former investment banker and Treasury Department undersecretary who is presently serving on the Federal Reserve's board of governors, as his pick to replace the Obama-nominated Janet Yellen as the new Fed chair when her term expires in February. Both CNN and The Wall Street Journal on Saturday reported Trump has "settled" on Powell but "hasn't made a formal decision and could still change his mind." Whatever the decision may be, Trump's announcement is expected in the coming week. "I have somebody very specific in mind," he said in an Instagram video Friday. "I think everybody will be very impressed."
4. White nationalist rallies fizzle amid counter-protest
About 160 white nationalists — chanting, "Closed borders, white nation, now we start the deportation" — assembled in Shelbyville, Tennessee, Saturday morning, where they were soon outnumbered by about 400 counter-protesters. Law enforcement kept the two groups separated, and no violence was reported. The "White Lives Matter" marchers elected to cancel a second rally planned for nearby Murfreesboro later that day, claiming on Twitter they did so because the risk of a lawsuit was too great. The rallies were intended to protest refugee resettlement in Tennessee and were organized by some of the same groups that marched in Charlottesville, Virginia, this summer.
5. Catalan president calls for peaceful resistance
Catalan President Carles Puigdemont, who with other pro-independence Catalan leaders was deposed by Spain's national government on Friday, called on Saturday for peaceful resistance to Madrid's attempt to impose national rule on the autonomous region. Spanish Prime Minister Mariano Rajoy obtained permission to invoke Article 155 of the Spanish constitution in response to the Catalan parliament's Friday declaration of independence. Puidgemont urged Catalans to resist Article 155 implementation "without violence, without insults, in an inclusive way, respecting people," including "the peoples of Spain with whom we want to remain connected through respect and mutual recognition."
6. 29 dead in 2 explosions in Somalia
At least 29 people were killed and a dozen more wounded by two explosions in Mogadishu, Somalia, on Saturday. One blast was a car bomb detonated near a hotel popular with government officials and another was a minibus that exploded in an intersection near a former parliament building. Militants stormed the hotel after the first bomb went off and occupied the building for a 12-hour siege before police defeated them. Both attacks were promptly claimed by al Shabaab, an al Qaeda-linked extremist group that seeks to overthrow the Somali government.
7. Virginia governor's race offers contentious referendum on Trump
Virginia voters are just over a week away from selecting a new governor, and the race between candidates Ed Gillespie (R) and Lt. Gov. Ralph Northam (D) is serving as an increasingly contentious referendum on President Trump. Both contenders are using bare-knuckled attack ads — Gillespie accuses Northam of wanting to make it easy for sex offenders to get guns, and a Northam mailer labeled Gillespie a white supremacist — and polling has them neck and neck. This year's only other gubernatorial election is in New Jersey, where voters will replace the term-limited Chris Christie (R); the race there is expected to be a landslide for Democrat Phil Murphy.
8. Trump touts 'ahead of schedule' JFK file dump
"JFK Files are released, long ahead of schedule!" President Trump tweeted Saturday night in reference to his decision to publish formerly sealed files about the assassination of President John F. Kennedy. Most of the files were released on schedule Thursday, while others will be delayed indefinitely for further redaction. None were shared ahead of schedule. The documents published Thursday include items like a memo asking for a statement that "can convince the public" Lee Harvey Oswald killed JFK, as well as a deposition stating President Lyndon B. Johnson believed Kennedy's death was payback for the assassination of the South Vietnamese president several weeks prior.
9. Tropical Storm Philippe to hit New York
New Yorkers will mark the five-year anniversary of Hurricane Sandy on Sunday with heavy winds and rain brought in by Tropical Storm Philippe. A flash flood warning is in effect for New York City as well as surrounding areas, including parts of New Jersey and Connecticut. Philippe made landfall on the southern tip of Florida early Sunday and will move up the Atlantic coast over the course of the day. The storm is not expected to become a hurricane but could produce up to eight inches of rain in some locations.
10. Dodgers' Game 4 win puts World Series at 2-2
The Los Angeles Dodgers won Game 4 of the World Series against the Houston Astros in Houston Saturday night. The 6-2 victory ties the teams with two wins each at the championship's halfway point. "It's awesome," said Dodgers pitcher Kenley Jansen of the next match-up. "They won a hundred games; we won a hundred games. That's a good offensive team. So are we. We have pitching; they do have two tremendous starters. It's going to be exciting." Game 5 is scheduled for Sunday night in Houston at 7:20 Central.

Continue reading for free
We hope you're enjoying The Week's refreshingly open-minded journalism.
Subscribed to The Week? Register your account with the same email as your subscription.