10 things you need to know today: November 18, 2018
Democrat Andrew Gillum concedes Florida's gubernatorial race, Trump surveys California fire damage, and more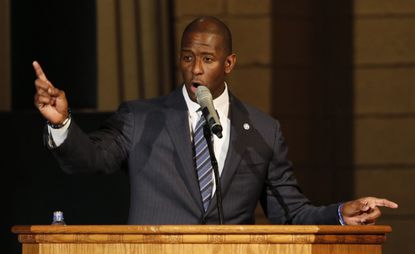 (Image credit: Joe Skipper/Getty Images)
1. Democrat Andrew Gillum concedes Florida's gubernatorial race
Democrat Andrew Gillum officially ended his Florida gubernatorial bid Saturday, conceding to former Rep. Ron DeSantis (R-Fla.) in a Facebook video. The progressive Tallahassee mayor was expected to be the state's first black governor, but vote results were far closer than polls predicted. Gillum initially conceded on Election Day but retracted that first concession as a recount was ordered. He reflected the protracted ballot-counting process in his second concession statement, calling for updates to Florida's voting system. Florida's Senate race is still undergoing a manual recount.
Andrew Gillum The Washington Post
2. Trump surveys California fire damage
President Trump on Saturday surveyed damage from northern California's Camp Fire and met with state officials, including Gov. Jerry Brown (D) and Governor-elect Gavin Newsom (D). At least 76 people are dead and more than 1,000 are missing in connection to the wildfire, which has ravaged 148,000 acres so far and is now 55 percent contained. Trump told reporters he did not discuss climate change, thought to have contributed to the Camp Fire's severity, when speaking with Newsom. He attributed the fire to "a lot of factors" and indicated the visit did not influence his thinking on climate change.
Subscribe to The Week
Escape your echo chamber. Get the facts behind the news, plus analysis from multiple perspectives.
SUBSCRIBE & SAVE
Sign up for The Week's Free Newsletters
From our morning news briefing to a weekly Good News Newsletter, get the best of The Week delivered directly to your inbox.
From our morning news briefing to a weekly Good News Newsletter, get the best of The Week delivered directly to your inbox.
3. Pence vows continued trade war 'until China changes its ways'
Vice President Mike Pence took a harsh line on China at the Asia-Pacific Economic Cooperation (APEC) Summit in Papua New Guinea on Saturday, pledging Washington "will not change course" on trade policy "until China changes its ways." "China has taken advantage of the United States for many, many years, and those days are over," Pence said, accusing Beijing of unfair trade and lending practices and suggesting additional tariffs may be on the way. Chinese President Xi Jinping also spoke, arguing, "Unilateralism and protectionism will not solve problems but add uncertainty to the world economy."
4. Trump calls report on CIA assessment of Khashoggi killing 'very premature'
President Trump on Saturday downplayed Friday's report that the CIA has concluded Saudi Crown Prince Mohammed bin Salman ordered the murder of U.S.-based Saudi journalist Jamal Khashoggi at the Saudi consulate in Istanbul. "They haven't assessed anything yet. It's too early. That was a very premature report," Trump told reporters. "We'll be having a very full report over the next two days, probably Monday or Tuesday," he said, adding that it will include "who did it." The president also praised Saudi Arabia as "a truly spectacular ally in terms of jobs and economic development."
5. Trump endorses Pelosi, who promptly rejects his support
President Trump on Saturday tweeted a promise to have Republicans give House Minority Leader Nancy Pelosi (D-Calif.) "as many votes as she wants" if Democrats don't support her bid to return as House speaker. Pelosi quickly rejected the offer, saying she'd "never, never, never" accept GOP support. Her office pledged she'd "win the speakership with Democratic votes." Trump's endorsement comes after another Democrat, Virginia's Abigail Spanberger, joined intra-party opposition to Pelosi's speakership bid. Pelosi on Friday met with some of that opposition, which is largely made up of young Democrats yet to be sworn in.
6. Massive protests in France block roads, leave 1 dead
One person was accidentally killed and more than 200 injured in large-scale protests against higher fuel taxes in France on Saturday. An estimated 250,000 people, many wearing yellow safety vests, turned out in about 2,000 locations around the country to block roads and highways. The new tax was supported by French President Emmanuel Macron, and demonstrators called for his resignation. "The taxes are rising on everything. They put taxes on top of taxes," said one protester, Didier Lacombe. "It is not the tax on gas; it's everything. The injustice is greater and greater."
7. Caravan migrants stall in Tijuana
Some of the Central American migrants traveling by caravan across Mexico toward the United States have reached the border city of Tijuana and there stalled, uncertain of their next steps. Many have already been denied entry to the U.S. and are considering their alternatives, like accepting Mexico's offer of jobs and basic resettlement assistance. Complicating the decision is a newly hostile attitude toward migrants in Tijuana, which now has a conservative mayor who has argued "human rights should be reserved for righteous humans," a category from which he excludes the caravan migrants.
8. Kansas official faces calls for resignation over 'master race' remark
Kansas Gov. Jeff Colyer (R) is among many who have called for the resignation of a local official, Leavenworth County Commissioner Louis Klemp, for a remark in which he said "master race," a concept from Nazism. Klemp, who is white, told consultant Triveece Penelton, who is black, they were together "part of the master race" because they both have a gap in their teeth. Klemp has defended the comment as a joke, and another Leavenworth County official said Klemp has repeatedly used the phrase about gapped teeth. However, Leavenworth's mayor said Klemp has been more inappropriate at other public occasions.
9. Elon Musk founds brick store
Elon Musk has founded The Brick Store, which will sell bricks made from dirt excavated by his Boring Company, public documents obtained by TechCrunch show. The Boring Company's first tunnel, which runs under Los Angeles and aims to alleviate traffic congestion, was completed on Friday. Musk then tweeted he was building a "watchtower" outside the tunnel's entrance made from dirt bricks, and documents suggest it also will be the site of his first Brick Store. Musk says he is hiring a "knight" to guard the watchtower and insult people in a French accent, an allusion to Monty Python and the Holy Grail.
10. Steve Carrell as SNL's Jeff Bezos taunts Trump over Amazon's new headquarters
Steve Carrell hosted Saturday Night Live for the third time, performing a solo skit mocking President Trump in character as Amazon's Jeff Bezos. He quickly gets down to business, addressing the rumors that Amazon's new headquarters locations, one where Trump grew up and one close to the White House, were picked to overshadow the president. "That's simply not true," SNL's Bezos says. "I chose our locations because they were ideal for growing business, not just to make Donald Trump think about how I'm literally 100 times richer than he is."

Continue reading for free
We hope you're enjoying The Week's refreshingly open-minded journalism.
Subscribed to The Week? Register your account with the same email as your subscription.