10 things you need to know today: March 7, 2019
Democrats bar Fox News from presidential primary debates, Venezuela arrests U.S. journalist and expels Germany's ambassador, and more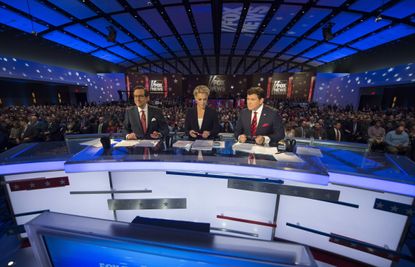 (Image credit: Jim Watson/Getty Images)
1. DNC bars Fox News from hosting 2020 primary debate
Democratic National Committee leaders said Wednesday they would not let Fox News Channel televise any of the party's 2020 presidential primary debates. DNC Chair Tom Perez cited a New Yorker magazine article titled "The Making of the Fox News White House" which alleged the conservative cable channel promoted President Trump's agenda as a "propaganda" engine. Perez said he had talked with many "potential media partners, including Fox News," but concluded Fox has an "inappropriate relationship" with Trump and could not "host a fair and neutral debate." Fox News Senior Vice President Bill Sammon said the network hoped the DNC would consider letting Fox's Chris Wallace, Bret Baier, and Martha MacCallum moderate, saying they "embody the ultimate journalistic integrity."
The Washington Post The New Yorker
2. Venezuela arrests U.S. journalist, expels German ambassador
The government of embattled Venezuelan President Nicolás Maduro on Wednesday expelled Germany's ambassador and detained a U.S. freelance journalist in its latest clash with the international community. The journalist, Cody Weddle, was arrested in a military counterintelligence raid on his Caracas home and reportedly faces deportation Thursday. The ambassador, Daniel Kriener, was among U.S., Latin American, and European diplomats who on Monday met opposition leader Juan Guaidó at Caracas' airport to help him avoid arrest when he returned to the country after a 10-day trip abroad. "Venezuela considers it unacceptable that a foreign diplomat carries out in its territory a public role closer to that of a political leader aligned with the conspiratorial agenda of extremist sectors of the Venezuelan opposition," the Maduro government said.
Subscribe to The Week
Escape your echo chamber. Get the facts behind the news, plus analysis from multiple perspectives.
SUBSCRIBE & SAVE
Sign up for The Week's Free Newsletters
From our morning news briefing to a weekly Good News Newsletter, get the best of The Week delivered directly to your inbox.
From our morning news briefing to a weekly Good News Newsletter, get the best of The Week delivered directly to your inbox.
The New York Times The Washington Post
3. Sen. McSally says superior officer raped her during time in Air Force
Arizona Sen. Martha McSally (R) said Wednesday a superior officer raped her when she served in the Air Force. She made the revelation during a Senate Armed Services subcommittee hearing on sexual assault in the military. McSally, the first female fighter pilot to fly a combat mission, called for reforms in the ways the Pentagon handles such cases. "Like you, I am also a military sexual assault survivor," McSally said, addressing people who had been assaulted. "But unlike so many brave survivors, I didn't report being sexually assaulted. Like so many women and men, I didn't trust the system at the time. I blamed myself. I was ashamed and confused, and I thought I was strong but felt powerless." McSally revealed last year that a coach sexually abused her in high school.
4. Cohen reportedly shows Trump's lawyers edited his false testimony
Michael Cohen, President Trump's former lawyer, provided documents in a closed-door House Intelligence Committee meeting Wednesday to support his claim that Trump's attorneys edited his written statement to Congress in 2017. In that statement, Cohen said the negotiations to build a Trump Tower in Moscow ended in early 2016, but he later admitted the talks continued until that summer. Cohen, who has been convicted for lying to Congress, said he lied to protect Trump, who repeatedly claimed during his campaign to have no business ties with Russia. Cohen testified last week that Jay Sekulow, a personal lawyer for Trump, edited the portion of his statement about how long the tower negotiations continued. Sekulow has denied Cohen's claim.
5. Democrats put off anti-Semitism vote as colleagues defend Omar
House Democratic leaders on Wednesday delayed a vote on a resolution condemning anti-Semitism and bigotry after a backlash from lawmakers who said the legislation unfairly singled out Rep. Ilhan Omar (D-Minn.). Democratic leaders started drafting the measure after Omar was criticized for saying pro-Israel interests pushed politicians for "allegiance to a foreign country," which House Foreign Relations Committee Chair Rep. Eliot Engel (D-N.Y.) called a "vile anti-Semitic slur." Sen. Bernie Sanders (I-Vt.) said House Democratic leaders were squelching debate about Israel's actions. Rep. Ayanna Pressley (D-Mass.) called for "equity in our outrage," saying Omar, one of the first two Muslim women elected to Congress, was being targeted for her faith, and that "Islamophobia needs to be included" in the anti-Semitism resolution.
6. Homeland Security secretary defends Trump border policies to Congress
Homeland Security Secretary Kirstjen Nielsen on Wednesday told Congress there is a "humanitarian catastrophe" on the U.S.-Mexico border that justified President Trump's emergency declaration, push for a border wall, and crackdown on people crossing the border illegally, as well as those seeking asylum. "Our capacity is already severely strained, but these increases [in border crossings] will overwhelm the system entirely," Nielsen told members of the House Homeland Security Committee in her first congressional testimony since Democrats took over control of the House in January. "This is not a manufactured crisis. This is truly an emergency." Democrats criticized Nielsen for the Trump administration's separation of families at the border. "Tearing kids and their parents apart is immoral, ma'am," said Rep. Lauren Underwood (D-Ill.).
7. Huawei sues U.S. over ban on its products
Embattled Chinese tech giant Huawei said Thursday it had filed a Texas lawsuit against the U.S. government, challenging a ban on its products. The National Defense Authorization Act prohibits federal agencies and contractors from purchasing equipment made by Huawei and another Chinese company, ZTE Corp. "This ban not only is unlawful, but also restricts Huawei from engaging in fair competition, ultimately harming U.S. consumers," Huawei Deputy Chair Guo Ping said. The lawsuit is the most aggressive move to date by Huawei against allegations from the Trump administration that its equipment can be used to spy for China. The U.S. considers Huawei a security threat and wants to keep it from building 5G networks worldwide.
8. LeBron James passes Michael Jordan on NBA all-time points list
LeBron James on Wednesday passed Michael Jordan to become No. 4 on the NBA's all-time scoring list. He started the Los Angeles Lakers game against the Denver Nuggets needing 12 points, and tied Jordan at 32,292 career points during the second quarter; at the half, James had 32,297 points. Earlier in the day, James, 34, said Jordan was "the guy I looked up to my whole life, a guy I aspired to be when I was a kid," and it was going to be "unreal" to pass him. Kareem Abdul-Jabbar holds the No. 1 spot, with 38,387 points, followed by Karl Malone at No. 2 with 36,928 points and Kobe Bryant at No. 3 with 33,643 points.
9. Amazon to close all 87 of its pop-up kiosks
Amazon said Wednesday it would close its 87 U.S. pop-up locations in April. The online retail giant put the mini-stores in its Whole Foods markets, as well as in Kohl's stores and shopping malls. Customers can go to Amazon's kiosks to try out some of its products, including Fire tablets, Kindle e-readers, and Echo smart speakers. Shoppers also can sample Amazon's Prime Video, Audible, and Kindle Unlimited services. "After much review," an Amazon spokesperson told CNBC, "we came to the decision to discontinue our pop-up kiosk program, and are instead expanding Amazon Books and Amazon 4-star," where customers can browse products with high ratings on Amazon's website.
10. Alex Trebek reveals he has stage 4 pancreatic cancer
Jeopardy! host Alex Trebek announced Wednesday he has been diagnosed with stage 4 pancreatic cancer. "Now normally, the prognosis for this is not very encouraging, but I'm going to fight this, and I'm going to keep working," the 78-year-old Canada native said. "And with the love and support of my family and friends and with the help of your prayers also, I plan to beat the low survival rate statistics for this disease." Trebek has hosted the popular quiz show since 1984, presiding over nearly 8,000 episodes, a quiz show record. He has won five Daytime Emmy awards for Outstanding Game Show Host.
Cleveland.com Bradenton Herald

Continue reading for free
We hope you're enjoying The Week's refreshingly open-minded journalism.
Subscribed to The Week? Register your account with the same email as your subscription.