10 things you need to know today: April 21, 2019
Coordinated bombings terrorize Sri Lanka, seven suspects arrested, Trump fires back at Romney, and more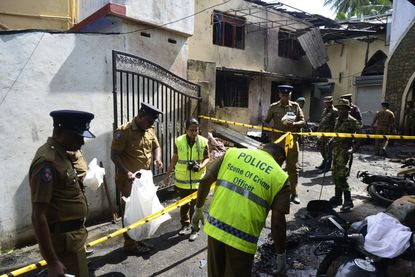 (Image credit: LAKRUWAN WANNIARACHCHI/AFP/Getty Images)
Sign up to our 10 Things You Need to Know Today newsletter
A free daily digest of the biggest news stories of the day - and the best features from our website
Thank you for signing up to TheWeek. You will receive a verification email shortly.
There was a problem. Please refresh the page and try again.
1. Coordinated bombings terrorize Sri Lanka, seven suspects arrested
A series of bombings targeted churches and luxury hotels in what is believed to be a coordinated terror attack in Sri Lanka on Sunday. At least 207 people have been killed and 450 injured. Seven suspects have been arrested. The Sri Lankan government has declared a curfew and blocked access to most major social media sites in response. The first wave of attacks reportedly occurred during three Easter services at Christian churches throughout the country. Christians are a minority in Buddhist-majority Sri Lanka. Three more bombs then went off at hotels, one near a zoo, and one at a private residence. Sri Lanka has been at "relative peace" for the past decade after the end of a 25-year civil war when terrorist bombings were common.
2. Trump fires back at Romney
President Trump fired back at Sen. Mitt Romney (R-Utah) after Romney released a statement saying he was "sickened" by Special Counsel Robert Mueller's report on 2016 Russian election interference and the Trump campaign's conduct surrounding the meddling. Romney said the report highlighted Trump's dishonesty. The president responded to Romney's statement on Twitter, posting video footage of the senator's electoral defeat in the 2012 presidential election when he ran as the Republican nominee against former President Barack Obama. If Romney, Trump wrote, "spent the same energy fighting Barack Obama as he does fighting Donald Trump, he could have won the race (maybe)!" Romney actually won a greater percentage of the popular vote in 2012 than Trump did in 2016, but he did not carry enough of the electoral vote to win.
Subscribe to The Week
Escape your echo chamber. Get the facts behind the news, plus analysis from multiple perspectives.
SUBSCRIBE & SAVE
Sign up for The Week's Free Newsletters
From our morning news briefing to a weekly Good News Newsletter, get the best of The Week delivered directly to your inbox.
From our morning news briefing to a weekly Good News Newsletter, get the best of The Week delivered directly to your inbox.
The Associated Press Donald Trump
3. Yellow vest protesters fume over response to Notre Dame fire
The yellow vest movement, a protest against rising taxes and high cost of living in France, has expressed anger at the nearly $1 billion in pledges to reconstruct the Notre Dame cathedral in Paris, which was severely damaged in a fire last week. 9,000 protesters took to the streets for the 23rd consecutive weekend in Paris on Saturday and criticized what they believe is hypocrisy from the French elite. Those gathered decried the fact that money will be spent on the cathedral as opposed to addressing poverty in France. The protests started out peacefully, but they eventually turned violent as the demonstrators clashed with police who used tear gas and stun grenades to subdue them.
The Wall Street Journal Al Jazeera
4. Member of right-wing militia arrested days after detaining migrants at border
The FBI arrested a member of a right-wing militia on Saturday in New Mexico. Larry Mitchell Hopkins, 69, of Flora Vista, New Mexico, was arrested for alleged unlawful possession of firearms and ammunition just days after his armed group, The United Constitutional Patriots, detained over 200 migrants who had illegally crossed the United States' southern border into New Mexico. The group reportedly posted videos of its members detaining the migrants and coordinating with U.S. border patrol agents to take the people into custody. It is unclear, however, if Hopkins' arrest is directly related to the detentions. But the New Mexico attorney general's office described him as a "dangerous felon who should not have weapons around children and families."
5. Comedian leads convincingly as Ukrainian presidential elections wrap up
Voting is underway in Ukraine as incumbent President Petro Poroshenko and comedian Volodymyr Zelensky face off in a run-off election. Zelensky has little political experience — though he does play the president on a popular satirical television show in Ukraine. Despite his inexperience, the 41-year-old won a plurality of votes in the first round of the elections and is reportedly expected to win the run-off, as he led polls before the final round of voting began. The vote does not appear to be very close, with one leaked exit poll reportedly placing Zelensky at 72 percent. The most competitive area is reportedly in the western part of the country, where Zelensky has received over 55 percent of the vote.
Radio Free Europe The Guardian
6. Felicity Huffman could get home confinement
Actress Felicity Huffman might avoid prison time after pleading guilty for allegedly paying a Harvard graduate $15,000 to correct her daughter's SAT. The payment was revealed as part of the uncovering of a widespread college admissions scandal in which parents around the country paid bribes to get their children into elite universities. Huffman could face four to 10 months in prison. But because she has reportedly shown remorse, has no criminal history, and paid a lower amount than other parents involved in the scandal, the actress could end up serving the sentence in her home with an ankle monitor. Huffman is due back in court on May 21.
The Los Angeles Times Fox News
7. Oscar-nominated director John Singleton hospitalized following stroke
John Singleton, the Oscar-nominated director and screenwriter of Boyz n the Hood, has been hospitalized following a stroke earlier this week his family said in a statement on Saturday. The 51-year-old Singleton is in intensive care. The family offered little detail in their statement, but they did say he is under "great medical care." Several Hollywood celebrities took to social media to send Singleton their best wishes. Singleton was nominated for best director and best screenplay at the 1991 Academy Awards for Boyz n the Hood. He was the first African-American ever to receive an Academy Award nomination for best director.
8. SpaceX's Crew Dragon suffers setback
SpaceX's Crew Dragon, which is designed to take humans to the International Space Station, suffered a setback during an engine test at Cape Canaveral Air Force Station on Saturday afternoon. Orange smoke was reportedly seen rising above SpaceX's facilities, though no one was injured. SpaceX is referring to the failed test as an anomaly, as the mishap only occurred on the final test after a series of successful operations. The Crew Dragon flew successfully and docked with the International Space Station in March, albeit without any humans on board. The company was planning to launch a crewed version of the spacecraft as early as July, but that target date will likely be modified.
9. DHS, Pentagon consider designating fentanyl a WMD
An internal Department of Homeland Security memo said that top military and Homeland Security officials are considering classifying fentanyl — a highly potent synthetic opioid — as a weapon of mass destruction, CNN reports. Fentanyl is one of the painkillers that has contributed significantly to the opioid epidemic plaguing the United States. But it has also reportedly concerned national security officials for decades because of its potential widespread lethality in terror attacks. Officials from the DHS and the Pentagon have reportedly met in recent months to discuss designating the drug a WMD. The designation would allegedly disrupt its availability on the black market.
10. Paris Easter mass honors Notre Dame firefighters
Catholics from around France and the world gathered at Saint-Eustache Church in Paris on Sunday to celebrate Easter Mass. The archbishop of Paris, Michel Aupetit, honored the firefighters who saved the city's Notre Dame cathedral after it went up in flames last week by dedicating the mass to them. The firefighters held a "place of honor" during the mass and were gifted a bible that had been rescued from the cathedral by the archbishop. Aupetit specifically commended the fire brigade chaplain Jean-Marc Fournier, who has been lauded for accompanying the firefighters into the burning cathedral to help rescue several significant artifacts.
Continue reading for free
We hope you're enjoying The Week's refreshingly open-minded journalism.
Subscribed to The Week? Register your account with the same email as your subscription.
Sign up to our 10 Things You Need to Know Today newsletter
A free daily digest of the biggest news stories of the day - and the best features from our website
Tim is a staff writer at The Week and has contributed to Bedford and Bowery and The New York Transatlantic. He is a graduate of Occidental College and NYU's journalism school. Tim enjoys writing about baseball, Europe, and extinct megafauna. He lives in New York City.