10 things you need to know today: July 20, 2019
Iran says it seized a British ship in the Strait of Hormuz, Heat warnings cover East Coast as temperatures continue climbing, and more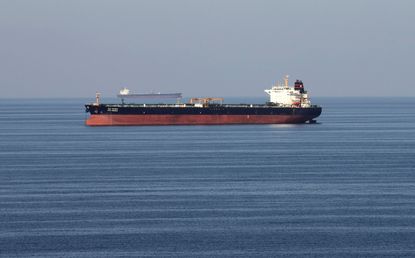 (Image credit: REUTERS/Hamad I Mohammed)
Sign up to our 10 Things You Need to Know Today newsletter
A free daily digest of the biggest news stories of the day - and the best features from our website
Thank you for signing up to TheWeek. You will receive a verification email shortly.
There was a problem. Please refresh the page and try again.
1. Iran says it seized a British ship in the Strait of Hormuz
Iran has seized a British-flagged oil tanker in the Strait of Hormuz, it said via state TV on Friday. The U.K.'s Stena Impero was heading to Saudi Arabia in international waters when it "was approached by unidentified small crafts and a helicopter," the ship's owner said. They soon lost contact with the 23 people onboard and the Stena Impero started heading northward toward Iran. No injuries have been reported. Iranian state TV reported that the country's Revolutionary Guard seized the ship for "violating international regulations." Soon after, Iran reportedly seized a Liberian-flagged tanker as well, but that ship has since been allowed to continue its course. Iran said the seizure was a 'reciprocal' move after a British court decided to continue detaining an Iranian oil tanker that allegedly breached European sanctions on Syria. The U.K. vowed "robust" action if Iran does not release the ship.
2. Heat warnings cover East Coast as temperatures continue climbing
Temperatures hopped into the low 90s on Friday evening along America's Midwest and East Coast in the first sign of the weekend's coming heat wave. About 195 million people were under a heat watch, warning, or advisory Friday morning, and the National Weather Service issued an excessive heat warning across the entirety of some states going into Saturday. Philadelphia is projected to see a heat index of 115 degrees on Saturday, while cities stretching from Boston to Oklahoma City are expected to break into the triple digits. The National Weather Service has cautioned that heat is the top cause of weather-related deaths. The heat puts this month on track for the Earth's warmest July ever recorded, coming after the hottest June on record as well.
Subscribe to The Week
Escape your echo chamber. Get the facts behind the news, plus analysis from multiple perspectives.
SUBSCRIBE & SAVE
Sign up for The Week's Free Newsletters
From our morning news briefing to a weekly Good News Newsletter, get the best of The Week delivered directly to your inbox.
From our morning news briefing to a weekly Good News Newsletter, get the best of The Week delivered directly to your inbox.
The Washington Post National Weather Service
3. Trump reignites criticism of Ilhan Omar
President Trump on Friday backpedaled his previous criticism of rallygoers who chanted "send her back" about Rep. Ilhan Omar (D-Minn.), saying they were "incredible patriots." One day prior, Trump said he "was not happy" with the crowd, and falsely claimed he "started speaking very quickly" to shut down the chants. Asked on Friday about his unhappiness with the chants, Trump said "No, you know what I'm unhappy with — the fact that a congresswoman can hate our country." The rally chants echoed Trump's weekend tweets directed at Omar and three other Democratic congresswomen, telling them to "go back" to the countries they came from. Trump says Omar is "lucky to be where she is."
4. Pentagon announces deployment of military personnel to Saudi Arabia
The Pentagon on Friday said in a statement that the United States has authorized the deployment of military personnel and resources to Saudi Arabia as tensions between the U.S. and Iran continue to rise. The deployment to Saudi Arabia will reportedly consist of about 500 military personnel and is meant to boost regional stability and security. The U.S. had a military presence in Saudi Arabia between 1991 and 2003 before withdrawing. The Pentagon also laid out its plans for a multinational maritime campaign in the Gulf region which is geared toward diffusing tensions, after a series of confrontations in surrounding waters. Most recently, Iran on Friday seized a British oil tanker in the Strait of Hormuz.
5. Hong Kong police investigating whether seized explosives connected to protests
Hong Kong police said they seized the largest amount of the explosive TATP they ever had on Friday in an industrial building in the Tsuen Wan district. Police discovered 4.4 pounds of TATP, 10 petrol bombs, acidic substances, weapons, gas masks and goggles. The seizure occurred on the eve of another round of mass protests in the city. Police are reportedly investigating a 27-year-old man who was arrested in connection to the explosives and weapons to determine if the case is related to the protests. A pro-independence t-shirt and pamphlets were also discovered at the site. The Hong Kong National Front, a pro-independence group, said the unnamed suspect is a member of the group, but they knew nothing about the explosives. While protesters have skirmished with police at times, the demonstrations have largely been peaceful.
6. Palm Beach sheriff launches internal affairs investigation into Epstein case
The Palm Beach County Sheriff's Office on Friday opened an internal affairs investigation into whether it properly handled the case of Jeffrey Epstein when he was sentenced to prison in 2008 after pleading guilty to solicitation of a minor. The investigation will specifically look at the office's decision to allow Epstein to be free 12 hours a day, 6 days a week on work release. While on work release Epstein was reportedly monitored by sheriff's deputies, whom he paid $128,136 to watch him, the entire time he was out. "All aspects of the matter will be fully investigated to ensure total transparency and accountability," Ric Bradshaw, the Palm Beach County sheriff, said on Friday. Bradshaw was the sheriff during Epstein's time in jail, as well.
The Miami Herald The Washington Post.
7. Impeachment committee forms in Puerto Rico amid civilian protests
Carlos "Johnny" Méndez, the president of Puerto Rico's House of Representatives, created a special committee on Friday to advise him on the process of impeaching the territory's Governor Ricardo Rosselló, after leaked chats showed the governor and 11 of his top aides exchanging profanity-laced, homophobic, and misogynistic messages about their fellow politicians, media, and celebrities. The messages also contain at least one joke about those who died during Hurricane Maria. Protesters have demonstrated in the streets in San Juan for several days in light of the leaks and corruption investigations into former government officials. Several U.S. lawmakers, including Sens. Elizabeth Warren (D-Mass.) and Rick Scott (R-Fla.) and Rep. Tulsi Gabbard (D-Hawaii), have called for Rosselló's resignation.
8. Sanders defends staffers' pay
Sen. Bernie Sanders (I-Vt.), a 2020 Democratic presidential candidate, defended his campaign's treatment of staffers, some of whom have reportedly complained about receiving "poverty wages." In a statement Sanders said his campaign has a "historic contract agreement that provides unprecedented protections and benefits" that include pay of at least $15 an hour and "the best health care benefits that any employer can provide for our field organizers." Field staff do earn above minimum wage for a standard workweek of 40 hours, Vox explains, but those workers say they actually work around 60 hours per week, which would place their earnings at around $13 an hour, less than Sanders' proposed federal minimum of $15 per hour. Sanders also expressed frustration that his staffers aired their complaints to the media.
9. The Lion King heads toward massive opening weekend
Disney's remake of The Lion King is expected to have a massive opening weekend of at least between $180 million and $200 million in the United States. These new estimates came on Friday after the film from director Jon Favreau grossed $23 million in Thursday night previews, a new record for a PG film. The Lion King appears set to score the strongest debut of all of Disney's recent remakes, surpassing Beauty and the Beast's $175 million U.S. opening in 2017 and nabbing the second-biggest opening weekend of 2019 behind Avengers: Endgame. Amid a summer of sequels that performed below expectations, The Lion King is likely to outperform earlier projections of an opening of between $150 million to $180 million.
Variety The Hollywood Reporter
10. Apollo 11 astronauts reunite in Oval Office for moon landing anniversary
The surviving Apollo 11 astronauts, Buzz Aldrin and Michael Collins, reunited on Friday, the eve of the 50th anniversary of humanity's first moon landing. The two men gathered in the Oval Office with President Trump, who reportedly received a rundown on his administration's plan to get astronauts back on the moon by 2024. The sons of the late Neil Armstrong, the first human to step foot on the moon after Apollo 11's successful landing on July 20, 1969, were also in attendance. Among other commemorations include a life-sized projection of the Saturn V rocket, which supported the Apollo program, on the Washington Monument and the unveiling of Armstrong's space suit.
The Associated Press Space.com
Continue reading for free
We hope you're enjoying The Week's refreshingly open-minded journalism.
Subscribed to The Week? Register your account with the same email as your subscription.
Sign up to our 10 Things You Need to Know Today newsletter
A free daily digest of the biggest news stories of the day - and the best features from our website
Tim is a staff writer at The Week and has contributed to Bedford and Bowery and The New York Transatlantic. He is a graduate of Occidental College and NYU's journalism school. Tim enjoys writing about baseball, Europe, and extinct megafauna. He lives in New York City.