10 things you need to know today: February 7, 2020
Trump celebrates his acquittal, the DNC's chair calls for recanvassing after chaotic Iowa caucuses, and more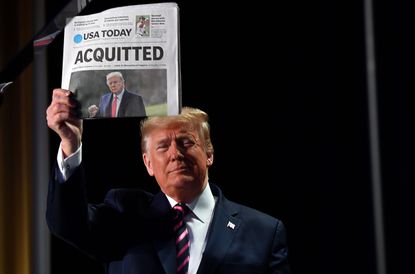 (Image credit: NICHOLAS KAMM/AFP via Getty Images)
1. Trump holds 'celebration' of acquittal at White House
President Trump on Thursday took a victory lap after his acquittal in his Senate impeachment trial, saying at a White House event that the effort by Democrats to remove him from office was "evil." He waved newspapers with giant headlines reading "ACQUITTED" and said the impeachment effort was disgraceful. "This is a day of celebration because we went through hell," Trump said. Even some Republicans said that despite voting to acquit Trump on Wednesday they believed he had acted inappropriately by pressuring Ukraine to investigate his political rivals. But Trump insisted the whole impeachment process was unfair because he "did nothing wrong." Analysts interpreted Trump's actions as a sign he had been emboldened, not chastened, by his impeachment trial.
2. DNC chair urges recanvassing by Iowa Democratic Party after messy caucuses
Democratic National Committee Chair Tom Perez on Thursday called on the Iowa Democratic Party to "begin a recanvass" of the results of Monday's Iowa caucuses. Democrats had hoped the count would be complete Thursday, but inaccuracies continued to surface. "Enough is enough," Perez said. With nearly all of the returns calculated, former South Bend, Indiana, mayor Pete Buttigieg and Sen. Bernie Sanders (I-Vt.) were nearly tied in terms of the delegates earned, but Sanders declared victory because he got the most overall votes. "When 6,000 more people come out for you in an election than your nearest opponent, we here in northern New England call that a victory," Sanders said while campaigning in New Hampshire days ahead of that state's primary.
Subscribe to The Week
Escape your echo chamber. Get the facts behind the news, plus analysis from multiple perspectives.
SUBSCRIBE & SAVE
Sign up for The Week's Free Newsletters
From our morning news briefing to a weekly Good News Newsletter, get the best of The Week delivered directly to your inbox.
From our morning news briefing to a weekly Good News Newsletter, get the best of The Week delivered directly to your inbox.
3. Trump slams opponents during normally bipartisan prayer breakfast
President Trump rejected the traditional bipartisanship of the National Prayer Breakfast on Thursday and lashed out at his political opponents, calling them "very dishonest and corrupt people" for trying to impeach him for allegedly abusing his power. On the day after his Senate acquittal, Trump appeared to single out Sen. Mitt Romney (R-Utah), who was the only Republican to vote with Democrats to remove Trump from office. "I don't like people who use their faith as justification for doing what they know is wrong," Trump said. He also targeted House Speaker Nancy Pelosi (D-Calif.), who has said she prays for Trump, by saying he doesn't "like people who say, 'I pray for you,' when they know that's not so." Pelosi said Trump's comments were "completely inappropriate, especially at a prayer breakfast."
4. Chinese doctor who warned others of Wuhan coronavirus dies
Dr. Li Wenliang, the Chinese ophthalmologist who first sounded the alarm about the coronavirus outbreak in the central China city of Wuhan, died early Friday. In late December, the 34-year-old doctor wrote a message to his medical school classmates, letting them know he was quarantined in a hospital with seven people suffering from a mystery illness. In the middle of the night, Wuhan health authorities visited Li, and asked him why he shared this information; three days later, police officers came and pushed him into signing a statement declaring his warning was "illegal behavior." On Jan. 10, Li treated a woman for glaucoma who did not know she had coronavirus, and he caught it from her.
5. Key Republican senators ask Secret Service for Hunter Biden travel records
Sen. Chuck Grassley (R-Iowa) and Sen. Ron Johnson (R-Wis.) on Thursday asked the Secret Service director for travel records for Hunter Biden when his father, Joe Biden, was vice president. Grassley, who is chair of the Senate Finance Committee, and Johnson, who runs the Homeland Security and Governmental Affairs Committee, said in a letter to Secret Service Director James Murray that their committees "are reviewing potential conflicts of interest posed by the business activities of Hunter Biden and his associates during the Obama administration." President Trump's effort to get Ukraine to investigate Hunter Biden's work for Burisma, a Ukrainian energy company, while his father was in office was a central element of the impeachment inquiry against Trump.
6. China launches extreme measures to contain coronavirus in Wuhan
China on Thursday stepped up measures to contain the rapid spread of the deadly coronavirus in Wuhan, the city where the outbreak is centered. Authorities ordered house-to-house searches to find sick people to be sent to large quarantine centers. The improvised quarantine centers have minimal medical care, leaving many patients in Wuhan feeling abandoned and many residents fearing they will be next. The death rate for cases of the flu-like virus is 4.1 percent, far higher than the 0.17 percent rate in the rest of the country. Vice Premier Sun Chunlan said on a Thursday visit to Wuhan that the city and nation face "wartime conditions," and said "there must be no deserters." Chinese health officials said the death toll from the virus is now above 600.
7. White House says regional Al Qaeda leader killed in Yemen
The White House announced on Thursday evening that the leader and co-founder of Al Qaeda in the Arabian Peninsula, Qassim al-Rimi, was killed last month during a counterterrorism operation in Yemen. Formed in 2009, AQAP was based in Yemen, and claimed responsibility for last year's shooting at Naval Air Station Pensacola, where a Saudi aviation trainee killed three American sailors. Rimi was a target of a January 2017 raid on an Al Qaeda compound in Yemen, and released a video taunting President Trump after the failed operation. "The United States, our interests, and our allies are safer as a result of his death," the White House said. "We will continue to protect the American people by tracking down and eliminating terrorists who seek to do us harm."
8. January jobs report expected to show solid gains
Economists expect the monthly employment report coming out Friday morning to show that nonfarm employers in the United States added 161,000 jobs in January, according to FactSet. That would be below the monthly average hiring growth of the past two years, but enough to reduce the unemployment rate over time. The jobless rate currently stands at 3.5 percent, a 50-year low. Unseasonably mild temperatures probably helped the employment picture in weather-sensitive industries like construction, boosting expectations of continued modest growth. But the Labor Department report is expected to show that job gains from April 2018 through March 2019 were not as strong as initially estimated.
9. Trump administration finalizes plan to open once protected land for business
The Interior Department on Thursday finalized plans to allow drilling, mining, and grazing in parts of southern Utah once protected in the Bears Ears and Grand Staircase-Escalante national monuments. President Trump two years ago sharply reduced the size of the monuments, angering tribal groups and conservationists. The proposal to open the land for business is expected to energize a legal fight over the land, which includes badlands, slot canyons, and other features sacred to Native American nations. Under language Congress included in a spending bill, the earliest the Trump administration could approve mining claims or other projects in the areas is Oct. 1.
10. Koch returns after longest space mission ever by a woman
Astronaut Christina Koch returned to Earth on Thursday after a record 328-day stay on the International Space Station, the longest space mission ever by a woman. During her mission, Koch also led the first all-female spacewalk in 2019. "I'm just so overwhelmed and happy right now," Koch said after landing in Kazakhstan. The 41-year-old North Carolina-born engineer's mission will provide data on how weightlessness and space radiation affect the female body over long flights in space. "Women acclimate well to space, so I think this is a milestone that will be overtaken by women in the future and it's what we aspire to," said Lori Garver, NASA's former deputy administrator.

Continue reading for free
We hope you're enjoying The Week's refreshingly open-minded journalism.
Subscribed to The Week? Register your account with the same email as your subscription.