Trump acquitted himself
The Senate finally confirms what the public had long ago decided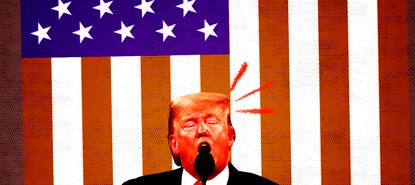 (Image credit: Illustrated | LEAH MILLIS/POOL/AFP via Getty Images, Fourleaflover/iStock)
President Trump was formally acquitted in the Senate on Wednesday afternoon to the surprise of nobody in particular. Mitt Romney was the lone Republican to support his removal from office. (His nomination at the next convention of the Shadow Republican Party is now assured, if it had ever been in doubt, despite the fact that he voted in favor of only one of the two articles of impeachment.) Despite what some previous reports had suggested might occur, no Democrats broke with their party. Otherwise the outcome was more or less what everyone had expected. There were never going to be enough votes to remove Trump from office, regardless of which pretext his opponents seized upon for his impeachment. He was acquitted long ago.
I mean this in more than one sense. Trump acquitted himself long ago in the eyes of the American people. Despite years of frivolous investigations, his approval rating is roughly equal to Barack Obama's at this point in his term. Public polling suggests that the impeachment process is unpopular even among some voters who otherwise oppose Trump, especially in those states that will be most consequential in this year's presidential election. (The fact that it is supported by another portion who flail omnidirectionally at Trump's every utterance is of little consequence.) He now enjoys all the ordinary advantages of an incumbent president in peacetime. It remains to be seen what additional ones he will enjoy thanks to the monumental folly of impeachment.
Which brings me to the most striking thing about Trump's third State of the Union address. I cannot have been the only person who was surprised that he did not mention impeachment even once. The prospect of a chief executive denouncing impeachment in front of the people who voted for it, in the very same chamber in which they had called witnesses and deliberated, was too bizarre not to look forward to. I should have known better. There was still plenty of distinctly Trumpian weirdness to go around.
Subscribe to The Week
Escape your echo chamber. Get the facts behind the news, plus analysis from multiple perspectives.
SUBSCRIBE & SAVE
Sign up for The Week's Free Newsletters
From our morning news briefing to a weekly Good News Newsletter, get the best of The Week delivered directly to your inbox.
From our morning news briefing to a weekly Good News Newsletter, get the best of The Week delivered directly to your inbox.
It was not clear at first that things would go this way. For what seemed like hours, Trump recited statistic after tedious statistic in an attempt to argue that the first three years of his presidency have been nothing short of an economic miracle. The extent to which he deserves credit for the lowest average unemployment of any president since we began making official records (and the lowest-ever unemployment rate for African-Americans, Hispanics, and Asian-Americans, veterans, and those without high-school diplomas) is debatable. But it is an iron law of presidential speechifying that bad numbers always belong to one's predecessor, while anything good is solely the result of one's own carefully thought-out policies. This was a speech that could just as easily have been made by President Obama — or, more to the point, by a hypothetical President Romney.
What followed was somewhat stranger. He introduced a series of guests ranging from a centenarian Tuskegee Airman and his aspiring Space Force cadet great-grandson to Rush Limbaugh, who was presented with a Medal of Freedom by the first lady. It was a spectacle, the presidency reconceived as daytime television, complete with cash giveaways for select guests.
All of these things were amusing, but it would be absurd to pretend that there was anything extraordinary about them. These were not the actions of a tyrant or a subverter of our constitutional order. They were the same tawdry theatrics that had brought him to the White House in the first place. They were greeted by more than a hundred standing ovations.
Trump's record in office, and the modest esteem in which he seems to be held by his countrymen, shows us that he is not a traitor or a criminal. He is a banal politician. Perhaps to the disappointment of many of his early supporters and regardless of whether his opponents acknowledge it, he has been accepted as an ordinary participant in American public life.
Want more essential commentary and analysis like this delivered straight to your inbox? Sign up for The Week's "Today's best articles" newsletter here.

Continue reading for free
We hope you're enjoying The Week's refreshingly open-minded journalism.
Subscribed to The Week? Register your account with the same email as your subscription.