10 things you need to know today: February 24, 2020
Democratic rivals try to slow Sanders' momentum after Nevada win, India greets Trump with massive rally, and more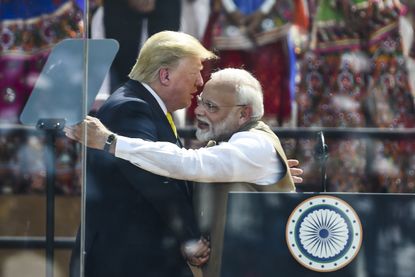 (Image credit: MONEY SHARMA/AFP via Getty Images)
1. Democratic rivals try to dent Sanders' frontrunner status
The Democratic presidential candidates spread out across the country, with several rivals questioning the electability of Sen. Bernie Sanders (I-Vt.) in a bid to slow his momentum after his decisive win in the Nevada caucuses. Former South Bend, Indiana, Mayor Pete Buttigieg said in Virginia that the progressive Sanders would alienate moderate voters Democrats need to beat President Trump in November. Former Vice President Joe Biden, who placed a distant second in Nevada as Sanders claimed victory in his third straight state, told CBS News' Face the Nation, "The Russians don't want me to be the nominee," adding, "they like Bernie." Sanders said polls showed he could beat Trump, and he blamed the "corporate media" for fueling suggestions he couldn't.
2. India greets Trump with pomp ahead of trade talks
President Trump arrived in India on Monday, starting 36 hours of tightly choreographed pomp and quieter trade talks. Trump and first lady Melania Trump landed in Ahmedabad, in western India, and after being greeted warmly by Prime Minister Narendra Modi, the two leaders spoke at a rally in the world's largest cricket stadium. Trump also visited Mahatma Gandhi's humble home and planned to visit the Taj Mahal before flying to Delhi for the business part of his trip. The cricket stadium held 100,000 people, making it the largest rally of Trump's political career, though "toward the end of the speeches, there were many empty seats, especially in the upper part of the stadium, in the sections facing the sun," noted pool reporter Jerome Cartillier of AFP.
Subscribe to The Week
Escape your echo chamber. Get the facts behind the news, plus analysis from multiple perspectives.
SUBSCRIBE & SAVE
Sign up for The Week's Free Newsletters
From our morning news briefing to a weekly Good News Newsletter, get the best of The Week delivered directly to your inbox.
From our morning news briefing to a weekly Good News Newsletter, get the best of The Week delivered directly to your inbox.
The Associated Press White House pool report
3. Italy isolates towns after coronavirus cases jump
Italian authorities locked down about a dozen small towns and canceled public events in the northern part of the country on Sunday after the number of coronavirus cases in the country soared from three to 152 over just a few days. The surge in Italy, which now has the most cases outside Asia, followed a similar spike in South Korea that caused that country's government to raise its national threat alert to its highest level. South Korea had 169 new confirmed cases on Sunday. Iran also is fighting a rapid rise in the number of people infected with the flu-like virus, officially known as COVID-19. Iran has confirmed eight deaths from the outbreak, the most outside China. Beijing is postponing its biggest annual political event, the National People's Congress, as it focuses on containing the outbreak.
4. Report: Trump compiling list of 'disloyal' officials to fire
The White House has compiled a list of government officials deemed "disloyal" to President Trump, Axios reported Sunday, citing more than a dozen people with knowledge of the matter, and internal documents. For 18 months, a "well-connected network of conservative activists with close ties to Trump and top administration officials" has been sending the White House suggestions on officials to oust and pro-Trump people who should replace them. Ginni Thomas, the wife of Justice Clarence Thomas and leader of the conservative network Groundswell, has passed along memos to contribute to the "Never Trump"/pro-Trump lists, Axios reports. Trump's Senate acquittal has energized his push to go after what he and some supporters call the "Deep State." Trump has reportedly become convinced that every department in the government is filled with "snakes" who need to be fired.
5. Plan to quarantine coronavirus evacuees in Alabama scrapped after outcry
A plan to send coronavirus evacuees to Alabama has been called off following protests from state leaders, Sen. Richard Shelby (R) and Rep. Mike Rogers (R) said on Sunday. The federal government had planned to use the FEMA Center for Domestic Preparedness in Anniston as a quarantine center for some of the Americans who tested positive after being evacuated from the Diamond Princess cruise ship in Japan, where they spent two weeks isolated due to an outbreak on board. "I just got off the phone with the president," Shelby tweeted. "He told me that his administration will not be sending any victims of the coronavirus from the Diamond Princess cruise ship to Anniston, Alabama. Thank you @POTUS."
6. Trump accuses Schiff of leaking secrets, provides no evidence
President Trump on Sunday claimed without offering evidence that Rep. Adam Schiff (D-Calif.), chair of the House Intelligence Committee, had leaked classified information on Russian interference in the 2020 U.S. election to damage the campaign of Sen. Bernie Sanders (I-Vt.), the progressive frontrunner for the Democratic presidential nomination. Trump called for an investigation, saying he had not been briefed on intelligence indicating Moscow was meddling in Sanders' favor. Days earlier, a congressional source told Reuters that intelligence officials had told Schiff's committee that Russia appears to be trying to help Sanders and Trump. Schiff denied Trump's "false claims," saying they "fool no one." "You welcomed Russian help in 2016, tried to coerce Ukraine's help in 2019, and won't protect our elections in 2020," Schiff added.
7. Judge denies Roger Stone's request for her recusal
U.S. District Court Judge Amy Berman Jackson has rejected a request from Roger Stone that she recuse herself from his criminal case. Stone, a longtime friend and adviser of President Trump, was found guilty of lying to Congress and witness tampering last year, and on Thursday, was sentenced to 40 months in prison. Stone is asking for a new trial, claiming that a juror was impartial. After the jury reached its verdict, Jackson said the jurors "served with integrity," and Stone's legal team has argued that this shows she is biased, and must recuse herself before a ruling is made on a new trial. Jackson wrote on Sunday that there is "no factual or legal support for the motion of disqualification" and "the pleading appears to be nothing more than an attempt to use the court's docket to disseminate a statement for public consumption that has the words 'judge' and 'biased' in it."
8. Harry Dunn's family calls on U.K. to block Assange extradition
The family of a British teenager killed in a collision with the car of an American diplomat's wife is calling for the British government to block the extradition of Julian Assange until the U.S. sends the American woman, Anne Sacoolas, back to the U.K. for trial. Sacoolas was driving on the wrong side of the road when she hit teenager Harry Dunn's motorcycle last August near a British air base. The lawyer for Dunn's family said the U.S. attacked "the so-called special relationship between the countries" when it rejected Britain's request to return Sacoolas to the U.K. He said the British government should respond by turning down U.S. requests for extradition, including that of WikiLeaks founder Assange, whose extradition hearing starts Monday.
9. Daredevil dies in homemade-rocket crash
Daredevil "Mad" Mike Hughes died over the weekend when his homemade rocket, which he had hoped would one day fly him to the edge of space, crashed outside Barstow, California. He was 64. The rocket's green parachute tore away just after launch. "Everyone was just stunned and didn't know what to do," freelance reporter Justin Chapman, who was present for the launch as he worked on a broader story on Hughes, told The Washington Post on Sunday. "They were silent for a long time." The craft's other three parachutes failed to deploy. Hughes was widely known as the most visible supporter of the theory that the Earth isn't round, but a flat plane. "I don't want to take anyone else's word for it," he said in a video talking about his goal for the mission. "I don't know if the world is flat or round."
10. Model and restaurateur B. Smith dies at 70
Restaurateur and former model B. Smith died Saturday at her Long Island home after battling early onset Alzheimer's disease, her husband, Dan Gasby, announced Sunday on Facebook. She was 70. "Heaven is shining even brighter now that it is graced with B.'s dazzling and unforgettable smile," Gasby wrote. Smith gained fame as one of the nation's top black models. In 1976 she became the second African-American model to make the cover of Mademoiselle. She later opened restaurants, wrote cookbooks, and launched a line of home goods. The products were the first collection by an African-American woman to be sold by a nationwide retailer, Bed Bath & Beyond. "You epitomized class, true beauty, and dignity. Rest well Queen," actress Viola Davis wrote on Twitter.

Continue reading for free
We hope you're enjoying The Week's refreshingly open-minded journalism.
Subscribed to The Week? Register your account with the same email as your subscription.