10 things you need to know today: March 1, 2020
Biden wins South Carolina, 1st U.S. coronavirus death occurs in Washington state, and more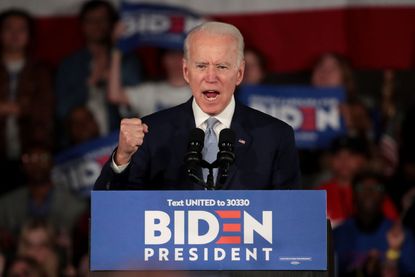 (Image credit: Scott Olson/Getty Images)
1. Biden wins South Carolina primary
Former Vice President Joe Biden won Saturday's South Carolina Democratic presidential primary, with multiple outlets projecting his victory almost immediately after polls closed at 7 p.m. E.T. With almost 100 percent of the votes in, Biden captured 48.4 percent of the vote, well ahead of Sen. Bernie Sanders (I-Vt.), who came in second with 19.9 percent. The state was considered a crucial one for the vice president, who faded in the Iowa caucuses and New Hampshire primary before finishing a distant second to Sanders in the Nevada caucuses earlier this month. Biden's campaign considered South Carolina the candidate's firewall, so the victory looks like it will serve as a much needed boost going into Super Tuesday. Biden's win was reportedly strongly aided by African American voters and voters aged 45 and older.
2. 1st U.S. coronavirus death occurs in Washington state
Health officials in Washington state said a coronavirus patient died Saturday, the first confirmed death from the novel virus in the United States. The person was reportedly a man in his 50s who had underlying health issues. There was no evidence he became infected as a result of travel. Washington Gov. Jay Inslee (D) declared a state of emergency, calling state agencies to use all necessary resources to prepare for and respond to a potential outbreak. The White House also issued new travel restrictions Saturday and will bar foreign nationals who have traveled to Iran in the past 14 days. The government is also advising citizens not to travel to specific areas of Italy and South Korea, and President Trump is considering restrictions at the southern border. Thailand and Australia also reported their first confirmed coronavirus deaths.
Subscribe to The Week
Escape your echo chamber. Get the facts behind the news, plus analysis from multiple perspectives.
SUBSCRIBE & SAVE
Sign up for The Week's Free Newsletters
From our morning news briefing to a weekly Good News Newsletter, get the best of The Week delivered directly to your inbox.
From our morning news briefing to a weekly Good News Newsletter, get the best of The Week delivered directly to your inbox.
3. Ghani rejects Taliban prisoner release in U.S., Taliban peace deal
Afghan President Ashraf Ghani on Sunday said his government has not signed off on a United States peace agreement pledge to release 5,000 Taliban prisoners by March 10. The U.S. and the Taliban reached a deal Saturday that is poised to end the sides' 18-year conflict. The main conditions of the agreement are a phased U.S. troop withdrawal from Afghanistan in exchange for the Taliban denying extremist groups from using Afghanistan as a base to launch attacks on the U.S. and its allies, but it also stipulated that the U.S. will work to "expeditiously release" the Taliban prisoners held by the Afghan government in the hopes of igniting peace talks between the government and the Taliban. Ghani said that shouldn't be a prerequisite for discussions, but part of the negotiations. The government, he said, has made no such commitment.
4. Steyer suspends presidential campaign
Billionaire Tom Steyer announced Saturday night that he's dropping out of the Democratic presidential race. Steyer had his strongest primary performance Saturday in South Carolina, where he finished in third place behind former former Vice President Joe Biden and Sen. Bernie Sanders (I-Vt.), but his aggressive campaigning in the state ultimately didn't achieve the results he was seeking. With nearly 100 percent of the vote in, Steyer has 11.3 percent support. "I can't see a path where I win the presidency," Steyer said. He spent more time in South Carolina than any other candidate in the hopes of chipping away at Biden's base, which included the majority of the state's African American voters.
5. Trump mocks Democratic candidates in CPAC speech
President Trump on Saturday gave one of his patented meandering speeches at the Conservative Political Action Conference in Washington. He spent a lot of time touting the achievements of his administration and criticizing the media and the Democratic Party, including his potential presidential opponents. Trump mostly dismissed Sen. Elizabeth Warren (D-Mass.), Sen. Amy Klobuchar (D-Minn.), and former South Bend, Indiana, Mayor Pete Buttigieg, saying he views them as non-threats. He also suggested Sen. Bernie Sanders (I-Vt.) might be a communist, said former Vice President Joe Biden would just be "sitting in a home some place" rather than governing the country, and mocked billionaire and former New York City Mayor Michael Bloomberg's height by shrinking below the podium while imitating him.
6. Biden picks up Virginia endorsements after South Carolina win
Former Vice President Joe Biden's victory in South Carolina prompted former Virginia Gov. Terry McAuliffe (D) to endorse him just days before Virginians vote on Super Tuesday. McAuliffe, who now works as a CNN commentator, said Biden has the "best shot of beating" President Trump. The McAuliffe endorsement comes after Biden also picked up support Friday from Sen. Tim Kaine (D-Va.). Rep. Bobby Scott (D-Va.) also threw his weight behind Biden following the South Carolina win, giving him three prominent endorsements from politicians in Virginia, where 99 delegates are at stake next week. Biden received a boost in South Carolina after Rep. Jim Clyburn (D-S.C.) endorsed him.
7. Thousands of migrants and refugees gather at Greek border after Turkey opens its side
The United Nations said Sunday that by Saturday evening 13,000 refugees and migrants gathered at the Greece-Turkey border with the goal of entering Greece following Turkish President Recep Tayyip Erdogan's announcement that he would open Turkey's border to the European Union. Turkey, he said, could not handle the influx of people fleeing the war in Syria, and would therefore open the previously closed border. The EU's border protection agency, Frontex, said it was on high alert, and deployed extra support for Greece. Brussels wants Ankara to stick to a 2016 deal in which they agreed to halt the flow of refugees. Meanwhile, military tensions continue to rise between Turkey and Syria. Syrian officials said Sunday that Turkish forces shot down two Syrian warplanes in the country's northwest territory.
The Guardian The Associated Press
8. Anti-corruption party wins Slovakia election
The center-right Ordinary People party, which ran on a platform of anti-corruption, emerged victorious in Slovakia's general election Saturday. The party, led by millionaire Igor Matovic, picked up 25 percent of the vote and will get the first crack at forming a government. Coalition negotiations are expected to be complicated. It was the first election since the 2018 murder of investigative journalist Jan Kuciak and his fiancé, Martina Kusnirova. Kuciak had been reporting on high-level corruption in the Slovak government which police said was the reason for his killing. His death sparked major protests leading to the resignation of the country's former Prime Minister Robert Fico. Matovic ran on the slogan "Let's beat the mafia together."
Deutsche Welle The Financial Times
9. New Malaysian prime minister sworn in as predecessor protests
Malaysia got a new prime minister Sunday after Muhyiddin Yassin was sworn in by the king. But the event was not without controversy. The country's previous prime minister, Mahatir Mohamad — under whom Muhyiddin served as home minister — claimed he was the one with the majority parliamentary support to form a government, arguing Muhyiddin betrayed him. Mahatir had been governing as the result of a coalition which collapsed after a splinter group tried to join the opposition. Muhyiddin has also served as Malaysia's deputy prime minister, until former Prime Minister Najib Razab was removed in 2015 following a multibillion dollar corruption scandal.
The South China Morning Post Al Jazeera
10. Saudi Aramco shares at lowest point since IPO amid coronavirus fears
Shares of Saudi oil giant Saudi Aramco were trading at 32.50 riyals or $8.66 on Sunday, down 2.55 percent on the day, the lowest point they've reached since the state-owned company launched its record-setting initial public offering in December as part of Riyadh's plan to diversify its economy. The IPO raised $29.4 billion. Oil prices have plunged in recent days as fears of the spreading coronavirus have rocked the global market. Despite reaching their low point, Aramco's shares are still above their IPO price of 32 riyals.

Continue reading for free
We hope you're enjoying The Week's refreshingly open-minded journalism.
Subscribed to The Week? Register your account with the same email as your subscription.