10 things you need to know today: March 26, 2020
Senators approve $2.2 trillion coronavirus rescue deal, Biden opposes having another Democratic presidential debate, and more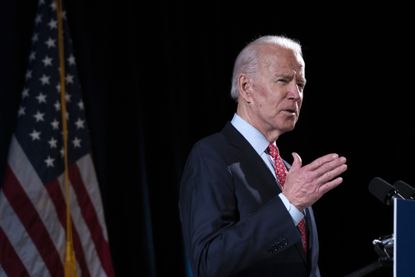 (Image credit: Drew Angerer/Getty Images)
1. Senate approves $2.2 trillion coronavirus relief deal
Senators unanimously approved a $2.2 trillion coronavirus relief bill late Wednesday, despite a last-minute delay after Republicans made objections to jobless aid they said could encourage layoffs, or give workers incentives to collect unemployment benefits instead of returning to work. The House plans to vote on the legislation Friday, and President Trump has vowed to sign it. Under the bill, Americans earning up to $75,000 would get $1,200 in the form of checks or direct deposits to their banks. Treasury Secretary Steven Mnuchin said families should receive the money "within the next three weeks." New York Gov. Andrew Cuomo (D) said the aid for his state would be a "drop in the bucket" given the cost of confronting the outbreak in the hard-hit state.
2. Biden says no need for another Democratic presidential debate
Former Vice President Joe Biden on Wednesday rejected the suggestion of holding another Democratic presidential debate, a day after Sen. Bernie Sanders' (I-Vt.) campaign indicated he would participate if one is scheduled for next month. Biden has built up a nearly insurmountable lead in the delegate count with a string of big primary wins. He has tried to avoid alienating Sanders supporters while at the same time suggesting the race for the nomination is essentially over. Biden and Sanders have halted campaign events due to the coronavirus outbreak. "My focus is just dealing with this crisis right now," Biden said Wednesday when asked whether he would participate in another debate. "I haven't thought about any more debates. I think we've had enough debates. I think we should get on with this."
Subscribe to The Week
Escape your echo chamber. Get the facts behind the news, plus analysis from multiple perspectives.
SUBSCRIBE & SAVE
Sign up for The Week's Free Newsletters
From our morning news briefing to a weekly Good News Newsletter, get the best of The Week delivered directly to your inbox.
From our morning news briefing to a weekly Good News Newsletter, get the best of The Week delivered directly to your inbox.
3. Dow, S&P 500 post 1st 2-day winning streak since selloff began
The Dow Jones Industrial Average and the S&P 500 rose on Wednesday, capping their first two-day winning streak since the coronavirus outbreak triggered a prolonged selloff. The S&P 500 gained 1.2 percent, giving back some of an earlier 5.1 percent rise after a last-minute dispute delayed a Senate vote on a $2 trillion economic rescue package designed to help families, businesses, and states get through the coronavirus crisis. The S&P 500 is now up by 10.6 percent in the last two days. The Dow has gained nearly 13 percent on optimism about the stimulus deal. U.S. stock index futures shed early gains on Thursday morning, pointing to what could be a lower open as investors brace for the latest data on new applications for jobless benefits.
4. Pentagon halts overseas movement of military personnel due to coronavirus
Defense Secretary Mark Esper told Reuters on Wednesday that he has ordered a 60-day halt to all movement of U.S. military forces abroad to help protect soldiers from the coronavirus pandemic. "The purpose is to make sure that we're not bringing the virus back home, infecting others, that we're not spreading it around the military," Esper said. He added that exceptions will be made for military personnel being withdrawn from Afghanistan under the newly signed peace deal with the Taliban. The United States committed to reducing its troop presence from 13,000 to 8,600 within 135 days of last month's signing of the deal. A full withdrawal is scheduled for within 14 months, as long as the Taliban holds up its end of the bargain.
5. G-7 joint statement derailed as U.S. insists on 'Wuhan virus' term
Group of Seven foreign ministers held an emergency meeting on the coronavirus pandemic on Wednesday but failed to agree on a joint statement because other countries balked at the Trump administration's insistence on referring to the outbreak as the "Wuhan virus," The Washington Post reported, citing three officials from G-7 countries. Representatives of other industrialized nations in the group viewed the term as too divisive for a moment when world leaders need to work together to slow the pandemic. Secretary of State Mike Pompeo said the term was appropriate, because the outbreak began in the Chinese city of Wuhan and the country's government didn't warn the rest of the world quickly enough.
6. Suspect in New Zealand mosque massacre pleads guilty
Brenton Tarrant, an Australian national, pleaded guilty on Thursday to killing 51 worshipers and wounding dozens more at two New Zealand mosques last March, reversing his initial plea of not guilty. The attacks were the deadliest peacetime atrocity in New Zealand's history. The first one was livestreamed over the internet. The hearing was closed to the public and lawyers appeared via video link under New Zealand's new lockdown aiming to slow the spread of the coronavirus. A representative of the mosques was allowed to attend to represent the victims and their families. "This is no easy joy or satisfaction," said Jamal Green, spokesman for Al Noor Mosque. "Every community that has been a victim of hate and loss will recognize a kind of emptiness when their world has suffered in this way."
7. Prince Charles tests positive for coronavirus
Prince Charles has tested positive for the COVID-19 coronavirus. The 71-year-old Prince of Wales, heir to the British throne, has "been displaying mild symptoms but otherwise remains in good health," a statement from Clarence House released Wednesday said. His wife, the Duchess of Cornwall, has tested negative for the virus. "It is not possible to ascertain from whom the prince caught the virus owing to the high number of engagements he carried out in his public role during recent weeks," Clarence House said. Charles has now self-isolated at home in Scotland. He previously canceled royal engagements due to the coronavirus pandemic.
8. Family of ex-FBI agent who vanished in 2007 says he died in Iran
Relatives of retired Robert Levinson, who disappeared in 2007, said Wednesday that the U.S. government believes he has died in custody in Iran. It was not clear when or how Levinson died. White House National Security Adviser Robert O'Brien said the U.S. believes Levinson "may have passed away some time ago." Levinson's family said he apparently died before the coronavirus pandemic reached Iran. "It is impossible to describe our pain," the family said in a statement. "Our family will spend the rest of our lives without the most amazing man." Levinson vanished as he was supposed to be meeting with a source on an Iranian island. The U.S. has said he was working on a private investigation, but an Associated Press investigation concluded he was sent by CIA analysts.
9. Abortion providers challenge Texas attempt to bar procedures during pandemic
Texas abortion providers have filed an emergency lawsuit challenging an executive order by Gov. Greg Abbott (R) against elective surgeries, following a declaration by the state's Attorney General Ken Paxton (R) that the ban includes abortions. In a press conference Wednesday, national and state abortion rights groups said they are requesting a temporary restraining order while they push to permanently block the order. The Planned Parenthood Federation, the Center for Reproductive Rights, and the Lawyering Project said Abbott's order "inserted politics into what should be medical decisions." Paxton said it was "unconscionable" that abortion providers want to withhold "desperately needed supplies and personal protective equipment in favor of a procedure that they refer to as a 'choice.'" Ohio and Mississippi also are pushing similar bans.
The Texas Tribune The Washington Post
10. Elton John announces 'Living Room Concert for America'
Elton John announced on Wednesday that this weekend he will host a benefit concert amid the COVID-19 coronavirus pandemic, featuring performances from Alicia Keys, the Backstreet Boys, Billie Eilish, Billie Joe Armstrong, Mariah Carey, Tim McGraw, and others. Given the social distancing guidelines being followed throughout the country to help slow the spread of the novel coronavirus, these stars will all be performing "from their own homes, filmed with their personal cell phones, cameras, and audio equipment, to ensure the health and safety of all involved," the announcement said. They're calling it the "Living Room Concert for America." The concert will air without commercials and will call on viewers to support Feeding America and First Responders Children's Foundation. The show airs Sunday at 9:00 p.m. EST on Fox.

Continue reading for free
We hope you're enjoying The Week's refreshingly open-minded journalism.
Subscribed to The Week? Register your account with the same email as your subscription.