10 things you need to know today: August 21, 2020
Joe Biden accepts the Democratic presidential nomination, Stephen Bannon pleads not guilty after fraud arrest, and more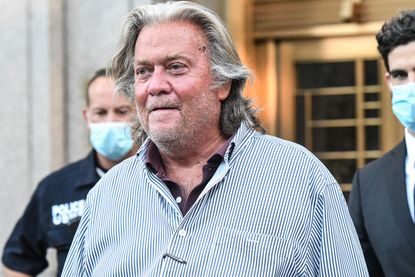 (Image credit: Stephanie Keith/Getty Images)
1. Biden accepts Democratic presidential nomination
Joe Biden accepted the Democratic presidential nomination on Thursday night, ending the party's virtual convention with a promise to unite Americans to "overcome this season of darkness." "The current president has cloaked America in darkness for much too long — too much anger, too much fear, too much division," Biden said. "Here and now, I give you my word: If you entrust me with the presidency, I will draw on the best of us, not the worst." Biden said he would not "put up with foreign interference in our most sacred democratic exercise: Voting." And he promised to confront a "perfect storm" of challenges, including an economic crisis, climate change, a national call for racial justice, and a pandemic he said President Trump has failed to address.
The New York Times The Associated Press
2. Stephen Bannon arrested, pleads not guilty on fraud charges
Stephen Bannon, President Trump's former chief strategist, was arrested and charged with fraud on Thursday. Prosecutors in New York accused Bannon and three other suspects of participating in a "scheme" to defraud people who donated to a "We Build the Wall" effort to raise money for the construction of barriers on the U.S.-Mexico border. Bannon, Brian Kolfage, Andrew Badolato, and Timothy Shea were charged with conspiracy to commit wire fraud and conspiracy to commit money laundering. The online crowdfunding campaign raised more than $25 million, all of which was supposed to be spent on the wall. But prosecutors said Bannon received more than $1 million of it through a nonprofit he controlled, used a "substantial portion" himself, and sent hundreds of thousands of dollars to Kolfage. Bannon entered a not guilty plea and was released on bond.
Subscribe to The Week
Escape your echo chamber. Get the facts behind the news, plus analysis from multiple perspectives.
SUBSCRIBE & SAVE
Sign up for The Week's Free Newsletters
From our morning news briefing to a weekly Good News Newsletter, get the best of The Week delivered directly to your inbox.
From our morning news briefing to a weekly Good News Newsletter, get the best of The Week delivered directly to your inbox.
3. Judge rejects Trump bid to block tax returns from New York prosecutors
U.S. District Judge Victor Marrero dismissed a lawsuit filed by President Trump in a bid to block the release of his financial records to New York prosecutors and a grand jury. Trump's lawyers said a subpoena from Manhattan District Attorney Cy Vance seeking Trump's tax records and other documents was too broad, but Marrero rejected that argument. "The court finds that the president has not sufficiently pled that the subpoena is overbroad or was issued in bad faith on this basis," the judge wrote in the ruling. Vance demanded the documents as part of an investigation into hush money payments made to two women who allege they had affairs with Trump, which he denies. The Supreme Court ruled last month that Trump is not immune from criminal subpoenas, as his legal team has claimed. Trump's lawyers are appealing the Thursday ruling.
4. New jobless claims rose above 1 million again last week
The Labor Department reported on Thursday that 1.1 million Americans filed new claims for unemployment benefits last week, reversing a decline from the previous week, which saw the figure drop below 1 million for the first time since the coronavirus crisis hit in March. The rise from 971,000 new jobless claims the week before surprised economists, who had forecast on average about 923,000 claims last week. The new report indicated that 28.5 million Americans still are receiving some form of government unemployment assistance. Analysts said the new numbers served as a warning sign that layoffs remain high as many states still face high rates of COVID-19 infections and deaths.
5. 73 Republican former security officials back Biden
Seventy-three former Republican national security officials released a letter endorsing Democratic presidential candidate Joe Biden and calling President Trump unfit for the White House. The Former Republican National Security Officials for Biden group includes ex-CIA and FBI chiefs and senior defense and intelligence veterans who served under presidents Ronald Reagan, George H.W. Bush, George W. Bush, and Trump himself. "Trump has demonstrated that he lacks the character and competence to lead this nation and has engaged in corrupt behavior that renders him unfit to serve as president," the group planned to say in a full-page ad in The Wall Street Journal on Friday. The members of the group also accuse Trump of "spreading misinformation" and "undermining public health experts" trying to fight the coronavirus pandemic.
6. Barr says DOJ will push to restore death penalty for Tsarnaev
The Justice Department plants to get the death penalty reinstated for Dzhokhar Tsarnaev for his role in the 2013 Boston Marathon bombing, Attorney General William Barr told The Associated Press on Thursday. A three-judge panel of the 1st U.S. Circuit court threw out Tsarnaev's death sentence in July, saying the judge in his 2015 trial did not adequately question potential jurors about their exposure to information on the case. The court ordered a trial on whether Tsarnaev should be executed for the attack, which killed three people and wounded more than 260. Barr vowed to take the matter to the U.S. Supreme Court if necessary. "We will do whatever's necessary," Barr said. "We will take it up to the Supreme Court and we will continue to pursue the death penalty."
7. U.S. calls for restoring U.N. sanctions against Iran
The Trump administration on Thursday submitted a letter to the United Nations Security Council accusing Iran of failing to comply with its 2015 nuclear deal with world powers, and calling for restoring U.N. sanctions against Tehran, including an arms embargo. President Trump pulled the U.S. out of the nuclear deal two years ago, and all of the remaining parties to the agreement − Germany, France, Britain, Russia, and China − promptly rejected the U.S. move, which Russia and China called "illegitimate." Just last week, the Security Council rejected a U.S. bid to extend an arms embargo due to expire in October. "It is an enormous mistake not to extend this arms embargo. It's nuts!" Pompeo told reporters at the U.N.
8. Uber, Lyft to continue California service after reprieve
An appeals court on Thursday gave Uber and Lyft a last-minute reprieve from a California law requiring them to reclassify their drivers in the state as employees entitled to benefits. The ride-hailing services had said they would have to shut down in the state at the end of the day on Thursday if the rule was allowed to take effect as scheduled on Friday, forcing them to stop classifying their drivers as independent contractors. "While we won't have to suspend operations tonight, we do need to continue fighting for independence plus benefits for drivers," said Lyft spokesperson Julie Wood in a statement. The companies are hoping to buy enough time to push through a referendum exempting them from the requirement, but the appeals court ordered them to submit plans to comply within 30 days.
9. At least 5 dead as California wildfires continue
The death toll from wildfires raging across California has risen to at least five after a flurry of lightning strikes ignited new fires in the northern part of the state. Tens of thousands of people had to evacuate their homes and go to shelters despite the risk of coronavirus infections after California recorded 600,000 confirmed cases. "Not only are we dealing with COVID, but with also the heat and now the fires," said Cheryl Jarvis, who evacuated to a community center in Vacaville but refused to go inside, sleeping in her Toyota Prius instead. Statewide, there have been more than 360 fires, with 22 major blazes still burning. "We are experiencing fires, the likes of which we haven't seen in many, many years," Gov. Gavin Newsom (D) said.
10. Chiefs to ban fans from wearing headdresses to home games
The Kansas City Chiefs on Thursday said that after speaking with "a group of local leaders from diverse American Indian backgrounds and experiences," the team has decided to prohibit fans from donning headdresses or Native American-themed face paint at Arrowhead Stadium home games. The organization is also reviewing the "Arrowhead Chop" action that is performed by fans. "We are grateful for the meaningful conversations we have had with all of these American Indian leaders," the Chiefs said in a statement. "It is important that we continue the dialogue on these significant topics, and we look forward to continuing to work together in the future." In July, the Washington Redskins retired its name, after years of complaints that the moniker was offensive to Native Americans.

Continue reading for free
We hope you're enjoying The Week's refreshingly open-minded journalism.
Subscribed to The Week? Register your account with the same email as your subscription.