Is a corporate CV a path to the presidency?
White House candidates tout their private sector expertise, but is that enough to qualify them for a career in public service?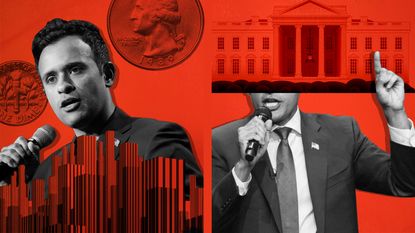 (Image credit: Illustrated / Getty Images)
Sign up to our 10 Things You Need to Know Today newsletter
A free daily digest of the biggest news stories of the day - and the best features from our website
Thank you for signing up to TheWeek. You will receive a verification email shortly.
There was a problem. Please refresh the page and try again.
GOP presidential candidate Vivek Ramaswamy is on a roll. While trailing former President Donald Trump by nearly 50 points in a recent Republican presidential primary poll, the man Politico dubbed the "self-described intellectual godfather of the anti-woke movement" has nevertheless managed to leapfrog a host of seasoned political aspirants and is, in some countings, tied with Florida Gov. Ron DeSantis for second place in the GOP standings. That DeSantis, long thought to be Trump's most acute primary threat, reportedly plans to train his guns on Ramaswamy in particular during the first Republican primary debate is a sign that the hedge fund turned biotech entrepreneur is a serious and significant candidate at this stage of the race, despite his total lack of personal political experience.
Instead, Ramaswamy has drawn heavily upon his corporate past to make his case to the voting public, promising "mass layoffs to the DC bureaucracy" during a recent interview with conservative broadcaster Erick Erickson. "It takes a combination of being, yes, an outsider, who's been a CEO" to "shut down the administrative state," Ramaswamy boasted, as he laid out plans to fire three-fourths of the federal bureaucratic workforce.
In this, Ramaswamy is the latest in a long line of presidential aspirants — often, but not exclusively, Republicans — who point to their corporate backgrounds as proof positive that they are uniquely suited for public service in the White House. Like Trump before him and, to a degree, Mitt Romney before Trump (to say nothing of Andrew Yang, Ross Perot, Carly Fiorina, Herman Cain and other less-successful aspirants), Ramaswamy's pitch to be CEO-in-chief resonates with a sizable segment of the electorate. But is the path from the boardroom to the Oval Office as clear as they claim? And is a corporate president what the majority of the public even wants?
Subscribe to The Week
Escape your echo chamber. Get the facts behind the news, plus analysis from multiple perspectives.
SUBSCRIBE & SAVE
Sign up for The Week's Free Newsletters
From our morning news briefing to a weekly Good News Newsletter, get the best of The Week delivered directly to your inbox.
From our morning news briefing to a weekly Good News Newsletter, get the best of The Week delivered directly to your inbox.
What are commentators saying?
"Good business leaders" deserve consideration for the presidency because the "business world can be a remarkable platform to build skills and excel," The Hill's Dan Glickman wrote in 2018. Allowing that "being a successful business executive does not necessarily mean" a person would make a good president who can tackle the challenges of working within the constraints set by Congress, Glickman nevertheless insisted that many of the best business leaders embody the "principles of good political leadership."
Harvard Business School Professor Nancy Koehn seemed to agree, at least in part, writing in 2017 that "as a historian" she didn't see a significant difference between business and political leaders "in terms of what makes them effective." Both are "animated by a big, honorable mission" and accomplish the goals of that mission with a "consistent emotional awareness" and the ability to "motivate others to try to be better and bolder in pursuit of this purpose." But, cautioned Koehn, when it comes to the first American president to make the move straight from the corporate office to the White House, "we have not seen much evidence" that Trump embodies any of those qualities, even if voters may perceive him as such.
For Forbes' David Davenport, the crossover from CEO to president is a no-go. Writing on the cusp of Trump's initial 2016 nomination, Davenport explained that making the leap from the corporate world to politics "works about as well as elite athlete Michael Jordan trying to cross over from professional basketball to baseball: not very well." The problem is that while CEOs have a "single overriding goal which must be proven to a well-defined audience of investors" — namely, making money — presidents are forced to answer to "multiple constituencies" and focus on a "plethora of responsibilities measured primarily by the vagaries of political polls and elections." Unlike a CEO, "theirs is the realm of persuasion, not power."
Another crucial difference, perhaps contrary to the reasoning behind Ramaswamy's pledge, is that while "CEOs can usually make sure that their orders are carried out, and if they're not, those who didn't do their jobs can be fired," presidents are hampered by the realities of the federal system. "Imagine a president tried working with Congress that way," wrote Brookings Institute Senior Fellow Robert Litan. "'My way or the highway' won't cut it."
What next?
The Trump administration may have "ruined the myth of the business reformer for a generation," The New Republic's Kyle Edward Williams wrote, calling it a "good thing." The very shift toward advocating for the government to be run like a business came when "Cold War–era business leaders styled themselves the true custodians of liberal democracy in the face of Soviet threats," which lead them to transform "concepts native to a democratic political tradition such as justice, equality and citizenship into objects of professional problem-solving and efficient administration."
If there has been a "silver lining" to the Trump presidency, concluded Williams, it's that "Americans will be more suspicious the next time someone comes around promising to run the government like a business." And there's evidence to suggest he's right. A 2020 Hill-HarrisX poll showed nearly three-fourths of the country didn't believe that a "millionaire's business experience automatically translates to political success," with slightly more than 75% of respondents indicating the same for billionaires.
"Sixty-seven percent of those respondents who identified as Republican said that business skills don't translate to the political world, compared to 81% of those who identified as independents and 82% of those who identified as Democrats," the poll noted. That sentiment has shifted slightly however, with a late 2022 USA TODAY/Suffolk University poll that showed 56% of respondents saying an "ideal" presidential candidate should have business experience — a slim majority bolstered in large part by Republicans, 85% of whom agreed. Democrats, on the other hand, disagreed, with 55% opposed to a candidate having corporate experience — a response that may "reflect opposition" to Trump's tenure as president.
Given Trump's dominance across the GOP field and Ramaswamy's surge in the polls, it seems the question of whether Americans truly want another CEO-in-chief is far from settled.
Continue reading for free
We hope you're enjoying The Week's refreshingly open-minded journalism.
Subscribed to The Week? Register your account with the same email as your subscription.
Sign up to our 10 Things You Need to Know Today newsletter
A free daily digest of the biggest news stories of the day - and the best features from our website
Rafi Schwartz is a Politics Writer with The Week, where he focuses on elections, Congress, and the White House. He was previously a contributing writer with Mic, a senior writer with Splinter News, and the managing editor of Heeb Magazine. His work has appeared in Rolling Stone, GOOD, The Forward, and elsewhere.
Rafi currently lives in the Twin Cities, where he does not bike, run, or take part in any team sports. He does, however, have a variety of interests, hobbies, and passions.