Lindsay Sandiford: Indonesia 'preparing for executions'
British grandmother convicted of drug smuggling is among foreigners on death row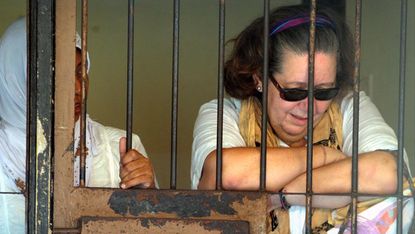 (Image credit: Getty Images)
Foreigners on death row in Indonesia, including British drug smugglers Lindsay Sandiford and Gareth Cashmore, fear they could be executed "within weeks", reports The Guardian.
The country was widely condemned last year after a group of prisoners, including two Australian men known as the Bali Nine duo, faced the firing squad.
The chatter has grown "ominous" once more, says the Guardian. "Talk that the death squad is at the ready; that a new, bigger execution ground is in the making. Officials say it could be just weeks away."
Subscribe to The Week
Escape your echo chamber. Get the facts behind the news, plus analysis from multiple perspectives.
SUBSCRIBE & SAVE
Sign up for The Week's Free Newsletters
From our morning news briefing to a weekly Good News Newsletter, get the best of The Week delivered directly to your inbox.
From our morning news briefing to a weekly Good News Newsletter, get the best of The Week delivered directly to your inbox.
A total of 14 prisoners were executed in two separate rounds last year, but a third group was put on hold – "ostensibly for economic reasons, but perhaps, in part, for political ones, too," says the newspaper.
Security minister Luhut Panjaitan has expressed hopes for less "drama" this time around, although that seems unlikely, after Indonesia was booed at the United Nations last month over its support for executing drug offenders.
"There is nothing definitive yet, no date, and no official list of the next prisoners to face the firing squad: the Indonesian government is keeping its cards close to the chest," says the Guardian. "But some are still operating on the assumption that it is probably just a matter of time."
Sandiford, a grandmother from Cheltenham, Gloucestershire, claims she was forced to carry 10lbs of cocaine from Bangkok to Bali by a criminal gang who threatened the life of her sons.
Cashmore, from Wakefield, West Yorkshire, was originally handed a life sentence for drug smuggling, but the penalty was raised to a death sentence in 2012.
At the time, his mother, Lynne, said she could not understand why her son was being sentenced to death when Umar Patek, a militant convicted of making explosives used in the 2002 Bali bombings, which left 200 people dead, was sentenced to just 20 years in jail.
Infographics by www.statista.com for TheWeek.co.uk
Lindsay Sandiford meets granddaughter on death row
14 September 2015
Lindsay Sandiford, the British woman sentenced to death in Indonesia for smuggling drugs, has been allowed to meet her two-year-old granddaughter for the first and possibly last time.
The 59-year-old was due to be executed on 21 September, despite claiming that she was forced into trafficking large quantities of cocaine, but her execution has now been postponed until at least the end of the year.
Sandiford's family flew out to visit her last week, with granddaughter Ayla, who was born seven months after her arrest in Bali in May 2012. The two-year-old apparently played with her grandmother before blowing kisses to the prison guards.
Sandiford, from Cheltenham, Gloucestershire, said she was "so glad" she had the chance to meet Ayla. "I know this may be the first and last time I ever hold my granddaughter," she told the Mail on Sunday.
Sandiford, who is on death row at Kerobokan prison in Denpasar, has re-launched her campaign to raise £25,000 to fund an appeal against the death sentence.
She has always claimed that she was forced to carry 4.7kg of cocaine from Bangkok to Bali by a criminal gang who threatened the life of her sons.
According to the Mail, the UK government has refused to fund her legal battle, despite a recommendation from five Supreme Court judges in London who said "substantial mitigating factors" had been overlooked.
Her campaign comes just months after eight convicted drug smugglers were executed by firing squad, including two Australians accused of leading the "Bali Nine", a gang that allegedly intended to take 8kg of heroin from Bali to Australia.
Lindsay Sandiford: is there anything the UK government can do?
28 July
David Cameron has discussed the case of a British woman on death row during his two-day state visit to Indonesia.
Lindsay Sandiford, a grandmother from Cheltenham, was sentenced to death by firing squad in 2013 after she was caught smuggling 4.8kg of cocaine from Bangkok to Bali.
The Prime Minister did not raise the matter in public, choosing to discuss the case with Indonesian president Joko Widodo privately instead, according to Sky News' political editor Faisal Islam.
Commentators had already predicted that Cameron would be reluctant to raise the issue publically while on a trade and counter-terrorism tour of South East Asia.
It was a "potentially awkward moment for Mr Cameron", said the BBC ahead of his visit as the PM was "expected to announce hundreds of millions of pounds worth of trade deals with Indonesia".
The British government is being urged to do more to help the 59-year old, who maintains that she was coerced into transporting the drugs by gangsters who were threatening to hurt her family.
Sandiford is said to be trying to launch a fresh appeal against her sentencing, but is running out of money to pay her legal team.
The campaign group Avaaz is calling on Foreign Secretary Philip Hammond to cover Sandiford's mounting legal fees "so that she can fight the injustice she has been subjected to".
But the BBC points out that government policy is to not provide funding for legal representation to British nationals who face criminal proceedings abroad - even in capital cases.
There appears to be few options left. Earlier this year, a group of foreign prisoners, including two Australians, were executed by firing squad in Indonesia, despite an international outcry from world leaders.
"Australian ministers even threatened to cut off foreign aid," says the BBC. "It didn't work. Indonesia did not appear to like being told what to do."
Lindsay Sandiford appeals to Russell Brand over execution
7 May
Lindsay Sandiford, the drug-smuggling British grandmother awaiting execution in Indonesia, has appealed to comedian Russell Brand for help.
The 58-year-old was convicted of bringing 4.8kg of cocaine with a street value of £1.6m into Bali and sentenced in January 2013 to death by firing squad.
Several of her fellow prisoners – including Bali Nine ringleaders Andrew Chan and Myuran Sukumaran – were executed last month, prompting fears that she will be next.
Brand spoke out against their sentences, claiming it was an "empty gesture" to mask the corruption in Indonesia and its financial dependence on the illegal drug trade, reports The Independent.
In her letter, Sandiford praised him for speaking "very eloquently and movingly" about her friends and said she had been left "truly heart-broken".
"That is why I would like to ask for your help to support and promote my attempts to have a fair, final hearing into my own case," she wrote.
"My situation is extremely urgent and if you can raise awareness of my case in any way it would be a great help and comfort to me."
Sir Richard Branson has spoken out against her sentence, describing the death penalty as a "cruel and inhumane punishment". He said that he fully supports the efforts that are currently underway to aid her appeal.
Sandiford claims she was forced to carry the drugs into Indonesia by a gang that was threatening her family. However, Kathryn Bonella, a journalist who has investigated and published several books on the island's criminal underworld, claims Sandiford was well known among Bali's drug dealers.
Writing in the Mail on Sunday last weekend, Sandiford said she believed her execution was "imminent" after the Indonesian government announced its plans to execute everyone on death row for drug crimes before the end of 2015.
"I'll look them in the eye and be singing Magic Moments when they shoot me," she said.
British drug smuggler Lindsay Sandiford faces firing squad
8 April 2013
A British grandmother has lost her appeal against the death sentence handed down by a court in Bali after she was convicted of drug trafficking.
Lindsay Sandiford, 56, was convicted in January after arriving on the Indonesian island on a flight from Bangkok carrying 4.8kg of cocaine. Prosecutors recommended a 15-year jail sentence, but a panel of judges later sentenced her to death by firing squad.
Sandiford insists she was coerced into smuggling the drugs by gangsters who were threatening to harm one of her children. But a writer with knowledge of the Bali drugs scene says she was a "well-known drug dealer" who regularly brought hashish – and more recently cocaine - to the Indonesian island.
The death sentence handed to Sandiford shocked many people on Bali, but it was described as "accurate and correct" today by the appeal judges who upheld it. Sandiford, who is originally from Redcar in Teeside, would be told of the decision as soon as possible, a spokesman for the court said.
Sandiford has 14 days to appeal to Indonesia's Supreme Court starting from the day she is informed of the verdict, the BBC says. If the Supreme Court rejects her appeal, she can seek a judicial review of the decision from the same court. After that, only the Indonesian president can grant her a reprieve.
The British government had supported Sandiford's appeal in a so-called 'amicus brief' submitted to Denpasar High Court. The document stressed the UK government's opposition to the death penalty "in all circumstances".
At her trial, Sandiford was accused of being the mastermind behind a drug ring involving three other Britons. Julian Ponder, 43, from Brighton, was jailed for six years after being cleared of smuggling but convicted of possessing 23g of cocaine. The two other Britons were also cleared of trafficking; one was jailed for four years for possession and the other received a one-year term for failing to report a crime.

Continue reading for free
We hope you're enjoying The Week's refreshingly open-minded journalism.
Subscribed to The Week? Register your account with the same email as your subscription.