Bali Nine duo executed: what next for Indonesia and Australia?
Prisoners sang Bless the Lord O My Soul and stared executioners in the eye before shots went off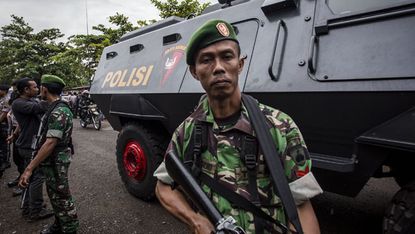 (Image credit: 2015 Getty Images)
Sign up to our 10 Things You Need to Know Today newsletter
A free daily digest of the biggest news stories of the day - and the best features from our website
Thank you for signing up to TheWeek. You will receive a verification email shortly.
There was a problem. Please refresh the page and try again.
The two Bali Nine ringleaders were among eight drug smuggling convicts executed by firing squad in Indonesia overnight, despite appeals from world leaders and human rights activists.
The eight prisoners were said to have joined together to sing Amazing Grace and Bless the Lord O My Soul before their hymns were cut off by gunfire just after 12.30am.The inmates rebuffed the offer of blindfolds and instead stared their executioners in the eye before their deaths, reports the Sydney Morning Herald.Their families said an emotional goodbye on the Nusa Kambangan prison island, off Central Java, earlier in the evening and held a candle-lit vigil as their loved ones were killed.Australian Prime Minister Tony Abbott had warned that there would be "consequences" if the Bali Nine duo, Andrew Chan and Myuran Sukumaran, faced the death penalty – so what now for Indonesian-Australian relations?
Who was executed?
Subscribe to The Week
Escape your echo chamber. Get the facts behind the news, plus analysis from multiple perspectives.
SUBSCRIBE & SAVE
Sign up for The Week's Free Newsletters
From our morning news briefing to a weekly Good News Newsletter, get the best of The Week delivered directly to your inbox.
From our morning news briefing to a weekly Good News Newsletter, get the best of The Week delivered directly to your inbox.
Australians Chan and Sukumaran were arrested in 2005 when they were both in their early twenties, accused of leading a drug smuggling gang that intended to import 8kg of heroin from Bali to Australia. Lawyers for the men said they had undergone radical rehabilitation over the last ten years. Chan married his girlfriend on Monday in prison, while Sukumaran's last wish was to paint for as long as possible before he was executed. Rodrigo Gularte, a Brazilian diagnosed with schizophrenia, was also among the prisoners, as well as four Nigerians, Raheem Agbaje Salami, Martin Anderson, Sylvester Obiekwe Nwolise and Okwudili Oyatanze, and one Indonesian national Zainal Abidin.
Mary Jane Fiesta Veloso, from the Philippines, had her execution delayed at the eleventh hour amid reports that a woman who recruited her had surrendered herself to Philippine authorities. A Frenchman, Serge Atlaoui, was also granted a temporary reprieve after his lawyer filed a final appeal last week.
How has Australia reacted?
Canberra today recalled its ambassador to Indonesia for consultations. Brazil and the Netherlands also recalled their ambassador after another round of executions earlier this year. Analysts have suggested Australia could also reduce its £300m aid package to the country or cut ministerial and defence contacts.
How has Indonesia reacted?
One editorial in the Jakarta Globe warns that the executions will "create much more harm than good". It suggested that the death sentences had nothing to do with drug eradication, but was born out of a misguided "political strategy" to prevent Indonesian President Joko Widodo from appearing weak by reversing his decision. Tobias Basuki, from Jakarta's Centre for Strategic and International Studies, has previously argued that the country has a "double standard" when it comes to capital punishment, as it puts up a strong fight to protect its own citizens from facing execution abroad.
But, in response to Australia's warning of "consequences", one international law expert – Professor Hikmahanto Juwana from the University of Indonesia – pointed out that Canberra signed the Lombok Treaty in 2008. He told the Jakarta Post that this required Australia to respect Indonesia's sovereignty, territorial integrity and political independence.
What next for international relations?
In the Daily Telegraph, Jonathan Pearlman says the damage to the delicate relations between Indonesia and Australia will be "deep, long-lasting and dangerously unpredictable". Any response from Canberra could trigger a "tit-for-tat" response by Indonesia, which "harbours its own anger over Mr Abbott's use of the Australian navy to tow back asylum seeker boats to Indonesia", he says.
But President Widodo appeared to shrug off today's diplomatic recall, suggesting that the measures were usually only temporary. While Abbott described the executions as a "dark moment" in Australia's relationship with Indonesia, he immediately added that he was sure the relationship "will be restored".
Bali Nine leaders given 72-hour notice for death by firing squad
27 April
The two ringleaders of an Australian drug-smuggling group have been told they have 72 hours before they will be killed by firing squad.The so-called Bali Nine drug smugglers were arrested ten years ago for transporting 8kg of heroin from Indonesia to Australia.Seven were given life sentences, but Myuran Sukumaran, now 34, and Andrew Chan, now 31, were sentenced to death for recruiting and leading the group.Sukumaran and Chan could now be shot on Indonesia's 'Execution Island', Nusa Kambangan, as early as Tuesday evening.Australian Prime Minister Tony Abbott has been among the campaigners pleading with Indonesian President Joko Widodo to intervene and show mercy – but to no avail.For his final wish, Sukumaran asked to paint for as long as he was allowed, while Chan asked to go to church with his family.One Filipino woman, four Nigerian men, a Brazilian man and an Indonesian man were also given the three-day execution notice. A French man is waiting to hear the verdict on an outstanding legal complaint and could face execution if the appeal is dismissed today.According to the Sydney Morning Herald, prisoners are executed by a firing squad recruited from a special unit of the national police and are given the choice to stand, kneel or sit with their hands and feet tied."Each prisoner has 12 marksmen aiming rifles at his or her heart. Only three of the 12 have live ammunition in their weapons," says the newspaper. "Authorities say this is so that the executioner remains unidentified."If the first round of bullets does not kill them, they will be shot in the head by a police commander.Meanwhile, British grandmother Lindsay Sandiford fears she will be included in the next round of executions to take place before the end of the year, the Mail on Sunday has reported.The 58-year-old admitted to smuggling £1.6m of cocaine from Bangkok to Bali three years ago but claims her family was threatened by a drugs syndicate.
She reportedly told a friend: "I just want to get it over with. I feel like just giving up."
Bali Nine: why is Indonesia about to execute two Australians?
4 March
Two Australian citizens convicted of leading a drug smuggling ring have been moved to the high security prison in Indonesia where they are due to be executed. The country's president Joko Widodo insists that he will show no mercy and that no amount of foreign pressure will stop the executions from going ahead.
The case has generated a huge amount of media interest in both Indonesia and Australia, and has been the subject of intense diplomatic wrangling as the Australian prime minister Tony Abbott has sought to have the two men's death sentences revoked.
But who are the men at the centre of the high-level diplomatic negotiations? And why is the Indonesian president intent on carrying out their execution?
Who are the Bali Nine?
In 2005, a group of Australians now known as the Bali Nine were arrested in Denpasar accused of smuggling heroin from Indonesia to Australia.
Andrew Chan, Si Yi Chen, Michael Czugaj, Renae Lawrence, Tan Duc Thanh Nguyen, Matthew Norman, Scott Rush, Martin Stephens and Myuran Sukumaran were subsequently tried and found guilty of attempting to take more than 8.3kg (18lb) of heroin valued at AU$4m (£2m) out of the country.
Most were given life sentences, but Andrew Chan and Myuran Sukumaran were convicted of recruiting for and leading the group and were consequently sentenced to death.
How were they arrested?
Chan and Sukumaran recruited seven Australians to act as drug mules bringing heroine from Bali to Australia in 2005, the court found. Balinese authorities had been tipped off by Australian police and arrested the group as they were preparing to fly back to Australia. Four people were arrested at Denpasar airport with heroin strapped to their bodies, and Sukumaran and three others were found in possession of heroin at a Kuta hotel. Chan was arrested at the airport but was not carrying any drugs.
Did they appeal?
Over the following decade, the group, including Chan and Sukumaran mounted a sequence of legal appeals to have their sentences overturned. Some have had their appeals granted, but Chan and Sukumaran's appeals to have their death sentence overturned have been rejected one by one.
The duo's final hope was to apply for a presidential pardon, which in 2012 appeared to have been accepted by the former Indonesian president Susilo Bambang Yudhoyono after Chan and Sukumaran's names failed to appear on the list of detainees scheduled to be executed in 2013.
However, the following year Indonesia's new president Joko Widodo announced that there would be no mercy for any drug-related crimes and said that he would soon be dealing with a number of appeals for clemency that had been sitting on the presidential desk for some time, the ABC reports. These included those of Chan and Sukumaran, which, at the beginning of this year were officially rejected.
Who are Chan and Sukumaran?
Chan was born in Sydney in 1984, the son of Chinese migrants. He went to school in Sydney and worked as a part-time cook before his arrest in 2005. Prior to his arrest he had been an atheist, but he converted to Christianity while in prison and studied to become a pastor.
Sukumaran was born in London in 1981 but moved to Australia in 1985. He worked in clerical jobs, and held a position at the Australian passport office. He says that he became involved in drug smuggling due to the promise of making quick money. In prison, he has turned his hand to painting and has been awarded an associate degree in fine arts.
What happens next?
According to the BBC's Indonesia editor Karishma Vaswani, the planned executions have "raised tensions between Australia and Indonesia at a time when the two countries were just starting to repair ties after a spying incident".
Lawyers for the two Australian men are still attempting a final legal appeal, but President Widodo insists that all legal and diplomatic pleas are in vain.
"The first thing I need to say firmly is that there shouldn't be any intervention towards the death penalty because it is our sovereign right to exercise our law," Widodo said.
The president has been bullish in his attitude to countries opposed to capital punishment. No date has been set for the executions. Indonesian authorities are obliged to give 72 hours' notice before executing prisoners.
Continue reading for free
We hope you're enjoying The Week's refreshingly open-minded journalism.
Subscribed to The Week? Register your account with the same email as your subscription.
Sign up to our 10 Things You Need to Know Today newsletter
A free daily digest of the biggest news stories of the day - and the best features from our website