Theresa May rejects calls to increase Indian visa quota
Prime Minister says UK already has a 'good system' as she visits Delhi to foster post-Brexit trade links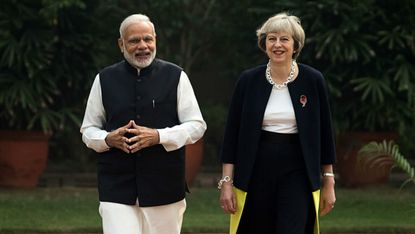 (Image credit: Dan Kitwood/Getty)
Theresa May has rejected calls to increase the quota of Indians living in the UK, saying the country already had a "good system".
The Prime Minister was speaking during her first state visit to India, where she is attempting to boost economic and trade ties with India in preparation for the UK's departure from the European Union.
"The figures show that we issue more work visas to India than, I think, US, Australia and China put together. Nine out of ten visa applications from India are already accepted. We have, I believe, a good system," she said.
Subscribe to The Week
Escape your echo chamber. Get the facts behind the news, plus analysis from multiple perspectives.
SUBSCRIBE & SAVE
Sign up for The Week's Free Newsletters
From our morning news briefing to a weekly Good News Newsletter, get the best of The Week delivered directly to your inbox.
From our morning news briefing to a weekly Good News Newsletter, get the best of The Week delivered directly to your inbox.
According to The Guardian, India has been pressing for an increase in the numbers of its citizens allowed into the UK, with politicians placing particular importance on the ability of its students and highly skilled professionals to live across the globe.
At a tech conference shortly after May's arrival in Delhi, Indian Prime Minister Narendra Modi said: "Education is vital for our students and will define our engagement in a shared future. We must therefore encourage greater mobility and participation of young people in education and research opportunities."
However, May was hesitant to yield any immediate ground and suggested she did not think a more generous visa system was necessary to improve economic relations between the two countries.
She did, however, announce a new plan in which a small group of high net-worth individuals and their families will be offered access to the so-called Great Club - a bespoke visa and immigration service to make applications faster and more efficient.
Immigration row: Theresa May and Philip Hammond at odds over foreign students
21 October
Downing Street has denied planning to change the way immigration is recorded in order to reduce migration figures without cutting the number of people entering the country.
Chancellor Philip Hammond said on Wednesday that the 175,000 students who come to the UK to study each year should not be considered migrants, as many of them leave the country at the end of their courses.
A No 10 spokesperson initially appeared sympathetic to the idea, saying the country needs "a system that assures we have control of the numbers of migrants coming into the UK, but that we still continue to attract the brightest and the best migrants into the UK".
But yesterday, "Downing Street said it was not looking at whether to remove foreign students from official migration figures, despite earlier appearing to say this would be part of an overall review of the system", The Guardian reports.
No 10 added: "We are categorically not reviewing whether or not students are included."
During her time as home secretary, Theresa May repeatedly blocked attempts to exclude foreign students from immigration figures. The issue now "threatens to become a flashpoint in the struggle within Cabinet to determine the nature of the UK's withdrawal from the EU", says The Independent.
With immigration a key factor in the UK's vote to leave the EU, any attempt by the government to reclassify students would almost certainly have been seen as an attempt to fiddle statistics, said Lord Green, the chairman of the Migration Watch think-tank.
At the ConservativeParty conference earlier this month, Home Secretary Amber Rudd pledged to reduce immigration by limiting student visas, a move widely condemned by universities, ministers and businesses.
Two separate polls have found the majority of people do not want international student numbers to fall.
A study by The Times said "five times more people think that international students at British universities have a positive impact than think they have a negative effect", and that "almost half of voters want the government to encourage more overseas students to study at British universities".
A ComRes poll commissioned by Universities UK says 75 per cent are either happy with the numbers of foreign students in the UK, or would like there to be more.
Theresa May casts doubt on points-based immigration system
5 September
Prime Minister Theresa May has poured cold water on the idea of a new points-based immigration system for the UK, a concept that was put forward by Leave campaigners before the EU referendum.
Foreign Secretary Boris Johnson is among the supporters for a points-based system similar to that in Australia.
However, May has said it is not a "silver bullet" for addressing public concerns.
Speaking in China, she acknowledged that many Brexit voters wanted more control of the UK's borders, but said this did not necessarily mean a system similar to that of Australia.
"One of the issues is whether or not points-based systems do work. A lot of people talk about a points-based system as always being the answer in immigration," she said.
"There is no single silver bullet that is the answer in terms of dealing with immigration. You have to look across the board.
"You have to look at the whole range of issues, not just how you bring control through the rules you have for people coming in, but also making sure you are rooting out abuse in the system and dealing with people if they are discovered here illegally."
The UK already uses a points-based system for non-EU migrants, but rather than expanding the system, some Leave campaigners wanted to create a whole new programme.
The Prime Minister also came under pressure at the G20 summit in China after the US and Japan both flagged potential trade problems with Britain's decision to leave the EU.
May was reportedly hoping to use her first G20 summit as prime minister to position Britain as a "global leader in free trade", but was "immediately confronted with harsh warnings about the consequences of leaving the EU", reports The Guardian.
During their first bilateral talks since May took office, US President Barack Obama told the Prime Minister the US would "prioritise trade negotiations with the EU and Pacific nations over a UK deal".
It was a "bruising first appearance on the world stage" for May, says the Daily Mail, as Obama delivered "a stark warning that action is needed to stop the Brexit process 'unravelling' the special relationship."
Theresa May's extremism strategy under fire
12 August 2016
Theresa May's strategy to stamp out Islamic extremism has exacerbated the problems of the UK's Muslim community, according to MPs.
An inquiry into the employment prospects of British Muslims by the all-party women and inequalities committee found many respondents reluctant or unwilling to talk because of the impact of the Counter Terrorism Act, introduced while May was home secretary.
It says the government's "conflation of integration and counter-terrorism has exacerbated inequalities experienced by British Muslims". Rather than focusing on issues such as language difficulties through the lens of counter-extremism, the emphasis should be on "how it improves the life chances of disadvantaged communities", it adds.
Committee chairwoman Maria Miller said the government's flagship Prevent strategy, which is intended to tackle violent homegrown extremism, was a "significant source of tensions" among Muslims.
She also cited a visit to Luton, saying participants had said government interventions "made them wary and that they felt they were being treated as a suspect community".
However, Haras Rafiq, of the Quilliam think-tank, which focuses on counter-extremism, defended Prevent, telling Christian Today the strategy was "not set up to deal with social cohesion". In its primary function, to stop further terrorist attacks after the London 7/7 bombings, "it has done what it was set up to do", he said.
He added: "It needs better explanation from government to explain what it is and what it isn't. People think that it's about spying or social cohesion, and it is not."
The MPs urged the Home Office to draw up plans by the end of this year to improve the employment prospects of British Muslims, particularly women, who suffer the "triple penalty" of being female, black or Asian, and Muslim.
The report found unemployment among British Muslims stands at 12.8 per cent, compared with 5.4 per cent for the general population, and suggested "Islamophobia, stereotyping, cultural traditions and insufficient role models have also contributed to Muslims experiencing the highest levels of unemployment among all religious and ethnic groups".
Its authors also warned that when Universal Credit takes the place of most current welfare payments, "there is a risk that ethnic minorities may suffer disproportionately from the 'conditionality' clause that will penalise claimants who are judged not to be making an effort to increase the family income".
Theresa May faces cross-party backlash over grammar schools
8 August
Labour and Lib Dem MPs have vowed to fight any attempt to lift a ban on new grammar schools being created after reports the government hopes to revive them to increase "social mobility".
A long-running issue
Grammar schools - state secondaries that use exams to select pupils - faced criticism even before the Labour government started to replace them with comprehensives in the 1960s.
Then in 1998, Tony Blair introduced a law prohibiting the creation of new grammar schools, although 163 remain in England, out of a total of 3,000 state secondary schools.
Now the Sunday Telegraph says a new wave of selective schools could be announced as soon as the Tory Party conference in October. It cites an unnamed government source as saying the new grammars will improve "social mobility and [make] sure that people have the opportunity to capitalise on all of their talents".
The move marks a significant shift from David Cameron's position "and is likely to be greeted warmly by the Tory grassroots who have long campaigned on the issue", says The Independent.
What has the reaction been?
Both Labour and the Lib Dems condemned the return of selection as an attempt to "segregate children". Shadow education secretary Angela Rayner said the idea belongs "in the dustbin of history" while her predecessor, Lucy Powell, said it would be an "incredibly backward" step.
"All the evidence tells us that, far from giving working class-kids chances, they entrench advantage and have become the preserve of the privately tutored," she said.
Sources from both parties have threatened to kill the bill in the Lords, arguing that it was not part of the Conservatives' 2015 election manifesto and so exceeds the government's mandate.

Continue reading for free
We hope you're enjoying The Week's refreshingly open-minded journalism.
Subscribed to The Week? Register your account with the same email as your subscription.