Universal buys rights to Prince's 'legendary' music vault
Late star's private recordings include 'jams, random songs and entire albums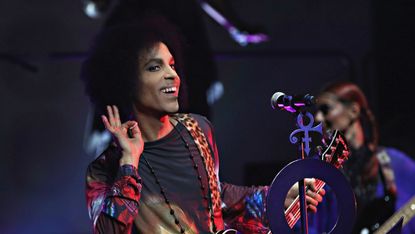 Unreleased material from Prince's "legendary" music vault will finally be released, says Rolling Stone.
In what the New York Times describes as the "last piece of the business puzzle" for the iconic musician's estate, a deal has been reached with Universal Music Group that includes 25 albums released after 1995 on Prince's own NPG label.
That covers the period after Prince's acrimonious split from his old label, Warner Bros, which was responsible for releasing the star's output from 1979 onwards, including many of his biggest hits such as Purple Rain and 1999.
Subscribe to The Week
Escape your echo chamber. Get the facts behind the news, plus analysis from multiple perspectives.
SUBSCRIBE & SAVE
Sign up for The Week's Free Newsletters
From our morning news briefing to a weekly Good News Newsletter, get the best of The Week delivered directly to your inbox.
From our morning news briefing to a weekly Good News Newsletter, get the best of The Week delivered directly to your inbox.
"Warner Bros retains many rights to release much of his most popular music for at least several more years," notes the Times, but under a separate deal struck in November, Universal will "eventually put those albums out, and profit from them".
Lucian Grainge, chairman of Universal, said its series of deals with the estate were "an absolute honour" and that the label was "committed to honouring Prince's legacy and vision".
Under the terms of the latest deal the company will be collaborating with Prince's estate to package and release his "vault of prized unreleased works… including outtakes, demos and live recordings", says the BBC.
"Prince, who died in April 2016, was renowned for the many songs he recorded and then kept in the basement at his Paisley Park home in Minneapolis," the report adds. "He was the only person with the code to open the safe."
Rolling Stone says Paisley Park employees revealed last year that the trove contained "thousands of hours of unheard live and studio material – including jams, random songs and entire albums".
Terms for the transaction were not released, but it was claimed last year that the vault's contents were up for sale for around $35m (£29m).
Lethal drugs seized from Prince's home were 'mislabelled'
22 August 2016
Pills found in Prince's home were mislabelled and actually contained a drug more potent than heroin, according to sources close to the investigation into the singer's death.
Fentanyl, a powerful and potentially lethal opioid, was reportedly labelled as hydrocodone, a much milder drug. The 57-year-old music icon did not have a prescription for the drug.
"Investigators still aren't certain how he ingested the fentanyl," the Minneapolis Star Tribune reports. "However, they are leaning toward the theory that he took them not knowing they contained the drug."
Prince was discovered slumped in an elevator inside his Paisley Park estate in Minneapolis on 21 April. The investigation into his death is ongoing and many questions remain unanswered.
Tests performed on the singer before he died did not show any fentanyl in his system, suggesting he had not been a long-time user.
Fentanyl has been linked to an increasing number of overdoses in the US, as it is often included in other illegal drugs without the knowledge of users. It is legally prescribed in very small doses to patients with chronic pain, particularly those suffering from cancer.
"It seems more and more likely that Prince became a casualty of what is being called a new national crisis of deadly counterfeit pills," the Tribune reports.
"And while the 2006 raid of a single Mexican drug lab halted an earlier surge in fentanyl-linked overdose deaths, authorities say China-sourced fentanyl and precursor chemicals are now being sold to criminals running clandestine pill-press operations across North America."
Prince died of accidental opioid overdose
03 June
Prince died from an accidental overdose of a painkiller, medical examiners have confirmed.
The 57-year-old musician was discovered slumped in an elevator inside his Paisley Park compound in Minneapolis on 21 April.
The Midwest Medical Examiner's Office's assessment of the cause of death cites "self-administered fentanyl", a powerful painkiller and tranquilliser, but says his death was accidental.
Prince had previously sought treatment for "opioid withdrawal, as well as anaemia and fatigue", an anonymous source told the NBC News.
Fentanyl is the strongest opioid approved for medical use in the US and is rated as 50 to 100 times more potent than morphine and 30 to 50 times more potent than heroin, says the US National Institute for Drug Abuse.
Officials told US media last month that prescription painkillers had been found in Prince's possession, although his lawyer said the musician wasn't "wasn't walking around drugged up" before his death. A vegan, Prince was known for his clean lifestyle, but he is said to have weighed just eight stone when he was died.
Detectives have also questioned Dr Michael Schulenberg, who saw the singer in the weeks before he died.
A police warrant showed that Schulenberg prescribed medication to Prince on 20 April, the day before he died, says the BBC, but did "not say what was prescribed or whether Prince took the drugs".
Prince 'wasn't drugged up' before death
27 April
Prince "wasn't walking around drugged up" before his death, the star's lawyer has said, following suggestions the singer might have overdosed the week before he died.
L Londell McMillan, who knew Prince for 25 years, said he had spoken to the singer on the Sunday before he passed away and he was "doing perfect".
Prince was found dead in a lift in his Paisley Park estate in Minnesota on Thursday 21 April. No cause of death has been announced, but his death came a week after his private plane had to make an emergency landing to take him to hospital with what his spokesman said was a bad case of flu.
Celebrity gossip site TMZ, which first broke news of his death, suggested Prince might have overdosed on the powerful painkiller Percocet.
However, McMillan said Prince may have taken medication from time to time but was "not on any drugs that would be any cause for concern".
Pointing out that the vegan singer was known for his clean lifestyle, he said: "Everybody who knows Prince knows he wasn't walking around drugged up. That's foolish. No one ever saw Prince and said, 'He looks high.' It wasn't what he was about."
The singer was cremated at a private memorial service at Paisley Park on Saturday.
According to his sister, Tyka Nelson, he had no known will. She has filed paperwork asking a Minneapolis court to appoint a special administrator to oversee the musician's estate, reports Sky News.
Prince 'worked for six days without sleep' before death
25 April
Prince worked for six days without any sleep in the lead-up to his death last week, his brother-in-law has claimed.
"He worked 154 hours straight. I was with him just last weekend. He was a good brother-in-law," said Maurice Phillips, speaking after a private family service at the singer's Paisley Park estate.
Prince's body was discovered in a lift by staff at his home in Minnesota on Thursday. Police say they have no reason to believe he committed suicide and there were "no obvious signs of trauma" on his body, reports Sky News.
Speaking at a press conference over the weekend, Sheriff Olson refused to comment on reports that the singer had been taking a powerful painkiller before his death.
Prince visited a record shop in Minneapolis five days before his death and employees said he had looked "pale" and "weak".
A post-mortem took place on Friday and a private funeral service is expected to be held in early May.
Sales of Prince's music have "skyrocketed" since his death, says the BBC. The Very Best of Prince and Purple Rain hold the top two spots in the US Billboard chart, which is compiled on a Friday, meaning he outsold the rest of the market in just 24 hours.
The person is dead...It's Prince' - Transcript of 911 call released
22 April
Prince, the "unique and endlessly creative artist" behind Purple Rain, 1999 and Sign o' the Times, has died suddenly at his home at the age of 57.
Police were called to Paisley Park Studios, Minneapolis, at 9.43am local time (3.43pm BST), where they found the singer "unresponsive" in a lift. He was pronounced dead 24 minutes later.
A transcript from the 911 call shows a dispatcher saying: "The person is dead here", before declaring: "It's Prince."
No cause of death has been announced and an autopsy will be carried out later today.
Last week, Prince's private plane made an emergency landing to take him to hospital with what his spokesman said was a bad case of flu.
However, TMZ, the celebrity gossip site which first broke news of his death, said: "Multiple sources in Moline tell us, Prince was rushed to a hospital and doctors gave him a 'save shot' typically administered to counteract the effects of an opiate."
It also claims the singer was advised to stay in hospital for 24 hours but he and his entourage decided to leave when medics were unable to arrange a private room.
"The singer was released three hours after arriving and flew home," says TMZ. "We're told when Prince left he 'was not doing well'."
His death will leave "a gaping hole in musical genres as diverse as R&B, rock, funk and pop", says The Guardian.
Tributes have flooded in from musicians, actors, politicians and music-lovers around the world.
US President Barack Obama said that he and his wife, Michelle, "join millions of fans from around the world in mourning the sudden death of Prince", while Boy George wrote: "Today is the worst day ever. Prince RIP I am crying!"
Aretha Franklin said: "It's such a blow. It's really surreal. It's just kind of unbelievable. He was definitely an original and a one of a kind. Truly there was only one Prince."
The Times calls him a "master performer" who, at 5ft 2ins, "stood tall in global pop music as a singer, songwriter and multi-instrumentalist whose blistering guitar solos recalled Jimi Hendrix and whose dance moves evoked James Brown".
"An icon of artistry and individuality," says Rolling Stone, "few other musicians defined and redefined pop, rock R&B, funk, soul and every other musical genre imaginable like Prince."

Continue reading for free
We hope you're enjoying The Week's refreshingly open-minded journalism.
Subscribed to The Week? Register your account with the same email as your subscription.