Uber: Where did it all go wrong?
Once the darling of Silicon Valley, the ride-hailing company has been rocked by a succession of scandals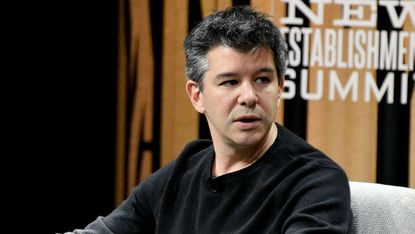 (Image credit: Mike Windle/Getty Images for Vanity Fair)
Travis Kalanick has fully stepped down from his role as chief executive of Uber following a succession of scandals, including most notably widespread allegations of sexual harassment and bullying.
The businessman last week announced he was taking an indefinite leave of absence following the death of this mother.
But the New York Times says shareholders stepped up the pressure and five big backers demanded he go.
Subscribe to The Week
Escape your echo chamber. Get the facts behind the news, plus analysis from multiple perspectives.
SUBSCRIBE & SAVE
Sign up for The Week's Free Newsletters
From our morning news briefing to a weekly Good News Newsletter, get the best of The Week delivered directly to your inbox.
From our morning news briefing to a weekly Good News Newsletter, get the best of The Week delivered directly to your inbox.
The power at the top
Despite stepping down, Kalanick will still have a big influence on the company. He controls a majority of board votes by virtue of the fact that stock issued in early fundraising rounds has "super-voting rights" of ten votes per share, says the Financial Times.
However, adds the paper, he will no longer be responsible for the day-to-day running of the firm - and that is significant given that his "swagger has come to define the company, for better and for worse".
It is widely agreed that the man known internally simply as "JK" - and referred to by the New York Times as "brash" - has not only been the driving force of Uber's growth, but also its model.
His well-worn slogans - "stepping on toes", "always be hustlin'", "let the builders build" - are actually listed among Uber's "core values", adds the FT.
Rising from the ashes
Kalanick "got his start founding two smaller companies that struggled for years", including one that went bankrupt. This "left him battle-hardened and hungry, with a start-up mindset that often serves him well", says the FT.
That hunger is manifest in Uber, a company that has ruffled feathers and prompted huge protests from traditional taxi firms during its rapid expansion around the world.
It has also led to it having frequent run-ins with regulators and lawmakers.
In the process, however, it became the darling of Silicon Valley, with its price tag of $70bn (£55bn) making it the most valuable start-up in the area's history.
This has fostered "a workplace at Uber that is extreme, even by the standards of US tech start-ups". One former employee, who left after seven months, described it as a "hostile culture".
Most recently, Uber has been hit with accusations of sexual harassment and workplace bullying, sparked by a blog post by a female employee in February. More than 200 cases were independently reviewed, of which around 60 have been taken forward and 20 staff fired.
Uber has also been accused of intellectual property theft by Google parent Alphabet, lost hundreds of thousands of customers after defying taxi protests to Donald Trump's "Muslim travel ban" and was found to has misled authorities through its controversial "Greyball programme".
Trouble in the Valley?
Several commentators argue these problems are not unique to Uber.
According to Time, the issue reflects Silicon Valley's ongoing struggle "with diversity and inclusion", in which companies are dominated, especially in senior ranks, by white men.
Added to that, because of a belief in the counter-culture roots of the Valley and its self-proclaimed meritorious attitude, this lack of representation is often dismissed and companies fail to take action to make their workplaces open and welcoming.
"Taking time to think about unsexy HR practices often feels antithetical to hard-charging disruption," says Time. It took Uber five years to even hire a HR professional.
Amazon has also been subject to a New York Times expose that, said founder Jeff Bezos, described a "soulless, dystopian workplace".
Meanwhile, Google, which is often held up as an example of a relaxed, supportive workplace, is still under-represented by women and black and Hispanic workers.
A new capitalism?
It is claimed that Silicon Valley could change capitalism - and that the likes Uber are merely at the frontier of the "gig economy".
Critics argue this is far from the truth and that instead, these companies are engaged in a "ruthless, red-in-tooth-and-claw capitalism", says The Guardian.
By classifying workers as contractors rather than employees, the likes of Uber save money on workers rights such as holiday and sick pay. Its revenues are also bolstered by side-stepping regulatory and insurance burdens.
More generally, the Silicon Valley giants are known for buying up rivals and establishing themselves as monopolies - "the quickest way to profit".
The customer is always right
These issues are very real and may well be the subject of legislative intervention in the years to come, but to focus on them could ignore the benefits these companies bring to customers.
Uber fans say it is convenient and cheap, as well as representing very good value relative to its peers.
It also, like almost every other service company, is reliant on keeping customers happy.
Uber lost hundreds of thousands of rides over its handling of the Trump travel ban, while the FT says its market share in the US dipped slightly in the immediate aftermath of the harassment scandal
There are also reports of large numbers of drivers applying for alternative employment.
To combat this, in addition to Kalanick stepping down, Uber has announced plans to cave into long-standing demands for in-app tips to drivers.
It may only be a start, but it is a sign that things could be changing at the firm - and that the people who hold power are those the company relies on for its income: the drivers and, ultimately, customers.

Continue reading for free
We hope you're enjoying The Week's refreshingly open-minded journalism.
Subscribed to The Week? Register your account with the same email as your subscription.