How can Britain solve its productivity 'puzzle'?
New figures reveal output per hour has been flat for a decade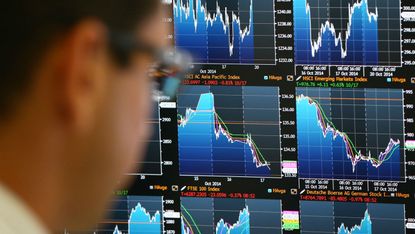 (Image credit: Carl Court/Getty Images)
When analysts and business commentators talk about economic productivity the understandable reaction of most people is to switch off.
As obscure, abstruse economic concepts go, productivity is right up there. No one – not even economists – really understands why it goes up and down, but all are convinced it's very important indeed.
But maybe we should all be taking more interest in the concept. Leaving aside debates about inequality and relative poverty, the real determinant of the prosperity of a population over time is probably its productivity
Subscribe to The Week
Escape your echo chamber. Get the facts behind the news, plus analysis from multiple perspectives.
SUBSCRIBE & SAVE
Sign up for The Week's Free Newsletters
From our morning news briefing to a weekly Good News Newsletter, get the best of The Week delivered directly to your inbox.
From our morning news briefing to a weekly Good News Newsletter, get the best of The Week delivered directly to your inbox.
The UK's comparatively poor productivity rate, which according to the latest figures has not moved much over the past decade, is probably the reason you're getting pitiful pay increases and real wages are in decline.
Productivity in the UK is ranked behind most of its major "trading partners such as the US, France and Germany", says the BBC.
'Lost decade'
A report published yesterday by the Office for National Statistics (ONS) confirmed that Britain has endured a "lost decade" of productivity growth, says the Financial Times.
After a run of modestly positive growth in output per hour since the end of 2015, productivity fell by 0.5 per cent in the first three months of this year, putting it back below the level it was at before the financial crisis in 2007-8.
The ONS figures divide "an estimate of the volume of goods and services produced by an industry, and in aggregate for the UK as a whole" by "labour input", meaning the number of jobs and hours worked in total.
In short, after decades of steady positive growth, productivity swung sharply negative after the crisis.
That is to be expected, says Larry Elliott in The Guardian, but the mystery is that unlike previous downturns productivity has not recovered in any meaningful way. This has "profound consequences for living standards".
If productivity is low, especially when unemployment is low, it means wealth is being produced at a slower rate and acts as a drag on the rate at which wages can be increased.
Adjusted for inflation, "real" pay is actually lower than it was in 2007 and wages are currently growing at below the rate of inflation, meaning real pay is in decline again.
'Remarkable' labour market
There's a "chicken and egg" debate that follows these observations. Is unemployment the cause of low productivity, or merely another symptom of the malaise?
Dr Thijs van Rens, professor of economics at Warwick University, told the BBC: "We shouldn't forget that the decline in productivity is the flipside of what we could call the remarkable success of the UK labour market."
Van Rens's argument is that more and more people are joining the labour market, but are doing so at lower wages. So, more people are employed but innovation and wealth creation is low.
The Conversation cites "entrepreneurship expert" Scott Shane's view that too much of our employment growth is in sectors that "are going nowhere".
He cites the huge gains in self-employment in recent years, much of which is attributed to the so-called "gig economy". This has seen the proliferation of low-paid roles like delivery drivers who are treated and taxed as independent contractors.
It also draws on the work of the late economist William Baumol, who theorised on some "parasitical" forms of entrepreneurship that don't add to the economy.
The article gives the example of a hand car wash, which has made a return in recent years at the expense of machines at petrol garages. Essentially this is using cheap labour to replace the work done by more efficient machines.
Technological revolution?
This brings us to the other side of the productivity equation: technology.
Elliott of the Guardian writes that improving productivity amounts to "a society… finding new and better ways of providing goods and services".
Constant technological innovation means companies can produce more, or provide services more widely, for less effort. Companies get richer and create new jobs, which are paid at higher rates.
A counter-narrative says the rise in automation will ultimately destroy jobs, or at least many of the jobs for which humans require skills and for which they are paid more.
This would leave a few rich people at the top and a lot of menial workers at the bottom of the ladder who are poorly paid.
But The Economist points out that this is not a new phenomenon: a similar stagnation of living standards has followed every major technological leap forward, including in the entire century after the first industrial revolution.
This is referred to as the "Solow Paradox" after economist Robert Solow who observed it. Nobody really agrees on its causes.
One theory, "put forward by Erik Brynjolfsson and Andrew McAfee (as well as plenty of techno-optimists in Silicon Valley)", is that productivity benefits merely lag behind innovation.
"The past four decades have been a period of gestation for ICT during which processing power exploded and costs tumbled, setting the stage for a truly transformational phase that is only just beginning," says the Economist.
Fixing a hole
What that doesn't explain, however, is why Britain should lag behind other countries. According to Time magazine in 2015 the UK came 15th out of 35 OECD countries, behind 12 EU single market peers, Australia and the US.
This is where the labour market arguments come into sharp focus. For many, including opposition politicians, the issue is that it's too easy in the UK to employ people cheaply.
Elliott argues: "Governments have... used a carrot-and-stick approach to get the jobless back to work. They have tightened up eligibility for unemployed benefits while simultaneously providing tax credits to boost low wages.
"This, together with a big increase in migration, has increased the supply of low-skill labour."
One solution to this is to create more highly paid work. This is why there's a demand for investment in infrastructure projects which create swathes of skilled blue collar work in the process.
There are other ways to use government money to create better-paid jobs – the Conservatives have favoured tax breaks for research industries, for example.
Ashwin Kumar, chief economist at the Joseph Rowntree Foundation, writes in the New Statesman that the government should dedicate direct financial resources to upskilling the existing workforce – and especially younger workers – in already low-skilled areas.
He adds: "It is too easy for improving productivity to be about the shiny and new: the big infrastructure projects, science parks and high skilled engineering.
"Technology and infrastructure investment are necessary but not sufficient."

Continue reading for free
We hope you're enjoying The Week's refreshingly open-minded journalism.
Subscribed to The Week? Register your account with the same email as your subscription.