Cost of living squeeze may be 'overblown'
Bills index compiled by Money Saving Expert suggests core costs are rising in line with wages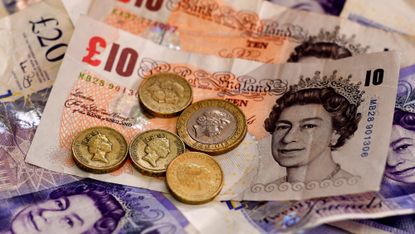 (Image credit: PAUL ELLIS/AFP/Getty Images)
Sign up to our 10 Things You Need to Know Today newsletter
A free daily digest of the biggest news stories of the day - and the best features from our website
Thank you for signing up to TheWeek. You will receive a verification email shortly.
There was a problem. Please refresh the page and try again.
A new index that measures only increases in core household bills suggests that concerns related to soaring inflation and a cost of living squeeze are "overblown", says the BBC.
Money Saving Expert has compiled the new index using just 40 of the 700 cost comparisons that make up the Office for National Statistics' preferred inflation measure CPIH (a consumer prices index that includes homeowner housing costs).
It found that in July core household bills, including housing costs, water and energy bills, fuel costs, telephone and internet subscriptions and insurance premiums, rose by 2.1 per cent compared to the same month a year earlier.
Subscribe to The Week
Escape your echo chamber. Get the facts behind the news, plus analysis from multiple perspectives.
SUBSCRIBE & SAVE
Sign up for The Week's Free Newsletters
From our morning news briefing to a weekly Good News Newsletter, get the best of The Week delivered directly to your inbox.
From our morning news briefing to a weekly Good News Newsletter, get the best of The Week delivered directly to your inbox.
That's significantly lower than the 2.6 per cent increase in headline consumer price inflation. And, crucially, it's in line with the 2.1 per cent increase in average weekly wages for the three months to June.
"This data, compiled for BBC Radio 5 Live's Wake up to Money, shows that the widely reported pressure on household budgets may in fact be overblown," says the BBC.
The household bills measure strips out prices for things like food and clothing. It could be a better reflection of the real pressures on household budgets than other methods as it focuses on the expenses that are difficult to alter through changes to consumption habits.
Money Saving Expert points out, though, that between April 2016 and April 2017 core household bills were rising at a faster rate than headline inflation, implying a tighter squeeze on spending in the past year than was previously thought.
The BBC says that the individual budgets of families will "vary considerably".
"Wake Up to Money listeners… highlighted higher commuting costs and more requests from their kids' schools to pay for extras as just two other items putting pressure on pay packets.
"But others with different lives saw free travel (for pensioners) and lower petrol costs helping their cash go a little further than before."
Wages close gap on inflation – but real pay remains in decline
16 August
Some much-needed good news for hard-pressed households came today in the form of data showing that wages are closing the gap on price rises.
The Office for National Statistics (ONS) estimates that average weekly pay excluding bonuses increased by 2.1 per cent over the three months to June.
This marks the second consecutive increase from 1.8 per cent for the three months to April and a two per cent increase during the quarter to May. It also beat analyst expectations of a fall back to 1.8 per cent.
The pound recovered markedly following the news, turning a 0.2 per cent loss against the dollar into a 0.2 per cent rise to $1.288 at the time of writing.
Traders are buying the pound as they price in a higher chance of an interest rate rise because wage pressure appears to be growing.
CMC Markets analyst Michael Hewson told the Daily Telegraph the news highlights a "Goldilocks" scenario of stalling inflation and rising wages, which could "move the debate back to the timing of a possible rate rise".
But the current data reflect an ongoing squeeze on households. While inflation remained unchanged at 2.6 per cent in June and July, this still means that prices are outstripping wages and real pay is in decline.
Surveys suggest this is dragging consumer spending down. This could hurt the UK's services-led economy over the coming months.
The ONS research also shows the employment market remains tight, with unemployment falling by 157,000 to 1.48 million people, a 42-year low rate of 4.4 per cent.
A total of 75.1 per cent of the working age population are in work – the highest number since records began in 1971 – and 20,000 fewer people are on zero-hours contracts, says The Guardian. This implies "insecure" work is in decline.
Recent reports from the Recruitment and Employment Confederation (REC), a trade body representing the recruitment industry, and the CIPD, an association for human resources professionals, provide contrasting pictures of the employment market and wages.
The REC found evidence that companies were struggling to find suitable applicants and that starting salaries were being increased as a result.
In contrast, the CIPD suggests there is still an over-supply of applicants and that wage growth would be just 1.7 per cent next year, with half of firms likely to offer pay rises of just one per cent.
Rail fares set to outstrip earnings with 3.6% hike
15 August
Commuters are to face more rail misery next year in the form of a rise in regulated rail fares at a rate well in excess of wages.
Today's inflation data shows the Retail Prices Index (RPI) measure of annual cost increases rose by 0.1 per cent to 3.6 per cent in July.
The figure for RPI in July is the legal maximum by which rail companies are able to increase certain fares, including those for peak time commuting and season tickets for workers.
But the new fares are well ahead of the rate at which wages have been increasing (currently about two per cent). The rise in rail fares in January will add "hundreds of pounds" to annual season ticket costs, says the London Evening Standard.
RPI has also long since been ditched as the main method for calculating inflation by the Office for National Statistics as it doesn't meet international statistics standards, says the BBC.
The official measure of inflation is the Consumer Prices Index (CPI). Passenger groups like Transport Focus want the government to update the law to link fares to this instead.
This would have led to future fare increases of 2.6 per cent, but as this smaller rise is still above wage growth it would still represent a squeeze on household budgets.
CPI remained at 2.6 per cent following a surprise dip in June because a "fall in fuel prices... offset price rises for food, clothing and household goods", says the BBC.
Ben Brettell, a senior economist at stockbrokers Hargreaves Lansdown, sounded a positive note by suggesting it "now looks quite possible inflation has peaked, and will fall back further in the coming months".
The figures come a day after the RMT union released data showing that rail fares have risen by around 32 per cent in eight years. Average weekly earnings have grown by only 16 per cent.
"Rail unions are calling for reduced fares, public ownership and protection of jobs during protests on Tuesday outside railway stations across the country," says the Standard.
A spokesperson for the Department for Transport defended the use of RPI by saying the measure was used across the rail industry for things like calculating the cost of running trains.
The government also says the fares are helping to fund the "biggest rail modernisation programme for over a century" – and that 97 per cent of fares is used to fund the railways, leaving only modest profit margins for operators.
What has changed is that commuters now pick up a share of the cost of running the railways. "Fares used to account for about half the cost of running our trains… today it's about 70 per cent", says the BBC.
More than half of firms will raise pay by just 1%, says CIPD
14 August
More than 50 per cent of UK employers plan to increase wages by just one per cent over the next year, says the Financial Times.
That's according to the latest three-monthly survey of employers by the CIPD, the professional body for HR managers, carried out in association with the recruitment agency Adecco.
It found that "despite falling unemployment, wage growth is weak because the supply of labour has also gone up", says the BBC.
The report states the workforce has been "boosted by more workers from other EU countries, as well as by older workers and former welfare claimants".
There was good news in the report on the UK employment market.
Hiring is on the up. A net balance of 27 per cent of the 1,139 HR managers surveyed said their firms were planning to hire more staff over the next 12 months. The figure is up from 20 per cent last time.
Average pay growth across the survey is also higher, at 1.7 per cent compared to 1.5 per cent.
But a large number of firms are planning smaller wage increases. The pressure is most intense at the lower end of the pay spectrum, thanks to an increase in the number of applicants for every low-skilled job to 24.
For "medium-skilled" jobs the number of applicants currently stands at 19 per advertised role, while for "high-skilled" jobs the number stands at eight.
The CIPD study is in contrast to other authoritative studies on the labour market.
Regional agents for the Bank of England report that a steady fall in unemployment to a 40-year low of 4.5 per cent has nudged wage growth up from 2-2.5 per cent to 2-3 per cent, says The Guardian.
Elsewhere a study published by the Recruitment and Employment Confederation found that a shortage of prospective employees, exacerbated by a drop in EU workers ahead of Brexit, drove up starting salaries in July.
Everyone agrees, though, that average wage growth is falling behind inflation, which is running at 2.6 per cent and set to go higher over the coming months.
This means the average household's "real" after-inflation pay is in decline, as is spending power, which is bad for workers and worrying for an economy that is so dependent on consumer spending.
Pound's advance slows food price inflation
2 August
Sterling's recovery in recent weeks has slowed down the upward march of food prices, according to figures published by Nielsen for the British Retail Consortium (BRC).
Food prices rose by 1.2 per cent in July, down from 1.4 per cent in both May and June.
While the rate is still higher than any other month except those two since January 2014, it marks the end of a seemingly relentless move higher driven by the post-Brexit vote slump in the pound.
The UK currency was more than 15 per cent lower against the dollar, which meant that import prices rose substantially. This has been feeding into higher consumer prices, which were rising by 2.6 per cent last month.
Thanks in part to a sense that the mood in government is shifting to a softer Brexit, as well as weakness in the US dollar, the pound has been trading above $1.30 for the first time in ten months.
Nielsen figures show that inflation in fresh food prices, which react more quickly to currency moves, fell from 1.4 per cent to one per cent, says The Times.
In contrast, non-perishable food price inflation rose slightly from 1.4 to 1.5 per cent.
Overall shop prices are still in reverse, says Retail Week, as "retailers are being cautious about passing on price increases while consumer demand remains unpredictable". The rate of deflation went from 0.3 to 0.4 per cent last month.
The BRC's chief executive Helen Dickinson said: "The lack of upward movement in non-food inflation may seem surprising, given the size of the currency depreciation last year.
"While in many cases retailers' new ranges are coming in at higher price points in response to the increased cost of importing goods, other core products are seeing reductions in prices, as retailers compete to keep prices low for consumers.
"For now, these dynamics are keeping overall non-food inflation low, although strong upward pressures remain."
Unexpected inflation fall 'could kill off rate rise'
18 July
Inflation has fallen for the first time in nine months, dropping to 2.6 per cent in June after being at 2.9 per cent the previous month, the Office for National Statistics (ONS) says.
Experts predict the unexpected fall in the consumer prices index could lead the Bank of England to shelve an expected increase to interest rates, which would have knock-on consequences for investors and the wider economy.
Lucy O'Carroll, of Aberdeen Asset Management, predicted: "This is going to kill the chances of a rate rise in the short term.
"We'll learn more about the Bank of England's thinking in a couple of weeks, but we can expect the calls for a rate rise to reduce to a whimper."
According to the ONS, the fall - which analysts are calling a "blip" - was largely driven by lower petrol and diesel prices. A rally in the price of oil at the beginning of this year has since petered out and pump prices have dropped for four months in a row.
Inflation has been climbing steadily since the end of 2015 and spiked faster following the vote for Brexit in June 2016. It is forecast to continue to climb this year.
However, Simon Jack at the BBC says it "seems likely that we have been at least close to the peak" that inflation will reach before it subsides to more normal levels.
The drop offers "some respite for cash-strapped consumers", says The Guardian, but with pay growth at two per cent, a 2.6 per cent rate still means a cut to living standards this month.
TUC general secretary Frances O'Grady said: "The government must stop this cost of living squeeze. Many working people are caught in a vice as rising prices crush their pay.
"Ministers claim they are listening to struggling families. But now is the time to prove it. Britain needs a pay rise across the public and private sector."
Continue reading for free
We hope you're enjoying The Week's refreshingly open-minded journalism.
Subscribed to The Week? Register your account with the same email as your subscription.
Sign up to our 10 Things You Need to Know Today newsletter
A free daily digest of the biggest news stories of the day - and the best features from our website