Cost of living squeeze may be 'overblown'
Bills index compiled by Money Saving Expert suggests core costs are rising in line with wages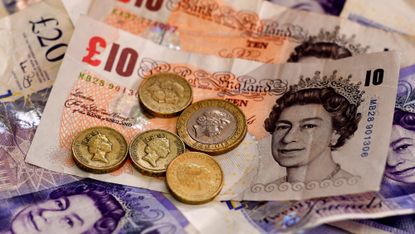 (Image credit: PAUL ELLIS/AFP/Getty Images)
Sign up to our 10 Things You Need to Know Today newsletter
A free daily digest of the biggest news stories of the day - and the best features from our website
Thank you for signing up to TheWeek. You will receive a verification email shortly.
There was a problem. Please refresh the page and try again.
Consumers worried about Brexit price rises
19 May
Consumers are worried about rising prices as a result of the Brexit vote hitting living standards, a new survey says.
Mintel's annual poll, conducted among more than 2,000 people in February, found 83 per cent of people are concerned about the increasing cost in goods and services in the months and years ahead, says The Guardian.
Subscribe to The Week
Escape your echo chamber. Get the facts behind the news, plus analysis from multiple perspectives.
SUBSCRIBE & SAVE
Sign up for The Week's Free Newsletters
From our morning news briefing to a weekly Good News Newsletter, get the best of The Week delivered directly to your inbox.
From our morning news briefing to a weekly Good News Newsletter, get the best of The Week delivered directly to your inbox.
Almost six in ten of them were worried about the rising cost of groceries, while 35 per cent cited spiralling costs of holidays and 26 per cent mentioned higher costs for clothing and shoes.
Headline consumer price inflation jumped sharply to 2.7 per cent in April, in large part thanks to the fall in the value of the pound since the EU referendum, which increases the cost of imports.
At the same time, wage growth is slowing as Brexit uncertainty feeds into the economy. The average pay packet is rising at less than two per cent.
Mintel also found "81 per cent of UK consumers are concerned about the future health of the NHS, while 68 per cent are worried about the UK economy" in the future.
Despite that, however, "broader consumer confidence is still relatively strong", says the researcher.
According to The Guardian, "less than half of all adults (48 per cent) are worried about their ability to pay the bills and less than two in five (37 per cent) are concerned about the burden of personal debt".
Mintel added that consumer spending rose 3.7 per cent last year to £1.2trn, while the Office for National Statistics reported yesterday that consumer spending rose by a greater-than-expected 2.3 per cent in April compared to the same month last year, says The Independent.
Inflation rises to three-and-a-half year high
16 May
Living costs in the UK are rising at the fastest rate for three and a half years, according to official figures published this morning.
Consumer prices rose 2.7 per cent in April compared to the same month last year, up sharply from 2.3 per cent in March, says the Office for National Statistics.
The rise is significantly above the Bank of England's two per cent target and is close to the near-three per cent peak it predicted this year.
In large part, the rise is due to the slump in the pound since the Brexit vote. Sterling has fallen around a sixth against the dollar, pushing up import costs that filter down into the end prices paid by consumers.
However, the timing of Easter this year also had an effect.
Easter is a prime holiday season for families and so airline costs rise - in this case by around 19 per cent in April compared to last year.
In addition, the price of clothes jumped to the highest level for six years, with a rise of 1.1 per cent between March and April, although the cost of petrol and diesel fell by one per cent.
if inflation continues to outstrip earnings growth, which is currently rising at below two per cent, it could be a problem for wider growth as a typical worker will have less disposable income to spend on luxury items, which is bad news for a services-led economy such as the UK's.
Royal Bank of Scotland chief economist Stephen Boyle told The Scotsman: "While it is by no means a return to the bad old days of the 1970s when inflation reached 27 per cent, or even the 1990s, when it averaged over three per cent, higher inflation matters.
"Wages are growing by around two per cent year-on-year, which means that 2.7 per cent inflation is eroding our spending power," he added. "Weaker consumption means slower growth."
Bank of England predicts squeeze on household income
11 May
Bank of England policymakers are warning British households to expect a squeeze on their finances as Brexit bites.
But in what is seen as a relatively hawkish update, rate-setters also suggest the trend may be short-lived and that as a result interest rates may be increased faster than expected.
The headline projections are for inflation to average 2.7 per cent this year and peak at a little below three per cent, up from a prediction of 2.4 per cent in February.
At the same time, wage growth will average two per cent, down from a previous prediction of two per cent, says The Guardian.
This means money will be devaluing at a faster rate than people's wages are increasing, giving them less disposable income. This could feed into lower spending and hit economic growth.
Earlier this week, the National Institute of Economic & Social Research predicted that inflation would peak at 3.4 per cent this year, while wage growth would only reach 2.7 per cent.
This, it said, would mark the biggest squeeze on real wages for three years.
But the Bank of England's analysis is not all doom and gloom. The bank has revised its economic growth forecasts to 1.9 per cent this year and 1.7 per cent next, an estimate that's only marginally up and down respectively from the predictions in February.
It says that wage growth and economic expansion could then accelerate, as long as the UK government negotiates a "smooth" Brexit.
So, while the Bank of England voted conclusively to hold the base interest rate at a record low of 0.25 per cent, it says that "interest rates would likely have to rise more sharply over the coming years" than investors currently expect.
Adam Chester, head of economics at Lloyds Bank Commercial Banking, told the BBC the central bank's assessment "was more hawkish than expected".
UK workers face largest real wage cut since 2014
10 May
British workers face the biggest squeeze on real wages for three years as a result of inflation rising far in excess of predictions made by the government's official forecasters, warns a respected economic think-tank.
According to the National Institute of Economic & Social Research (NIESR), year-on-year consumer prices rises will peak at 3.4 per cent this year, driven by the weakness of the pound since the Brexit vote last year.
The Office for Budget Responsibility forecast a peak of 2.4 per cent.
Even after a recent recovery, the pound remains almost 15 per cent down against the dollar, making imports more expensive and increasing costs to manufacturers and retailers, which are increasingly being passed on to consumers.
Prices jumped to 2.3 per cent in February, above the two per cent target set by the Bank of England.
As the annual wage increase for the month was 1.9 per cent, this has squeezed real incomes on average, says The Guardian.
NIESR warns wage growth will peak at 2.7 per cent this year, even if it were to bounce back, which would mean disposable income being reduced at the fastest rate since "early 2014".
It added that as Brexit bites, wider economic growth would undershoot the long-run rate of two per cent in the coming "couple of years".
Despite the surge in inflation, the Bank of England is not expected to change its stance on interest rate policy and the Monetary Policy Committee is expected to "sit on its hands" at its meeting tomorrow, says City AM.
Rates are the typical means through which inflation is contained, as increasing the cost of borrowing dampens demand and so in theory restricts upward price pressure.
"The recent rise in the value of the pound back towards $1.30 against the US dollar, a level not seen since September, will... likely add to previous analysis by the Bank saying the rise in inflation above its two per cent target will be temporary," adds City AM.
Mars shrinks products for second time in a year
27 March
Mars, the company behind some of the UK's best-loved chocolates, including Maltesers, M&Ms and Minstrels, is to shrink its pack sizes for the second time in a year.
News that the US food manufacturer is making packets up to 15 per cent lighter "is the latest example of an industry trend that is shortchanging shoppers", says The Guardian.
Confectionery firms are increasing prices or shrinking pack sizes "as ingredient and transport costs rise", mostly as a result of the slump in the pound's value since the Brexit vote last year.
Shrinking product sizes while leaving prices unchanged is known as 'shrinkflation'. It has the same effect of price rises in boosting manufacturer margins.
"We have been absorbing rising raw material and operational costs for some time, but the growing pressures mean that we can't keep things as they are," Mars said in a statement.
Shrinkflation isn't new. It's been going on for years as a way of offsetting inflation, or simply boosting profits, without making goods appear more expensive. The Guardian says that manufacturers do it in the hope that consumers "don't notice the difference".
Last year Mondelez, the company that owns Cadbury, caused a furore when it cut the weight of Toblerone bars by widening the gaps between the chocolate 'peaks'.
More recently Nestle announced it was shrinking the size of its Aero Mint bars.
Recent cuts to the size of some Walkers products, including Hula Hoops, have also been blamed on "fluctuating exchange rates" since Britain voted to leave the EU.
A combination of rising oil prices and a drop in the value of the pound after the Brexit vote pushed inflation up to 2.3 per cent.
This has led to a squeeze in living standards, which means that supermarkets are under pressure to keep prices low. This creates tension with suppliers who want to pass on higher costs to producers.
Continue reading for free
We hope you're enjoying The Week's refreshingly open-minded journalism.
Subscribed to The Week? Register your account with the same email as your subscription.
Sign up to our 10 Things You Need to Know Today newsletter
A free daily digest of the biggest news stories of the day - and the best features from our website