Art of the matter: Louis Vuitton and Urs Fischer unite
In an exclusive interview, Fischer ponders Louis Vuitton monograms and the work of an artist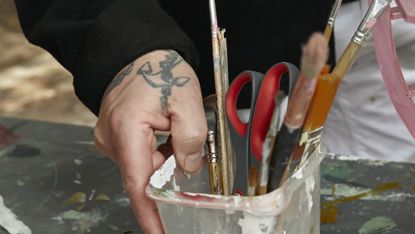 "I never wanted to be an artist. I still don't know whether I want to be an artist," says Urs Fischer. At the time of our video call, Fischer has spent the past ten months in Los Angeles and it's from his family home's garden that he reflects on his métier. He may not have explicitly wished for a career in the fine arts, but it's a field Fischer has excelled in. To date, his work – sculptures, paintings, collages, drawings and installations – has been shown globally and among other institutions, features in the collections of the Museum of Modern Art in New York City and the Swiss Kunstmuseum Basel. In 2009, five years after opening Kir Royal, his large-scale solo exhibition at the Kunsthaus Zurich, Fischer was the subject of a single-artist show at Manhattan's New Museum, in a display that commanded all three of the gallery's expansive floors.
With Fischer's CV in mind, I ask whether he could envision any alternative career path. Has Urs Fischer ever hatched a plan B? "A plan B? I don't know what else I would do," Fischer counters. He may however have found a new hobby. "I like the idea of long-distance walking. I am a real pedestrian. I like everything about the concept of 'pedestrian'. You see different stuff."
It was on a recent long walk through his neighbourhood in California that Fischer, who grew up in the Swiss city of Zurich and has lived in Amsterdam, London and New York, happened across a wishing tree. On his phone, a snapshot shows tree branches vibrant with many layers of graffiti; initials carved into tree bark have been left to weather.
Subscribe to The Week
Escape your echo chamber. Get the facts behind the news, plus analysis from multiple perspectives.
SUBSCRIBE & SAVE
Sign up for The Week's Free Newsletters
From our morning news briefing to a weekly Good News Newsletter, get the best of The Week delivered directly to your inbox.
From our morning news briefing to a weekly Good News Newsletter, get the best of The Week delivered directly to your inbox.
"This way of leaving a mark, I think that goes all the way back," says Fischer. "We humans have a desire to mark things, or to leave a mark to reflect back on who we are. You breathe against a window, you leave a mark of your existence. We want to engage, we want to communicate. We want to feel alive." This has led Fischer to ponder the nature of making art. "That's what a lot of art is, in a way. Visual art has a physical nature and we can relate to that because we also have a physical nature. This kind of mark-making is a very human thing and it can be super elaborate or it can be just a simple imprint."
It's a big concept; simplified, it may be visualised with Fischer's first partnership with Louis Vuitton, unveiled in 2019 as part of the make's Artycapucines collection. An ambitious annual initiative, the project invites contemporary artist to swap canvases for Louis Vuitton's Capucines bag, a top-handle design first introduced in 2013 and christened after the Paris address of the brand's first boutique, opened in 1854.
Contemporary artists Alex Israel, Tschabalala Self and Josh Wood have all emblazoned the maison's accessory with their work. When it was Fischer's turn, the artist decided to leave the bag's main body untouched. The artist instead left his mark in the shape of a small hook fitted to the base of an all-white Taurillon leather Capucines, from which a selection of produce (an egg, a green apple, a mushroom, a banana) modelled to size from silicon could be extended via a gilt brass chain. The mobile-like design has since found a champion in Fischer's sister, who uses the bag every day. "I think she liked the strawberry most," he says. "She asked me a few days ago if I have another one."
Fischer's 2019 Artycapucines design was the amuse-bouche to LV X UF. Released this January as a landmark collaboration between the artist and Louis Vuitton, Fischer has shaped a capsule collection that comprises accessories, clothing, shoes and leather goods. He also dreamt up a cast of fantastical characters – a cat resting in a hammock-like banana skin, a halved avocado and a fried egg among them – which stars in a short film and livens up the brand's window displays. "It's been a question of telling a single story through multiple contexts, whether that's a leather bag or a moving image," says Fischer of his sophomore alliance with Louis Vuitton.
On camera mimicking the hand-motion of chopping vegetables, Fischer today likens working with the brand's expert teams to entering a professional kitchen, with sous-chefs at his disposal. "It doesn't necessarily taste better, but it is seductive," he says of the set-up. "The rewarding part of this collaboration has been the chance to work closely with all these highly skilled and knowledgeable specialists, all experts in their respective fields. As an artist I'm often working alone, so to be engaged in multiple dialogues has been enriching, especially given the isolated nature of these times."
In tandem with the brand's artisans, Fischer realised the collection from his studio in New York, an expansive warehouse space located in Brooklyn's Red Hook area. It was here that Fischer trialled – and eventually "weeded out" – several ideas for his Louis Vuitton offering. He describes weaving silver threads and layering cuts of printed, diaphanous mousseline fabric; next, he experimented with the small drawings he regularly sketches on his iPad, to then text to friends. "I use them to communicate," he explains. "It's a little thing I do, without the weight of creating an artwork." In the end, Fischer's hand-drawn take on Louis Vuitton's emblematic Monogram made the cut.
"It's an assemblage," Fischer says of Louis Vuitton's signature repeat pattern. First introduced in 1896 by Georges Vuitton in homage to his father Louis, the brand's famous Monogram combines interlocking LV initials with quatrefoils shapes and four-petaled flowers. Its graphic design nods to Japanese heraldic Mon emblems. Since its inception, it has become a Louis Vuitton brand pillar; as have artistic collaborations.
A rollcall of blue-chip artists has in the past joined the Louis Vuitton fold, including Jeff Koons, Richard Prince and British talents Jake and Dinos Chapman. But only a handful have dared to manipulate the brand's best-loved Monogram: Takashi Murakami reimagined the pattern in bright pastels, Stephen Sprouse superimposed graffiti letters and later neon roses, Yayoi Kusama partly concealed its famous coordinates behind swirling bands of polka dots. Fischer says: "I thought about how it has become omnipresent in people's lives, and how its meaning can vary depending on a person's background, location, lifestyle and aspirations."
Outsized, distorted and placed at a slight angle, there's a subversiveness to Fischer's take on the famous motif, which he has since referred to as memory sketches. "Given the Louis Vuitton Monogram's ubiquitous status, I chose to hand-draw it in a really spontaneous way, almost like sketching it from memory," the artist explains. "It's like asking different people to draw a map of the world from memory, then observing the different ways people interpret it. Europe might appear bigger in one person's drawing; another person might forget to include India, and so on."
Fischer's remembered LV Monogram has been issued in two piebalds; black and white or black and red. A multifaceted collaboration, the design features on a variety of items including silk and wool scarves with fringed hems, sportswear-infused dresses, jersey leggings plus nylon down jackets. A selection of the brand's best-loved bags, too have been finessed with the expressive sketches.
There are roomy Urs Fischer Neverfull MM and Onthego GM totes, Speedy bags and dinky Pochettes. When crafting the capsule collection's accessories, Fischer tasked the brand's team to find an alternative way to translate his drawings. "For some of the products such as the bags, I wanted the Monogram to have a tactile feel, and appear to be raised from the surface, not simply a printed 2D image," he explains. And so, the team developed an intricate tuffetage technique which assembled cuts of velvet-like material in a puzzle-like formation. "[It] makes the Monogram feel really inviting because it is both superimposed and soft in texture, almost like a teddy bear."
Hard to categorise, in his work Fischer has frequently explored the impermanent. Nodding to memento mori, the artist has worked with fresh fruit, balloons, goose eggs and Camel cigarettes. Exhibited in 2018 at Sadie Coles HQ in London's Mayfair, Fischer's The Kiss sculpture was modelled from white Plasticine, with the gallery's visitors encouraged to touch and temper with the artwork. Fischer's life-sized wax sculptures of art industry names – curator Francesco Bona, collector Dasha Zhukova or fellow artist Julian Schnabel – come replete with wicks. Once lit, these similars slowly melt away. First finished between 2004 and 2005, Fischer's work Untitled (Bread House) imagines a true-to-size alpine cabin, its walls built from loaves of bread.
A heritage brand, at Louis Vuitton longevity is a leitmotif; its choice of Fischer as its latest marquee artist makes for an interesting contrast. Today, the artist finds beauty in the collaboration's globetrotting nature. "I have always liked the idea that Louis Vuitton artist collaborations travel around the world, beyond the walls of a gallery or museum," he says. "They're a means of communicating, of enjoying shared experiences, of having good fun."

Continue reading for free
We hope you're enjoying The Week's refreshingly open-minded journalism.
Subscribed to The Week? Register your account with the same email as your subscription.