The Deliveroo revolution
Online food delivery platforms such as Deliveroo and Uber Eats have changed the way millions eat. But at what cost?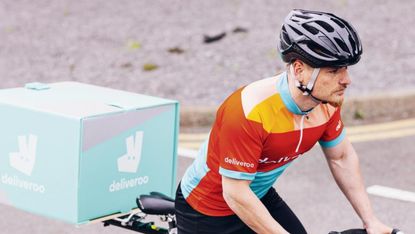 Where did Deliveroo come from?
It was co-founded in Chelsea in 2013 by Will Shu, a US investment banker who had been sent by Morgan Stanley from New York to London, and was amazed by how few takeaway options there were in the city. The takeaway market – once dominated by pizza chains and local Chinese and Indian restaurants – had already started to change, owing to the internet and the launch of the iPhone in 2007. Just Eat, a website that passed orders from customers to restaurants, had opened here in 2006. But Deliveroo didn't just process the orders, it also organised delivery, using its own couriers. It began with a handful of riders who based themselves in a Starbucks branch. Today it has 140,000 restaurant partners in 12 nations, served by 110,000 couriers; and annual revenues exceeding £1bn. It will soon float on the London Stock Exchange, valued at up to £8.8bn.
How big is the UK takeaway business today?
Subscribe to The Week
Escape your echo chamber. Get the facts behind the news, plus analysis from multiple perspectives.
SUBSCRIBE & SAVE
Sign up for The Week's Free Newsletters
From our morning news briefing to a weekly Good News Newsletter, get the best of The Week delivered directly to your inbox.
From our morning news briefing to a weekly Good News Newsletter, get the best of The Week delivered directly to your inbox.
The market has more than doubled in size in the past decade. In 2019, it was worth some £8.5bn, largely thanks to the growth of online delivery platforms. Just Eat, which now offers a similar service to Deliveroo, is the UK's biggest. The other big player, Uber Eats, opened in Britain in 2016 (worldwide it now generates more cash than Uber's cab service). Their apps and websites offer those in the UK's big cities a dizzying array of culinary options – from McDonald's to ethnic specialities to fine dining – at the tap of an app. Inevitably, the pandemic saw a huge surge in demand as people stuck at home found themselves suffering from "cooking fatigue", while thousands of restaurants launched takeaway offerings to stay afloat. Consumer spending on Just Eat rose by 54% in 2020, and on Deliveroo by 64%. The latter's core business broke even in cash terms for the first time, though overall the firm still racked up big losses.
What are the advantages of these delivery platforms?
Many restaurants welcome the new platforms because they provide an alternative revenue stream. The delivery companies offer a readymade infrastructure, a reliable service and extensive marketing. In theory, the restaurants only have to install the tech, pay the fees and cook the food; then the orders come rolling in. Deliveroo claims that restaurants it works with see their revenue increase by up to 30%. Obviously this supports jobs: a report by Capital Economics in October found that online delivery services helped protect 100,000 UK restaurant jobs between April and June last year. And consumers, who have benefited from a vast growth in choice and convenience, seem happy enough to pay delivery fees.
Are they good for restaurants?
They're something of a poisoned chalice. The delivery platforms charge commissions of between 15% and 35% (big and desirable chains get the best deals; independents or those using more than one app are given tougher terms). Many restaurants feel that they are damned if they do and damned if they don't: they need to use the platforms to keep their market share; but in a business that runs on thin margins, the hefty commission can be the difference between profit and loss. If the online orders genuinely represent extra business, that is one thing. But many fear that takeaway sales are cannibalising their customer base. And when diners eat at home, restaurants lose valuable soft drink and alcohol sales. Large volumes of internet sales also mean riders passing through their restaurants, spoiling the atmosphere. Many have opted to invest in "dark kitchens" elsewhere.
Are the platforms good employers?
Like many gig economy employers, Deliveroo classifies its delivery riders as self-employed, thus denying them the rights and benefits which would be afforded to employees. Since 2016, they have been paid on a piece-work basis rather than earning an hourly wage, starting at £3.75 per delivery. Uber Eats operates a similar system. The platforms claim that couriers like the flexibility: they can set their own hours. This is only partly true. "You don't choose your hours. The weather and customers choose your hours," one rider told The Economist. How much you earn depends on how skilfully you play the system: being in the right place at the right time for the jobs, and bagging the various bonuses available for quick delivery. Couriers are at the mercy of the app, which is stressful – and the quest to maximise jobs can encourage riders to drive fast and dangerously.
Is this situation likely to change?
It's hard for self-employed workers to take collective action: they can join unions, but companies don't have to recognise them. But political and legal pressure on gig economy companies has been mounting. Late last year, Just Eat agreed to start paying an hourly wage, as well as holiday and sick pay, pension and benefits. A landmark UK Supreme Court case last month found that Uber's cab drivers are workers, not independent contractors. However this decision does not directly affect food delivery platforms.
Are the platforms a good thing?
Together, the platforms represent a massive digital disruption of the restaurant business, similar to those wrought by Uber, Airbnb, iTunes, Netflix or Amazon (a big investor in Deliveroo) on their respective sectors. They offer a new and excellent service to consumers, who have responded enthusiastically. However, like these other forms of "platform capitalism", they are disquieting: they offer a precarious life for the workers at the bottom of the pile, and vast profits for those at the top. It seems unlikely they will ever really replace the rich experience of eating out. Besides, some kinds of food – curries or casseroles – travel well; but others such as pasta, chips and tempura, don't. Even so, it seems inevitable that takeaway platforms will continue to suck a little more of the life out of Britain's struggling high streets.

Continue reading for free
We hope you're enjoying The Week's refreshingly open-minded journalism.
Subscribed to The Week? Register your account with the same email as your subscription.