The lesson of Eric Garner: No more get-out-of-jail-free cards for cops
The non-indictment of officer Daniel Pantaleo is the latest indication that Americans need to stop deferring to the police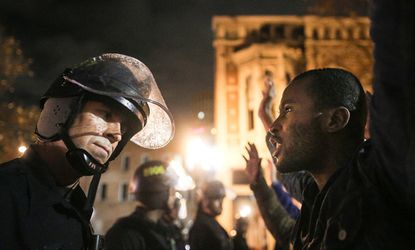 (Image credit: (Elijah Nouvelage/Getty Images))
Sign up to our 10 Things You Need to Know Today newsletter
A free daily digest of the biggest news stories of the day - and the best features from our website
Thank you for signing up to TheWeek. You will receive a verification email shortly.
There was a problem. Please refresh the page and try again.
I certainly didn't expect vindication quite this soon.
Just over a week ago, in the wake of the non-indictment of officer Darren Wilson in the shooting death of unarmed Michael Brown, I wrote a column in which I asked why it's so hard to secure indictments for police officers who kill unarmed suspects, and I suggested that it might be because Americans on the whole defer too much to the cops. I concluded by calling on prosecutors and citizens impaneled on grand juries to stop giving them quite so much benefit of the doubt.
Well, it hasn't happened yet.
Subscribe to The Week
Escape your echo chamber. Get the facts behind the news, plus analysis from multiple perspectives.
SUBSCRIBE & SAVE
Sign up for The Week's Free Newsletters
From our morning news briefing to a weekly Good News Newsletter, get the best of The Week delivered directly to your inbox.
From our morning news briefing to a weekly Good News Newsletter, get the best of The Week delivered directly to your inbox.
Writing an indignant column about the non-indictment of officer Daniel Pantaleo for strangling Eric Garner to death in a choke-hold banned by the NYPD — caught on video no less! — seems like the laziest possible thing to do at this moment. In a country divided about so much, here, it seems, is something that everyone — liberals, centrist contrarians, and conservatives (except for the usual suspects) — can agree on: this was a travesty of justice, an outcome that blatantly violates the most basic liberal democratic norms of fairness. It makes a mockery of American pretensions to be a country in which the police are public servants limited in their powers by the rule of law and by legally enforced expectations of restraint.
About this, everyone's on the same page.
Except, of course, for the only people who counted. The members of a Staten Island grand jury, who watched the same horrifying video as everyone else, somehow were led to conclude something very different: that on due consideration, Pantaleo was so obviously justified in his actions that the case doesn't even deserve to go to trial.
We can and should be outraged, but no one should be surprised. I certainly wasn't. Not after reading through the venomous responses to my previous column about the danger of deferring to the cops. Many readers praised the essay. But many others were furious. Some of those critics ignored my respectful comments about the dangerous and essential work that police officers do and laid into me for portraying all cops as ruthless and bloodthirsty. (I did nothing of the sort.) Other, more thoughtful critics pointed out that the Ferguson case wasn't a great one on which to build a critique of police irresponsibility, since there is some evidence to back up officer Wilson's contention that Brown was a serious threat.
I don't think that that objection comes close to establishing that the Ferguson grand jury made the right call in deciding not to issue an indictment. A man was shot multiple times and killed, after all, and he was unarmed, however big, heavy, and crazed he might have seemed to Wilson. That alone should be enough to justify a trial — to determine the truth of what happened, lay it out in public, and demonstrate that the government and the American people treat it as a matter of extreme gravity when an armed agent of the state resorts to deadly force against an unarmed citizen.
But let's assume for the sake of argument that the grand jury got it right on Wilson. What, then, are we to make of the outcome in the much more clear-cut case of Eric Garner's death? I suspect that members of the grand jury ended up thinking similarly exculpatory thoughts about officer Pantaleo: "True, Garner wasn't much of a threat, but he was very physically imposing. And Pantaleo's choke-hold probably wouldn't have killed Garner if he wasn't overweight, and if he didn't also have a bad case of asthma and a weak heart. Yes, the video looked really bad, but Pantaleo seemed so sincere when he testified. He didn't mean for this to happen. It was all just a tragic mistake."
And that, my friends, is how justice dies in 21st-century America.
The facts are these: Garner was (allegedly) committing a petty crime. He was unarmed. He didn't significantly resist arrest. Pantaleo employed a form of restraint that is banned by the NYPD because it is known to have led to the deaths of suspects in police custody. He was not alone; indeed, his back-up joined in piling onto Garner and probably contributed to his utterly unnecessary death.
How on Earth is that not sufficient to warrant a trial on the charge of second-degree manslaughter? Is it even possible to imagine that an indictment wouldn't have been handed down if the suspect had been anyone other than a cop?
The answer is no.
Because a significant portion of Americans apparently believes that police officers earn a get-out-of-jail-free card the moment they don their uniforms.
That is a big problem.
I'm inclined to believe that most police officers are upstanding, honest people. But this can't possibly be true of all cops. How do we know this? Because they're human beings, flawed like the rest of us. And moreover, they're human beings who have chosen a career that puts them in a position of enormous authority, armed with live ammunition, and empowered by the state to use deadly force when they deem it necessary. Unlike the U.S. military, which launches bombing runs against enemy targets only on direct orders from superior officers, cops get to make the call to unleash deadly force all by themselves, in the heat of the moment. That's hard, requiring excellent judgment, enormous restraint, and other exemplary character traits.
And that's assuming that the officer means well.
Might it be possible that some — a few — police officers on active duty just might fail to live up to these exalted standards? That a few of them just might have a sadistic streak? Just might get off on lording their authority over others? Just might harbor explosive anger at the people who inspire fear in them when they're on the job?
I'd say it's inconceivable that all cops are free of these and related pathologies. Because, once again, they are human.
How many bad apples are there? And which ones? We have no idea — and our asinine, knee-jerk deferral to the police, our unwillingness to hold them accountable before the law when they make a questionable call to use deadly force, ensures that we will never know. And it also ensures that the bad apples will receive the message that they have free rein to do whatever they want, with nearly complete impunity.
Until this changes, all of our lofty encomiums to individual liberty and limited government will amount to nothing but empty air.
Continue reading for free
We hope you're enjoying The Week's refreshingly open-minded journalism.
Subscribed to The Week? Register your account with the same email as your subscription.
Sign up to our 10 Things You Need to Know Today newsletter
A free daily digest of the biggest news stories of the day - and the best features from our website
Damon Linker is a senior correspondent at TheWeek.com. He is also a former contributing editor at The New Republic and the author of The Theocons and The Religious Test.