The Obama administration's confused, contradictory Ebola response
One part of the administration has criticized quarantines while another has imposed them. What gives?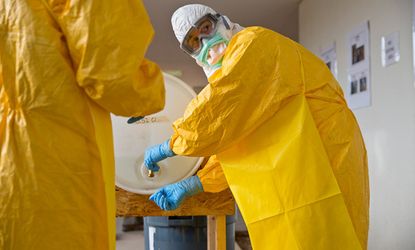 (Image credit: (AP Photo/Brynn Anderson))
Sign up to our 10 Things You Need to Know Today newsletter
A free daily digest of the biggest news stories of the day - and the best features from our website
Thank you for signing up to TheWeek. You will receive a verification email shortly.
There was a problem. Please refresh the page and try again.
The Obama administration's confused and erratic handling of Ebola created a singularly strange moment this week, when one part of the government was for quarantines, one was against them, and many of us were left wondering what the heck was going on.
It all started after Dr. Craig Spencer, returning to New York City from West Africa, failed to self-isolate while still in the incubation period for the deadly hemorrhagic fever. Amid public worry, the governors of New York and New Jersey imposed a quarantine requirement for anyone arriving in their airports from Ebola-impacted countries, including doctors and nurses returning from missions to combat the disease.
The White House immediately began pushing back against both Democrat Andrew Cuomo and Republican Chris Christie, arguing that the demand to quarantine healthy people who provided assistance was both unreasonable and unnecessary. Press Secretary Josh Earnest emphasized the heroic nature of nurse Kaci Hickox, who became the first person to have the mandatory quarantine applied when she returned from West Africa. "Somebody like Kaci Hickox who is making a commitment to volunteer her time and travel to West Africa," Earnest told reporters at the daily press briefing yesterday, delivered a "service that is deserving of praise and respect, and having her sit in a tent for two or three days doesn't exactly do that."
Subscribe to The Week
Escape your echo chamber. Get the facts behind the news, plus analysis from multiple perspectives.
SUBSCRIBE & SAVE
Sign up for The Week's Free Newsletters
From our morning news briefing to a weekly Good News Newsletter, get the best of The Week delivered directly to your inbox.
From our morning news briefing to a weekly Good News Newsletter, get the best of The Week delivered directly to your inbox.
The CDC and the National Institutes of Health initially opposed any quarantine policies and travel bans. CDC director Tom Frieden insisted that a travel ban would "backfire" by making it harder to fight Ebola in Africa. NIH director Anthony Fauci called the decision by Cuomo and Christie "a little bit draconian" and suggested that it was disrespectful to isolate health-care workers after their service in Africa. "We need to treat them, returning people, with respect," Fauci told NBC's Chuck Todd. "If someone comes back from wherever, Liberia, and they're well, they are no danger to anyone. That is for sure."
Or perhaps not. Not long after Hickox got released from her New Jersey quarantine for a home-based isolation in Maine, the Pentagon decided that its own heroes operating in Ebola-impacted nations would require a 21-day quarantine after their last contact with patients. It started with an imposed quarantine at the U.S. base in Vicenza, Italy, where even Major General Darryl Williams got ordered to remain in isolation. That cuts against the previously announced Department of Defense policy on containment, which stipulated, "as long as individuals remain asymptomatic, they may return to work and routine daily activities with family members."
As CNN reports, this new policy may not be all that new. On October 10, long before Cuomo and Christie took action in the aftermath of the New York City case, Undersecretary of Defense Jessica Wright outlined in a memo the plans for quarantining troops sent to fight Ebola on their exit from Africa. Those who had contact with Ebola patients, just as Hickox and Spencer did, would face a mandatory 21-day quarantine. Those who had traveled to the region but had no confirmed contact with Ebola patients would be required to undergo monitoring.
The Pentagon may go even further. The Joint Chiefs have recommended that all returning service members in all branches observe a 21-day quarantine. When pressed, Earnest told reporters that Defense Secretary Chuck Hagel may end up coordinating with the White House on whether to adopt that recommendation, but refused to divulge President Obama's position. "We will let the Department of Defense make an announcement," Earnest said.
The CDC ended up retreating late yesterday after the Obama administration pushback against quarantine policies. Frieden proposed a "do not board" list for high-risk personnel, keeping them from commercial air travel during the 21 days after their last exposure to Ebola. They did not go as far as the Pentagon in supporting quarantines, but instead called for voluntary self-isolation for those who may have had inadequate protective equipment while treating Ebola patients, or had an accidental needle stick during that period. Those at high risk would still be able to leave their homes, but would be discouraged from attending "congregate gatherings" like sporting events — presumably including bowling and restaurants, as Spencer did while experiencing "fatigue" prior to developing a fever.
This whole contradictory mess deepens the impression that the White House is making things up as it goes along. Within the last few days, one part of the Obama administration has criticized quarantines while another has imposed them, and the CDC has performed so poorly that public confidence in their competence has eroded. President Obama had appointed a former political aide to Joe Biden as his "Ebola czar," but no one has heard anything from Ron Klain. Indeed, the administration's responses have become more chaotic after that appointment rather than better organized.
Obama initially dismissed the danger of Ebola patients coming to the U.S. as "unlikely," and then insisted that the CDC and the White House were prepared for the low-percentage chance it might. Obama made the right call on sending U.S. forces to fight Ebola in Africa, but clearly failed to articulate a strategy for those forces when they returned — almost literally having no exit plan. The appointment of Klain had nothing to do with science and everything to do with politics, and has had no impact whatsoever on the disorganization and contradictory messages coming from the federal government.
In that environment, it makes perfect sense for governors and military leaders to fill the leadership vacuum left by the White House. Cuomo responded to criticism of the quarantine policy by admitting he might be overcautious, but "I would rather be, in this situation, a little overcautious. And," he added, "I think all New Yorkers feel the same."
After having a health-care professional bring the virus to America's most populous city, they probably do. And they would probably like to see more caution and actual disease control rather than happy talk about how difficult it is for people to get Ebola while two cases have now come from overseas, and two others from a health-care system that the CDC and the Obama administration assured Americans two months ago was ready to handle the virus. This track record on Ebola leaves no room for the benefit of the doubt any longer.
Continue reading for free
We hope you're enjoying The Week's refreshingly open-minded journalism.
Subscribed to The Week? Register your account with the same email as your subscription.
Sign up to our 10 Things You Need to Know Today newsletter
A free daily digest of the biggest news stories of the day - and the best features from our website
Edward Morrissey has been writing about politics since 2003 in his blog, Captain's Quarters, and now writes for HotAir.com. His columns have appeared in the Washington Post, the New York Post, The New York Sun, the Washington Times, and other newspapers. Morrissey has a daily Internet talk show on politics and culture at Hot Air. Since 2004, Morrissey has had a weekend talk radio show in the Minneapolis/St. Paul area and often fills in as a guest on Salem Radio Network's nationally-syndicated shows. He lives in the Twin Cities area of Minnesota with his wife, son and daughter-in-law, and his two granddaughters. Morrissey's new book, GOING RED, will be published by Crown Forum on April 5, 2016.