The danger of the Democrats' lack of desperation
Many liberals seem to think that whomever they nominate will beat whomever the GOP nominates. That's a risky assumption.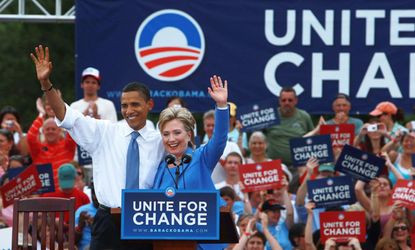 (Image credit: (Spencer Platt/Getty Images))
Necessity is the mother of invention — especially for a political party in need of a comeback.
It was, after all, a desperate Democratic Party, having lost three consecutive presidential elections, that finally nominated a relatively centrist southern governor named Bill Clinton in 1992. It worked. Eight years later, it was desperation that led the very people who disdained George "Read my lips!" Bush to fall in line behind his son, in an attempt to wrest control of the White House from the Clintonistas.
In both cases, a sort of Mut der Verzweiflung — a courage born out of desperation — led activist base voters to value winning above all else. To win, you sometimes have to take risks, or compromise some of your values. And before you're willing to make such compromises, you often have to be desperate.
Subscribe to The Week
Escape your echo chamber. Get the facts behind the news, plus analysis from multiple perspectives.
SUBSCRIBE & SAVE
Sign up for The Week's Free Newsletters
From our morning news briefing to a weekly Good News Newsletter, get the best of The Week delivered directly to your inbox.
From our morning news briefing to a weekly Good News Newsletter, get the best of The Week delivered directly to your inbox.
And really, ask yourself: Heading into 2016, which party is more desperate? Which party do you think wants it more?
My theory — based on recent history — suggests the party who hasn't occupied the White House for two or three terms has certain intangible advantages.
Now, that doesn't mean the GOP will win in 2016. It's a very open question whether Republicans have faced enough loss and humiliation to have their "come to Jesus" moment. But how Republicans respond to losing may be less important than the way winning has affected the psyche of Democrats.
Like fans of sports dynasties who assume a three-peat is theirs by right, political parties that get used to winning have a tendency to get fat and happy. Coalitions that once held together for the sake of victory (or, maybe more important, a fear of losing!) begin to lose their sense of urgency. And you know more than a few people who voted for Obama are disillusioned and looking for a change.
It's not hard to see how Democrats might take things for granted. Having won two consecutive presidential elections, many in the party, particularly the young, seem to sense that the public is now forever with them on social issues, and naively believe that they cannot possibly lose a national election. We all remember how such predictions went for Karl Rove. ...
A run of political success also affects how various coalitions and activists assess potential Democratic nominees for president. We could already be witnessing this phenomenon in the dissatisfaction progressives are beginning to display toward the presumed Democratic nominee, Hillary Clinton.
This, of course, brings us to the Elizabeth Warren boomlet. Consider this excerpt from a New York Times story this past weekend about the Netroots Nation conference:
This Democratic voter says she believes Clinton "has a better chance of beating a Republican" and yet appears to be supporting Warren anyway. You get the feeling that some young Democrats think whomever they nominate will win (a belief that was reinforced in 2008 when they passed over Clinton for Obama and still won) — so why not pick the most liberal candidate possible?
But mark my words: Despite her populist appeal, if Democrats nominated Elizabeth Warren, she would probably lose to Jeb Bush, Marco Rubio, Chris Christie, or any number of other GOP candidates. The same is true for other potential Dem contenders — Brian Schweitzer, Martin O'Malley, Joe Biden — who are either totally unknown outside their states, too liberal to appeal to independent voters, or are too closely tied to Obama's sputtering presidency.
Many Democrats are no longer desperate, so they have the luxury of falling in love — not in line. That might feel positively liberating. But Democrats also might well lose as a result.

Continue reading for free
We hope you're enjoying The Week's refreshingly open-minded journalism.
Subscribed to The Week? Register your account with the same email as your subscription.