A letter to Andrew Rosenthal of The New York Times
You may think there's little connection between ISIS, Boko Haram, and Hobby Lobby. But you obviously haven't read the op-ed section of the Times.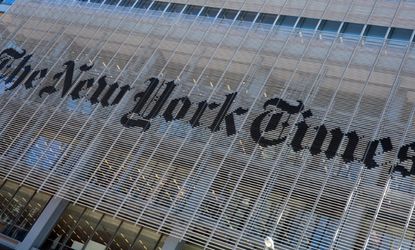 (Image credit: (Robert Such/Arcaid/Corbis))
Sign up to our 10 Things You Need to Know Today newsletter
A free daily digest of the biggest news stories of the day - and the best features from our website
Thank you for signing up to TheWeek. You will receive a verification email shortly.
There was a problem. Please refresh the page and try again.
Dear Andrew Rosenthal,
As editorial page editor of the New York Times, you're a very busy man. But I was so excited by Timothy Egan's column from last weekend that I couldn't resist writing to thank you for your good work — and to pass along a handful of proposals for some op-eds of my own. (My bosses at The Week are a little skittish about taking on the kind of bold pieces Egan has inspired me to write.)
It was so thrilling to read in the pages of America's leading newspaper about how "faith-based fanatics" are making this the "summer of the violent God," with religious zealots rampaging around the globe.
Subscribe to The Week
Escape your echo chamber. Get the facts behind the news, plus analysis from multiple perspectives.
SUBSCRIBE & SAVE
Sign up for The Week's Free Newsletters
From our morning news briefing to a weekly Good News Newsletter, get the best of The Week delivered directly to your inbox.
From our morning news briefing to a weekly Good News Newsletter, get the best of The Week delivered directly to your inbox.
It really was the audacity of the comparisons that inspired me. I loved how Egan showed the underlying connection among all these events — Muslim extremists in Nigeria kidnapping and enslaving girls to prevent them from receiving an education; Muslim militants of ISIS expelling Christians from the Iraqi city of Mosul, where they've lived for 1,700 years; the "rage that moved Hamas to lob rockets on birthday parties in Tel Aviv, and Israelis to kill children playing soccer on the beach in Gaza"; and Supreme Court justices ruling that women at some companies may have to pay out of pocket for some forms of contraception.
That's what punditry is all about: showing how everything fits together. One of my heroes, the sociologist Daniel Bell, defined an intellectual (and what is an opinion journalist if not an intellectual?) as someone who practices and perfects the art of drawing distinctions and highlighting continuities where others haven't noted them before. Egan did that masterfully. I, for one, had never noticed the deep and ominous parallels between Samuel Alito giving the conservative Christian owners of Hobby Lobby a limited exemption from government regulations and Boko Haram burning dozens of churches to the ground during Sunday services.
But the parallels are there, and they are undeniable. Religion is what connects them. And thanks to Egan's reasoning, I'm now inclined to think it's obvious that the world would be an immeasurably better place if religion would just go away. The (non-Jewish) Israelis and (non-Muslim) Palestinians would live in peace and happy harmony. Non-Muslim militants wouldn't bother to expel non-Christians from Iraq. And of course, the U.S. Supreme Court wouldn't feel obliged to protect the freedom of non-religious business owners to practice their non-faith.
Peace in the Middle East and free birth control for everyone — who could possibly object?
Only a religious fanatic, that's who.
That's the kind of sharp thinking Egan inspired as soon as I read his column.
But before long, my mind went further, building on Egan's insights to notice other, equally revealing parallels all over the world and throughout history.
That's where my op-ed proposals come in. Now that I know you're open to publishing this kind of commentary, the ideas are coming to me a mile a minute. I hope you think they show promise.
Here's one: During the administration of George W. Bush, neocons advocated the invasion and occupation of Iraq. That's exactly what National Socialist Germany did in Poland. Possible headline: How neocons are Nazis.
I know that sounds a little outrageous. But some on the far left made arguments like that around the time of the invasion. Maybe they had a point. And anyway, driving up traffic is all about starting debates, not finishing them.
And just to show you I'm no mindless partisan, I could follow up with something like this:
Democrats believe the government has a role to play in furthering justice in the world. But so did Joseph Stalin. Possible headline: How liberals are communist totalitarians.
Or if you really want to go the counterintuitive route, we could flip things around: Maybe Stalin was just a New Deal liberal.
Provocative, huh? That should really light up Twitter. I can just see the banner headline on Drudge — and the 24-card rebuttal posted on Vox by 10am the day my column appears. I say let Ezra take his best shot. He won't be able to deny the underlying logic of the comparison.
Egan's column taught me that. What matters is noticing a continuity and running with it.
Which brings me to my final pitch. It's radical, I know. But just give it a minute to sink in:
All of history's wars have been started and prosecuted by human beings. These wars have produced incalculable human suffering and well over 100 million human deaths (not to mention the pain experienced by other species and damage to the ecosystem as a whole). Perhaps we'd all be better off if we put ourselves out of our misery.
That's right: maybe mass suicide is the way to a better world.
Some will say that this is a cure far worse than the disease. But is that really true? We're all fated to die anyway. So what's the difference in bringing on the inevitable a few years early? Just think of all the human and non-human suffering it could help us to avoid. And really, isn't any less radical proposal to improve the world likely to be merely cosmetic?
Only mass suicide gets to the heart of the matter. Humanity is the problem, so humanity must be the solution.
I understand if you want to pass on this. I admit it maybe goes just a little too far. Though I must say, after reading Egan on religion, I'm hard-pressed to say precisely where my proposal crosses a line.
In any event, I thank you for your time and attention.
Admiringly yours,
Damon
Continue reading for free
We hope you're enjoying The Week's refreshingly open-minded journalism.
Subscribed to The Week? Register your account with the same email as your subscription.
Sign up to our 10 Things You Need to Know Today newsletter
A free daily digest of the biggest news stories of the day - and the best features from our website
Damon Linker is a senior correspondent at TheWeek.com. He is also a former contributing editor at The New Republic and the author of The Theocons and The Religious Test.