Will neocons ditch the GOP for Hillary Clinton?
Spoiler: Don't count on it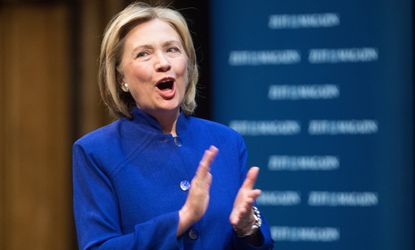 (Image credit: (Maurizio Gambarini/dpa/Corbis))
Sign up to our 10 Things You Need to Know Today newsletter
A free daily digest of the biggest news stories of the day - and the best features from our website
Thank you for signing up to TheWeek. You will receive a verification email shortly.
There was a problem. Please refresh the page and try again.
Writing in The New York Times this weekend, Jacob Heilbrunn thinks that neoconservative writers and policy analysts may be preparing to break from the Republican Party and align themselves "with Hillary Rodham Clinton and her nascent presidential campaign, in a bid to return to the driver's seat of American foreign policy."
The suggestion isn't crazy. Clinton's instincts appear to be far more hawkish than Barack Obama's. As secretary of State, she pushed the president to intervene in Libya — and tried, and failed, to get him to provide military support to the rebels seeking to overthrow Syria's Bassar al-Assad. More recently she seemed to favor a tougher response to Vladimir Putin's mischief-making in eastern Ukraine than Obama himself.
The neocon consensus that has prevailed on the right since the terrorist attacks of Sept. 11, 2001, meanwhile, is showing signs of crumbling. Most of the Republicans contemplating a run for the White House in 2016 indulge in knee-jerk expressions of toughness, but there are important exceptions. Tapping into the war-weariness of the American public, Rand Paul looks likely to run a campaign that's highly critical of U.S. military engagement around the globe. If the approach wins Paul support of the party's grassroots, at least some of his GOP opponents may feel compelled to adopt a similar line.
Subscribe to The Week
Escape your echo chamber. Get the facts behind the news, plus analysis from multiple perspectives.
SUBSCRIBE & SAVE
Sign up for The Week's Free Newsletters
From our morning news briefing to a weekly Good News Newsletter, get the best of The Week delivered directly to your inbox.
From our morning news briefing to a weekly Good News Newsletter, get the best of The Week delivered directly to your inbox.
In a presidential contest pitting hawkish Clinton against a restrained Republican, it's not inconceivable that some neocons would reverse the rightward migration of their parents during the 1970s by bolting for the Democratic Party.
But many others would not. And that tells us a lot about priorities in the neoconservative world.
Heilbrunn made things easy on himself by focusing primarily on Robert Kagan and Max Boot, two writers who have a history of reaching across the partisan aisle. Kagan has deep personal and professional ties to the neocon Weekly Standard magazine, but for his recent broadside against the Obama administration's conduct of foreign policy he chose to publish in the center-left The New Republic.
When it comes to institutional affiliation, Kagan has likewise steered clear of the neocon American Enterprise Institute in favor of setting up shop in the moderately liberal Brookings Institution. Then there are his widely publicized statements praising Hillary Clinton — and insinuating that as president she would pursue neocon policies (while her supporters insist on calling them something else).
Boot, who prefers the term "hard Wilsonian" to "neocon," has similarly lauded Clinton (also in the pages of The New Republic) for her hawkish instincts. He's also made clear over the years that, although he's happy to serve as an adviser to Republican presidential candidates, his selective attachment to the GOP is largely a function of its muscular approach to foreign policy — implying that he'd be willing to shift his loyalties if the party moved in a less militarily assertive direction.
Other neocons have different priorities — and none more so than the scions of the movement, William Kristol (son of Irving) and John Podhoretz (son of Norman). Both are royalty on the right, enjoying influence, prestige, and respect among Republicans in Washington and New York. Both likewise edit influential but low-circulation magazines (The Weekly Standard and Commentary, respectively) that depend on the largesse of right-wing entrepreneurs, foundations, and donors.
Breaking from the GOP to endorse Clinton would jeopardize and likely sunder all of these crucially important personal and financial relationships. Which means that it isn't going to happen, no matter who the Republicans nominate in 2016.
There's nothing shameful about an intellectual demonstrating loyalty to a party. Ross Douthat of The New York Times, for example, does a masterful job of nudging the GOP in the direction of reform while never going so far in his criticisms that he risks antagonizing the leadership of the party. (Sam Tanenhaus's New York Times Magazine feature from this past weekend highlights several other Republican writers and analysts who are trying to walk the same reformist tightrope.)
On the other hand, there's something undeniably impressive about the partisan fluidity of a Kagan or a Boot. They're devoted to a militarily activist role for America in the world, and they're willing to support whichever party will advance that vision.
Kristol and Podhoretz, by contrast, are Republican apparatchiks. Their fathers broke ranks, risked and lost friendships, and faced the daunting task of securing new sources of funding on an unfamiliar side of the partisan divide. But their sons have different priorities — above all keeping the family businesses afloat and thriving. There will be no reckless ideological crusades for them.
Or rather, there will be plenty of reckless ideological crusades — but only for the American military, not for Kristol and Podhoretz personally.
Which means the institutional core of the neoconservative movement won't be moving back to the Democratic Party anytime soon.
Continue reading for free
We hope you're enjoying The Week's refreshingly open-minded journalism.
Subscribed to The Week? Register your account with the same email as your subscription.
Sign up to our 10 Things You Need to Know Today newsletter
A free daily digest of the biggest news stories of the day - and the best features from our website
Damon Linker is a senior correspondent at TheWeek.com. He is also a former contributing editor at The New Republic and the author of The Theocons and The Religious Test.