Can Obama make a dovish foreign policy popular?
American voters tend to like their presidents tough. The legacy of the Iraq War could change that.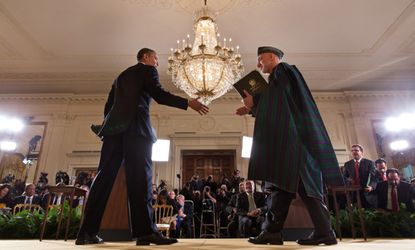 (Image credit: (CC BY: Official White House Photo by Lawrence Jackson))
Sign up to our 10 Things You Need to Know Today newsletter
A free daily digest of the biggest news stories of the day - and the best features from our website
Thank you for signing up to TheWeek. You will receive a verification email shortly.
There was a problem. Please refresh the page and try again.
One of Barack Obama's most redeeming qualities is his visceral distaste for armed conflict. Every time some hawk or another starts clamoring for military intervention, whether it's in Russia or Syria or Iraq, it's comforting to know that it makes the commander-in-chief squeamish. And Obama appears to have grown only more confident in his steadfast refusal to be drawn into war, possibly marking a distinct era in American foreign policy: the ascendance of the doves.
As my colleague Ryan Cooper has pointed out, hawkishness is the default setting of the American foreign policy establishment. For the most part, it has been this way since the end of World War II, compelling presidents and presidential aspirants alike to be tough on America's perceived enemies, from the communists in Vietnam's jungles to the terrorists in North Waziristan. Hawkishness has as much to do with policy as politics, tilting the field rightward and compelling national politicians to adopt a harder line. It now seems insane that anyone could have thought that the fall of a tiny, impoverished nation in Southeast Asia could materially affect U.S. interests, but that is what happens when perfectly intelligent people are pushed by domestic political considerations into taking a militant posture.
The Democratic Party, the political home of the doves, has long struggled with this electoral dynamic. Its dovish reputation used to be a perennial problem at the ballot box. It was only by becoming as hawkish as the hawks that Democrats were finally able to portray themselves as a "serious" foreign policy party, a development that has had enormous repercussions. It now seems insane that anyone could have thought that a massive ground invasion of a sovereign nation in the Middle East — a nation that had nothing to do with the 9/11 terrorist attacks — was necessary to protect U.S. interests, but that is what happens when there is almost no opposition to the prevailing mindset on matters of war and peace.
Subscribe to The Week
Escape your echo chamber. Get the facts behind the news, plus analysis from multiple perspectives.
SUBSCRIBE & SAVE
Sign up for The Week's Free Newsletters
From our morning news briefing to a weekly Good News Newsletter, get the best of The Week delivered directly to your inbox.
From our morning news briefing to a weekly Good News Newsletter, get the best of The Week delivered directly to your inbox.
This was Barack Obama's raison d'etre in politics. His early opposition to the Iraq War allowed him to defeat Hillary Clinton in the primary and John McCain in the general. And yet, even he had to adopt an aggressive stance vis-a-vis terrorism, committing himself to a fool's errand surge in Afghanistan that was reversed the instant the death of Osama bin Laden gave him an excuse to do so.
Indeed, Obama has taken a long and tortuous route to embracing his dovish inner soul. He famously used his Nobel Peace Prize acceptance speech in 2009 to extol the necessity of war. He helped rebels overthrow Libyan dictator Moammar Gadhafi, a humanitarian effort that nonetheless was stamped with a unique brand of American meddling that often spawns more problems than it resolves. And he flirted dangerously with getting involved in Syria's civil war, only to luckily stumble into a diplomatic solution offered at the last minute by the Russians (a plan that has gone as well anyone could have hoped).
In recent months, he has stood firm as a chorus of hawks has called on him to "do something" about Russia's invasion of Crimea, the never-ending impasse in Syria, and the deteriorating security situation in Iraq. The pressure has been notably intense in the case of Iraq, with even The New York Times suggesting that the Obama administration could have prevented a sectarian conflagration through a miraculous juggling act of interventionist policies, including strong-arming various Iraqi factions to accept a status-of-forces agreement, baby-sitting Prime Minister Nouri al-Maliki until he created an open, inclusive government, and preventing Syria from collapsing into all-out war.
This is preposterous — and Obama must know it. No matter how loudly sabers are rattled, no matter how often he is chastised by the likes of McCain and The Washington Post editorial board, he knows that it if Shiites and Sunnis are intent on killing each other, then there is little the U.S. can or should do about it. When you think of the region's shifting allegiances — the Shiites the U.S. nominally opposes in Syria are now flooding into Iraq to fight for the Shiite government the U.S. supports — it is borderline absurd to suggest that it is in the U.S.'s capability or interest to sort it out.
The Obama administration has announced it will send 300 military advisers to Iraq, and could end up undertaking a limited operation — involving air strikes or drones, perhaps — to hold the ultra-extremist group the Islamic State in Iraq and Syria at bay. But the basic principle — that not a single American life is worth sacrificing in a fight where there are no good guys — seems to be etched in stone at this point.
So now the question becomes whether a true dovish foreign policy will ever take hold with American voters, who will be the ultimate arbiters in this debate. It's telling that Mitt Romney began his 2012 presidential campaign with a tour for his book No Apologies, an indication that Obama's dovishness was perceived as his greatest political weakness.
A new poll from the Times also shows the difficulties a dovish candidate could face. Disapproval of Obama's foreign policy is at an all-time high, even though a majority largely agrees with his approach to Iraq, particularly his pledge not to send combat troops there. This deep ambivalence can be attributed to the fact that voters "still yearn for their commander in chief to manage foreign crises, even when the solutions are not obvious to them," according to the Times.
In other words, it is a problem of perception, or more accurately self-perception. Americans have little appetite for foreign misadventures, but they also are reluctant to concede their country's historical reputation as a great shaper of global events. It's hard to see how a candidate can thread this needle, though Hillary Clinton, for one, has shown a remarkable ability to disavow further military action in Iraq while preserving her reputation as a liberal hawk.
My guess is that Obama's dovish tendencies will be more respected in the years to come, and voters will look back on his reluctance to use force as one of his most endearing traits. In the meantime, perhaps the best the U.S. can hope for is a candidate who embraces the inverse of Theodore Roosevelt's dictum to walk softly and carry a big stick.
Continue reading for free
We hope you're enjoying The Week's refreshingly open-minded journalism.
Subscribed to The Week? Register your account with the same email as your subscription.
Sign up to our 10 Things You Need to Know Today newsletter
A free daily digest of the biggest news stories of the day - and the best features from our website
Ryu Spaeth is deputy editor at TheWeek.com. Follow him on Twitter.