The oil industry is not only hurting the environment — it's a bad investment, too
A new movement to divest from Big Oil focuses on the industry's wobbly business model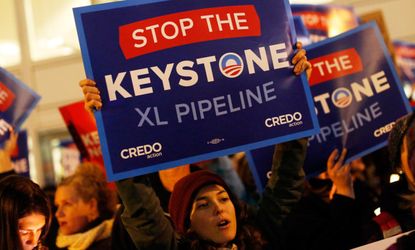 (Image credit: (STEPHEN LAM/Reuters/Corbis))
Environmental activists have long gone after oil companies for contributing to global warming. But a new campaign has sought to hurt the industry where it really hurts: the bottom line.
We know that we have to dramatically slow carbon emissions if we are to prevent catastrophic climate change. A conservative estimate is that two-thirds of extant fossil fuels must stay in the ground. These would then become "stranded assets" that oil companies will never be able to extract. And that has provided an opening to a broad-based divestment campaign, which is making a persuasive economic case against investing in Exxon and its Big Oil ilk.
As Brett Fleishman, a senior analyst at 350.org, told me, "There's too much carbon embedded in fossil fuel reserves to burn. Those reserves are on the balance sheets of fossil fuel companies. Those companies are valued by those balance sheets. Therefore those valuations are incorrect."
Subscribe to The Week
Escape your echo chamber. Get the facts behind the news, plus analysis from multiple perspectives.
SUBSCRIBE & SAVE
Sign up for The Week's Free Newsletters
From our morning news briefing to a weekly Good News Newsletter, get the best of The Week delivered directly to your inbox.
From our morning news briefing to a weekly Good News Newsletter, get the best of The Week delivered directly to your inbox.
The divestment campaign seeks to enlighten investors about these shaky assets underlying the oil industry's wealth. College students have taken aim at their university endowments, with Divest Harvard organizing divestment groups at more than 400 campuses. Towns, cities, and religious organizations have also promised to divest from fossil fuels. The action is even hotter in Europe, where financial services companies Rabobank and Storebrand have already divested from the industry, as have Swedish and Norwegian pension funds.
Institutional investors, even those that are not particularly socially conscious, are taking notice. MSCI — one of the world's top investment analysis firms — called divestment one the top trends of 2014 to watch out for. Bloomberg recently released a tool to aid companies in assessing their portfolio's exposure to climate change.
Of course, the whole campaign hinges on the premise that those fossil fuels will remain in the ground. As The Economist puts it, "Either governments are not serious about climate change or fossil fuel firms are overvalued." In other words, if there is no political will to combat climate change, then the companies are valued accurately.
Obviously, the oil industry has no intention of stranding those assets. This became evident last week when Exxon Mobil considered the risk of stranded assets. The company found that it is "highly unlikely" that government action will force it to abandon its reserves. Rather, the company said, "All of Exxon Mobil's current hydrocarbon reserves will be needed, along with substantial future industry investments, to address global energy needs."
All of this indicates that the divestment campaign must pursue a two-pronged approach. Ben Caldecott, who directs the Stranded Assets Program at the University of Oxford, tells me that the campaign could impact the oil industry indirectly, saying, "Certain companies and sectors will also become stigmatized and these could face a higher cost of capital."
But these companies are not changing their business model. "It's like asking Levi's jeans to keep 80 percent of their jeans on the shelf," Caldecott says. The fact that that national oil companies now control 90 percent of world oil reserves complicates the matter further.
That means governments are going to have to get involved. First, any action on climate change will have to be international, with the most effective strategy being the introduction of a global tax on carbon. Second, we need to begin financing a renewable energy sector to better compete with carbon-based forms of energy. And third, we have to accept the hard truth that the global economy must grow slower for sustainability's sake.
The alternative is ecological collapse. The divestment campaign has always been aimed at raising awareness among investors, the public, and politicians. The campaign has forced the issue, and Exxon Mobil has showed its cards. Right now, the company is betting governments won't act. Let's prove them wrong.

Continue reading for free
We hope you're enjoying The Week's refreshingly open-minded journalism.
Subscribed to The Week? Register your account with the same email as your subscription.