This is Obama's red line moment in Ukraine
The president vowed "consequences" should the violence escalate. That may be no more than an empty threat.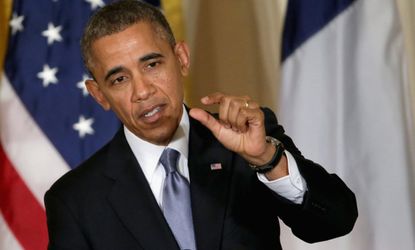 (Image credit: (Chip Somodevilla/Getty Images))
In an August 2012 moment that he has surely come to regret, President Obama said that the U.S. would not become militarily involved in Syria's budding civil war unless the Syrian government crossed a "red line" by using chemical weapons on protesters.
President Bashar al-Assad's forces eventually did just that. Then they did it again. But despite Obama's clear warning, the administration dragged its feet for months, waffled on intervention, and ultimately settled on a last-ditch diplomacy attempt that has, to this point, failed.
Now, Obama once again finds himself at a crossroads on another nation's escalating infighting, this time in the Ukraine. Thousands of Ukrainian demonstrators have staged protests since President Viktor Yanukovych backed away from a European Union trade deal in November, instead moving the country closer to Russia. The protests have escalated since, edging closer and closer to a full-scale civil war.
Subscribe to The Week
Escape your echo chamber. Get the facts behind the news, plus analysis from multiple perspectives.
SUBSCRIBE & SAVE
Sign up for The Week's Free Newsletters
From our morning news briefing to a weekly Good News Newsletter, get the best of The Week delivered directly to your inbox.
From our morning news briefing to a weekly Good News Newsletter, get the best of The Week delivered directly to your inbox.
Once again, President Obama has taken a firm stance, threatening unspecified consequences should the violence escalate.
"We hold the Ukrainian government primarily responsible for making sure that it is dealing with peaceful protesters in an appropriate way," Obama said Wednesday. "We've also said we expect peaceful protesters to remain peaceful and we'll be monitoring very closely the situation, recognizing that with our European partners and the international community there will be consequences if people step over the line."
Of course, the situation in Ukraine isn't a perfect comparison for the one in Syria. But Obama's warning against more foreign bloodshed with a near identical threat about an uncrossable "line" raises the question about how exactly he could respond, and what those "consequences" might be.
After vacillating so much on Syria, Obama doesn't have a vast reservoir of credibility in threatening decisive action over foreign, anti-democratic violence. He walked back his "red line" remark on Syria, delayed a decision on intervention even once evidence of chemicals weapons usage emerged, and finally, after making a case for missile strikes, opted for diplomacy.
In other words, Syria escaped consequences despite committing a war crime. Why would that outcome be different here?
There's also no political impetus for Obama to take forceful action. Two-thirds of Americans opposed intervening in Syria, and the nation's appetite for foreign entanglements is waning. For the first time, a plurality of Americans think it was a "mistake" to send troops to Afghanistan, per Gallup.
Even if Obama wanted to act, he would be hard pressed to find an effective way to do so. Though the violence has escalated since last year, it has yet to come close to the widespread brutality seen in Syria. Russia's full-throated defense of the Ukrainian government — and that nation's involvement in the stalled Syrian peace talks — only complicates the foreign policy math, pushing the administration to tread more cautiously.
So while the White House sympathizes with the protesters, "there really aren't any consequences in the sense that the United States can't determine the outcome on the ground," Richard Haass, president of the Council on Foreign Relations, told CNN Wednesday.
"This is not Syria, where the United States did have real options, and the president chose not to implement them," Haass added. "Here we really don't have very good options to introduce."
The president's only option may be to impose targeted sanctions as a show of disapproval. A number of senators have already asked him to punish the Ukrainian officials responsible for the conflict with such an act.
After establishing his "line" yesterday, Obama later hailed a tentative truce between the government and protesters as a chance to "provide space for the sides to resolve their disagreements peacefully." Yet the truce collapsed within hours, leading to even more violence and dozens more deaths.
Once again, Obama has drawn a line in the sand, and once again it has been crossed. But there may not be much the president can — or rather, will — do.

Continue reading for free
We hope you're enjoying The Week's refreshingly open-minded journalism.
Subscribed to The Week? Register your account with the same email as your subscription.