John Bolton will never be president
The GOP couldn't pick a worse possible candidate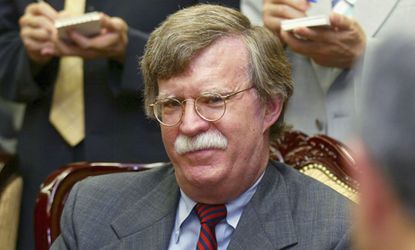 (Image credit: (Chung Sung-Jun/Getty Images))
Sign up to our 10 Things You Need to Know Today newsletter
A free daily digest of the biggest news stories of the day - and the best features from our website
Thank you for signing up to TheWeek. You will receive a verification email shortly.
There was a problem. Please refresh the page and try again.
Former United Nations Ambassador John Bolton flirted with running for president in 2012, National Review announced last summer that he has similar ambitions for 2016, and now McKay Coppins at Buzzfeed confirms that he's continuing to ponder a run for the White House.
Let's get one thing perfectly clear: John Bolton will never be president of the United States. In fact, I have a hard time thinking of a potential candidate of national standing who has less chance of becoming the Republican Party nominee, let alone prevailing in the general election.
Where to begin? How about with the fact that Bolton, who has never even run for (let alone won) any federal elective office, appears only to have fully formed views about foreign policy — at a moment when foreign policy is ranked quite low on lists of issues that are important to voters.
Subscribe to The Week
Escape your echo chamber. Get the facts behind the news, plus analysis from multiple perspectives.
SUBSCRIBE & SAVE
Sign up for The Week's Free Newsletters
From our morning news briefing to a weekly Good News Newsletter, get the best of The Week delivered directly to your inbox.
From our morning news briefing to a weekly Good News Newsletter, get the best of The Week delivered directly to your inbox.
But wait, you say, isn't that the whole point of Bolton's nascent presidential campaign — not actually to win the election but to draw greater attention to issues he cares about?
Yes, of course. The only problem is that Bolton is quite possibly the single worst person imaginable to persuade the American people to embrace a more robust foreign policy.
What is Bolton's approach to international affairs? It can be summarized, with only slight exaggeration, as: war.
Bolton is the hawkiest hawk in a party dominated by hawks.
Consider where he fits on the spectrum of right-wing foreign policy positions.
Critics of George W. Bush's decision to launch the Iraq War grew fond of describing those who favored invasion as "neoconservatives." But it was, and is, far more accurate to say that nearly everyone on the Republican side of foreign policy debates is a "realist" who thinks American interests should guide the nation's conduct in the world. Foreign policy fault lines on the right concern not whether to pursue America's interests, but how narrowly to define those interests. So-called neocons define those interests very broadly, while critics of the neocons (like fellow presidential aspirant Sen. Rand Paul, for example) define them much more narrowly.
The reason why nearly everyone on the right, along with a good many liberals, initially supported the Iraq War is that in the wake of the Sept. 11 attacks, a great many analysts concluded that Saddam Hussein's (imaginary) programs to develop weapons of mass destruction posed a considerable risk to the United States. Allowing him to remain in power therefore seemed contrary to American interests, even when those interests were defined relatively narrowly. On top of those claims, neocons inside and outside the administration added the much broader rationale that it's in America's interests to spread democracy throughout the Middle East, and toppling Hussein's dictatorship would advance that end.
But really, none of these distinctions matter in assessing Bolton's view because he believes war is nearly always in the nation's interest. It is America's all-purpose solution to every problem.
Unfair? Take a look at the record:
As a young man, Bolton supported the Vietnam War (though he joined the Maryland National Guard to avoid being personally sent into combat).
He served in the administrations of Ronald Reagan and George H.W. Bush, championing their hawkish foreign policies, including the first Gulf War.
He joined several right-wing policy shops and committees during the Clinton administration that backed military interventions in the Balkans and the use of force to topple Saddam Hussein.
He supported the wars in Afghanistan and Iraq.
He advocated the targeted assassination of Libya's Muammar Gaddafi in early 2011 and backed the Obama administration's later military intervention there.
He has repeatedly promoted war with Iran.
(Bonus: He also favors inflicting "pain" on Russia and China for their roles in aiding Edward Snowden in his flight from the American authorities.)
The only use of military force I can recall him opposing was President Obama's push last fall for a limited air strike against Syria in retaliation for Bashar al-Assad's alleged use of chemical weapons in the country's civil war. And that was at least in part because the proposed strikes would have been too limited in scope.
Bolton nearly always prefers combat to conversation or conciliation — even in his dealings with the U.N. and ostensibly friendly foreign governments, all of which he regularly attacks in op-eds published in the Wall Street Journal and other outlets. He doesn't have a diplomatic bone in his body.
Which is precisely why he failed to get confirmed by the Senate when George W. Bush nominated him as ambassador to the U.N. in March of 2005. Even with post-Sept. 11 hawkishness still the default in Washington, and with the Senate in the hands of the GOP, Bush had to resort to making trash-talking Bolton a time-limited recess appointment to the position. That's because most Democrats and several leading Republicans (including Colin Powell and Chuck Hagel) rightly concluded that, given his long record of bashing the U.N. and berating allies and enemies alike, Bolton was temperamentally and ideologically ill-suited to the job. The nomination was a little like appointing George Wallace to head the U.S. Civil Rights Commission.
This is the man to win over a war-weary America?
If Bolton goes so far as to declare his candidacy for president 2016, its most significant effect will be to make Rand Paul the happiest man in Washington.
Continue reading for free
We hope you're enjoying The Week's refreshingly open-minded journalism.
Subscribed to The Week? Register your account with the same email as your subscription.
Sign up to our 10 Things You Need to Know Today newsletter
A free daily digest of the biggest news stories of the day - and the best features from our website
Damon Linker is a senior correspondent at TheWeek.com. He is also a former contributing editor at The New Republic and the author of The Theocons and The Religious Test.