The political columnist you must read
Ron Fournier, unleashed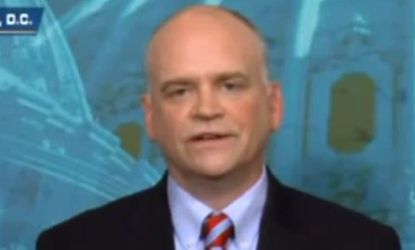 (Image credit: (Screen shot))
Ron Fournier is on fire. Liberated (my word) from the responsibilities of editing National Journal, the 20-year-veteran writer has become Washington's most trenchant, most compulsively readable political critic. Liberal or conservative, libertarian or other, you'd be wise to start reading him.
(To dispense with the compulsory narcissism: I used to work for Fournier at National Journal, and I consider him a mentor, so, yeah, I've got skin in the game. On the other hand, we've had, and still have, many arguments about politics.)
What distinguishes Fournier's work from most other practicing columnists' is his voice. Fournier was several times the chief White House correspondent for the Associated Press, making him the most well-read political writer in America at key points doing the Clinton and Bush administrations. He also spent years outside of Washington, studying and writing about political leadership and sociology. His writing is, almost irreverently, unaffected, direct, and unadorned with words like "adorn." His default setting is not snark, or venom, or cynicism, or fascism descending.
Subscribe to The Week
Escape your echo chamber. Get the facts behind the news, plus analysis from multiple perspectives.
SUBSCRIBE & SAVE
Sign up for The Week's Free Newsletters
From our morning news briefing to a weekly Good News Newsletter, get the best of The Week delivered directly to your inbox.
From our morning news briefing to a weekly Good News Newsletter, get the best of The Week delivered directly to your inbox.
He sees his charge, he told me by telephone Monday, as "to write about the challenges and opportunities of leading in this period of enormous change, and because of this change, this enormous dysfunction." The day after Obama was re-elected, Fournier wasted no time committing heresy. "Barack Obama won a second term but not mandate," was how he led his piece. It's a common enough notion: An election where the margin of victory does not exceed five percent really shouldn't strike anyone as a blow-out. But Fournier wasn't done. Obama, he said, won "thanks in part to his own small-bore and brutish campaign," and so his victory "guarantees the president nothing more than the headache of building consensus in a gridlock capital on behalf of a polarized public."
Whoop! Whoop! It's at this point that the siren of "false equivalency" begins to ring, especially if the totality of your reading consists of meta-criticism. How could he possibly blame Obama for Washington's dysfunction given how awful Republicans have been? He must really want to curry favor with Republicans, to keep his sources, to keep his place in the hierarchy of status. After all, didn't he once tell Karl Rove to keep up the fight?
Read on, brother.
Fournier wants Washington to work. He wants political leaders to lead. He prays for them. He believes that most elected officials are decent human beings.
Fournier's worldview is this: Obama, as president, has a responsibility to lead, even if Republicans are the worst, most implacable, most irresponsible group of American politicians on the face of the continent, which, by the way, they are. Fournier has written presciently and regularly on the racially-tinged appeals that Republicans resort to, and how it's hard to come to any other conclusion that the party is "clueless, heartless and gutless" at its core. Its leaders do not have the moxie to defy their base, and the party has shamefully attempted to dismantle and discredit government wherever it is vulnerable.
But Fournier doesn't write primarily about Republican dysfunction. More often, he writes about Obama's failure to lead. And leadership is not an abstract conception. It is not the same thing as shouting more loudly than Republicans. It is not the same thing as forcing the other party to bend to your will. Fournier believes that leadership is about the slow and cumbersome and often frustrating process of putting one foot in front of the other and bringing more and more people along with you. Specifically, Obama promised too much, overestimates how weak he is institutionally, overestimates how strong Republicans are, and retreats to the comfort of a small group of advisers who exacerbate his worst instincts. Like President Bush, he became a captive of a city he was sent to reform.
Underlying all this is Obama's personal credibility, a character trait that Obama wasted by failing to "treat Americans as adults." "Credibility is the number I look at the most," Fournier says. The Obama administration, he believes, has repeatedly misled the public. They misled about Benghazi, not in the way that Republicans claim, but simply by failing to explain to Americans what happened. The White House misled the public about the full scope of the IRS scandal. They were deliberately opaque about the extent of the National Security Agency's domestic surveillance programs. The administration, certainly, just plain lied about health care. Obama's inability to get stuff done, to be audacious, is his own fault, Fournier believes, and the failure of Obama's project is just as damaging to the project of governance and an active government, something which Fournier supports.
Specifics, please, Ron.
Ok. First: "Could he get a grand bargain" on taxes and the budget? "Yes he can. But he's not listening." Fournier notes (correctly) that Republicans were willing to raise taxes again during the first several months of 2013 if Obama would only sell the Democratic Party on modest changes to entitlements. Sell them, actively, not just lay a marker. But Obama didn't sell them on it. Fournier supports a "grand bargain," and he suggests that Obama's overestimation of Republican intractability doomed its chances. Speaker Boehner doesn't come out as the hero here, but Fournier thinks Obama lacked the political skills to adapt to the times. Over and over, he comes back to this theme. Yeah, Republicans are bad. Yeah, Obama and the Democrats aren't behaving as badly as the Republicans. But "we're not worse" is a hell of a governing philosophy.
"He still has enormous power of the president. Can he wave a magic wand and make shit happen? No. But he does have enormous power, and enormous skill, and he could certainly use them to fight for the values he's articulated. Instead, he's given up. He's decided...he's not going to be quite as bad as the Republicans. 'Yeah, we've done this but they are worse.' What I want to know is, what would take for him to be great? Since when did we teach our kids to grow up not to be the worst?"
Obama is "dangerously close to following [George W.] Bush into one of the darkest corners of the American presidency, when the public stops listening to its chief executive," he wrote. Was the health care portal debacle his Katrina? Of course, and of course not. Of course not, in that the personal devastation wrought by Katrina was orders of magnitude worse than the failure of a website. But of course it was: It threatens to undermine his signature accomplishment, damage his personal appeal, and consign himself to irrelevancy. So, in the way that Katrina crystallized everything that was wrong about President Bush in the minds of Americans willing to give him a chance, so too has Obama's failure to anticipate, to lead, to manage the process of governing been incredibly harmful to the very thing Obama expended so much political capital trying to get done.
Disagree with Fournier on the specifics, by all means, but if you want to understand what's going on, and crave an explanation that is not blind to reality but lets no one off the hook, you need to read him. The final reason for this is that Fournier has been right about this stuff in the past.
Sept. 2, 2005: WASHINGTON (AP) -- The Iraqi insurgency is in its last throes. The economy is booming. Anybody who leaks a CIA agent's identity will be fired. Add another piece of White House rhetoric that doesn't match the public's view of reality: Help is on the way, Gulf Coast.
Sept. 12, 2005: WASHINGTON (AP) -- The fatally slow response to Hurricane Katrina unleashed a wave of anger that could transform people's expectations of government, the qualities they seek in political leaders and their views of America's class and racial divides. It's a huge opportunity that neither party seems poised to exploit.
Nov. 9, 2005: WASHINGTON (AP) -- Iraq, Katrina, CIA leak, Harriet Miers. Things couldn't possibly get any worse for President Bush. Wait, they just did.
March 3, 2006: WASHINGTON (AP) -- President Bush vowed, "We are fully prepared." Mike Brown barked orders. Weather experts warned of a killer storm. The behind-the-scenes drama, captured on videotape as Hurricane Katrina roared ashore, confirmed Americans' suspicions of government leaders: They can run a good meeting, but little else.
Or this one from January 2007: "President Bush has lost the greatest commodity a president can possess: The public's trust. Scattered with Katrina's winds and buried in the bloody battlefields of Iraq, his credibility is likely gone forever, which means there will be no political comeback for Bush. His die is cast."
The Bush White House angrily objected to these and other stories that pounced on his failures and consequences. Most conservative writers and some media critics objected to the stories, which were part of the AP's attempt to move away from false-equivalence analysis to edgy pieces of "accountability journalism."
The Obama White House is angry and, like the Bush team in 2005, mocking and punishing reporters who dare to question their tactics or their boss. Obama has his own hosanna chorus in the media to ridicule any comparisons — just as Bush did.
Once again, a man twice elected to change the culture of Washington is a captive of it. Wait ... you could say the same of Bush.
Officially, the White House isn't happy with Fournier. The people who are paid to talk to the press don't talk to him. But Fournier let me in on a little secret. "Often, these pieces are just my name on top people very close to Obama's rants. The people who call me up and say, 'Hey, i can't believe we're about to do this,' or, 'Hey, you need to focus on this."
Fournier in this manner is channeling the broader frustration of the Obama world with Obama, his close coterie of aides, and his own insularity. Fournier is simultaneously a cheerleader for Obama's better instincts, for his desire to be great, to be audacious, to move America forward.
I told Fournier that I detected a hint of despair in his writing.
He noted that he has been challenging presidents to lead since 1993.
But, he said, "I feel more despair like most Americans do because things worse."
"All I know is that when you lose the public's trust, whether you're selling ice cream, Jesus Christ, or votes, once you lost your credibility, you're toast. One president after another, I've watched them give it away."

Continue reading for free
We hope you're enjoying The Week's refreshingly open-minded journalism.
Subscribed to The Week? Register your account with the same email as your subscription.