Why 2016 is ripe for an independent presidential candidate
Bernie Sanders for president?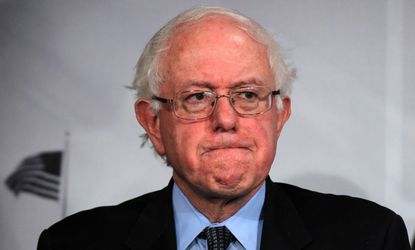 (Image credit: (Alex Wong/Getty Images))
Voters are fed up with pretty much everyone and everything in Washington.
Congress is literally less popular than dog feces (according to one poll), a majority of Americans think President Obama is not honest, and there is broad bipartisan dismay with the direction the nation is headed in.
All of which is to say that the time could be ripe for an insurgent third-party candidate to channel all that populist outrage into electoral success.
Subscribe to The Week
Escape your echo chamber. Get the facts behind the news, plus analysis from multiple perspectives.
SUBSCRIBE & SAVE
Sign up for The Week's Free Newsletters
From our morning news briefing to a weekly Good News Newsletter, get the best of The Week delivered directly to your inbox.
From our morning news briefing to a weekly Good News Newsletter, get the best of The Week delivered directly to your inbox.
Or, heck, why not two independent candidates?
Sen. Bernie Sanders, the Independent from Vermont, told the Burlington Free Press this past week that while he didn't want to run for president, he might feel compelled to get in the race if there's no true liberal in the running. And with the Democratic field to be possibly dominated by Hillary Clinton, whom some progressives fear is too cozy with Wall Street, Sanders could potentially find himself a place on the left of the other candidates.
"Under normal times, it's fine, you have a moderate Democrat running, a moderate Republican running," Sanders said. "These are not normal times. The United States right now is in the middle of a severe crisis and you have to call it what it is."
Sanders has a bigger social media following than almost anyone else in Congress. And he earned something of a national reputation with a nearly nine-hour-long filibuster of a proposed tax compromise in which he blasted wealth inequality in America.
He would have trouble courting big-money backers, something he openly acknowledged to the Free Press. But he does have a deep activist-powered fundraising network around the country that could plausibly raise a decent chunk of money to fund a presidential campaign.
"There is no shortage of billionaires willing to bankroll extreme right-wing candidates," he wrote in a recent national fundraising letter. "We have to respond."
Money aside, Sanders or any other self-styled Democratic socialist would be an enormous long shot in a presidential race that favors the entrenched two-party system. Yet the political climate is at least warming to the idea of an insurgent lefty campaign.
A 2011 Pew survey found that young Americans viewed the term "socialism" slightly more favorably than they viewed "capitalism." And this November, Bill de Blasio, an unabashed progressive and alleged communist, earned a resounding win in the New York City mayor's race with his "Tale of Two Cities" message, while socialist candidates nearly picked up city council seats in Seattle and Minneapolis.
Meanwhile, there's room on the far right for an independent candidate to emerge there, too.
Tea Party Republicans have for some time been floating the idea of breaking off from the GOP and running their own candidates. Though they hail from the opposite end of the political spectrum than Sanders, their supporters share a skepticism of the status quo that has gained traction in recent years, and that could help a nascent party get off the ground.
Plus, the GOP's approval rating is at an all-time low, with even members of the party faithful becoming less, well, faithful after the government shutdown. If the GOP were to nominate an establishment figure like New Jersey Gov. Chris Christie in 2016 — or if a battle between someone like Christie and a Tea Party hero drives a wedge between the GOP's two camps — a chunk of jilted voters could support a more conservative candidate whom they feel better represents their interests.
Remember, Donald Trump and Herman Cain briefly led the GOP horse race in 2012 before being laughed off the national stage, indicating there was at least a desire among GOP voters for an outsider-type candidate. If a more serious alternative to the mainstream GOP decided to run independently in 2016, he or she could potentially tap into that same sentiment.
If everything aligns perfectly — and yes, it's way too early to start gaming out exactly how that could happen — we could see a rare, four-way battle for the White House, with upstarts on the left and right trying to capitalize on pervasive anti-Washington anger. It's incredibly unlikely that such a race would really happen, but it sure would be fun to watch.

Continue reading for free
We hope you're enjoying The Week's refreshingly open-minded journalism.
Subscribed to The Week? Register your account with the same email as your subscription.