Ted Cruz's new ObamaCare hostage: The military
The Texas senator's piecemeal plan to defeat ObamaCare is starting to get out of control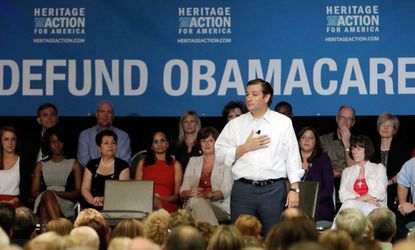 (Image credit: (Brandon Wade/Getty Images))
Sen. Ted Cruz (R-Texas) isn't backing down from his quixotic quest to destroy ObamaCare.
On Friday, House Republicans passed a stopgap spending bill, known as a continuing resolution, that would prevent the federal government from shutting down on Oct. 1 — provided that ObamaCare is defunded. The Democratic-controlled Senate will likely strip the bill of the provision defunding ObamaCare and send it back to the House. And even if the bill somehow did pass the Senate as is (it won't), President Obama will veto it.
Still, Cruz is doubling down. Yesterday, he befuddled Fox News' Chris Wallace with a scheme so counterintuitive that it threatens to spill over into outright nonsense: Namely, to filibuster the very bill he supports, in order to prevent Senate Majority Leader Harry Reid (D-Nev.) from making any changes to it.
Subscribe to The Week
Escape your echo chamber. Get the facts behind the news, plus analysis from multiple perspectives.
SUBSCRIBE & SAVE
Sign up for The Week's Free Newsletters
From our morning news briefing to a weekly Good News Newsletter, get the best of The Week delivered directly to your inbox.
From our morning news briefing to a weekly Good News Newsletter, get the best of The Week delivered directly to your inbox.
He also laid out his back-up plan, which he fleshed out at Real Clear Politics today:
The point is to get Reid and Senate Democrats to reject funding for the military to keep ObamaCare running. But Cruz's strategy also essentially amounts to holding the military hostage to Tea Party demands, rather than the government as a whole.
This could be a bad idea for Republicans for several reasons. First, nearly 60 percent of Americans do not want Congress to defund ObamaCare if it involves shutting down the government, according to a new CNBC All-America Economic Survey — and a shutdown is precisely where Cruz's brinksmanship is heading.
Second, as Meredith Shiner points out in Roll Call, the House already approved a Defense Department spending bill in July, meaning "passing another bill would be repetitive."
Finally, Cruz's strategy is designed to inflict maximum political pain on his own party. As Greg Sargent at The Washington Post notes, Cruz keeps coming up with increasingly creative ways to put pressure on House Republicans to shut down the government — or face the wrath of the conservative base:
Some Republicans in the House aren't too happy about the pressure from Cruz and and other Tea Partiers in the Senate.
"I'm going to try not to do to them what they do to us," Rep. James Lankford (R-Okla.) tells Politico. "Which is tell us what to do."
On Fox News, conservative commentator Brit Hume criticized Cruz and his allies for "kind of making things up as they go along," complaining that the piecemeal strategy was "very time-consuming," especially for something that might not work.
"Time after time in these fights over the years, when there's a been a shutdown prospect or an actual partial shutdown, which has happened a couple of times, Republicans got all the blame," Hume said. "Even people who are terribly disappointed in the performance of government do not want to see it shut down."

Continue reading for free
We hope you're enjoying The Week's refreshingly open-minded journalism.
Subscribed to The Week? Register your account with the same email as your subscription.