Is Ted Cruz throwing the GOP under the bus?
The Texas senator is pushing his fellow Republicans into an unenviable corner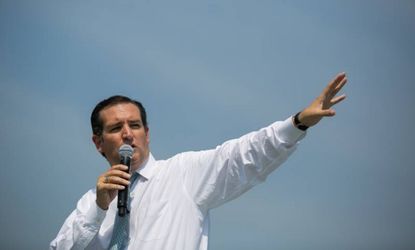 (Image credit: (Getty Images/Drew Angerer))
After months of saber-rattling, House Republicans on Wednesday announced they would tie a government spending bill to a vote on defunding ObamaCare after all.
The federal fiscal year ends September 30, leaving Congress with two weeks to pass a budget bill or trigger a government shutdown. Tea Party Republicans, most prominently Sen. Ted Cruz (R-Texas), pushed for the tandem vote, and now they have their wish.
Only one problem: The bill has no chance of becoming law.
Subscribe to The Week
Escape your echo chamber. Get the facts behind the news, plus analysis from multiple perspectives.
SUBSCRIBE & SAVE
Sign up for The Week's Free Newsletters
From our morning news briefing to a weekly Good News Newsletter, get the best of The Week delivered directly to your inbox.
From our morning news briefing to a weekly Good News Newsletter, get the best of The Week delivered directly to your inbox.
Sure, it can pass the Republican-controlled House, but it is destined to die in the Democratic-controlled Senate. Cruz even conceded that point Wednesday, saying in a statement that Senate Majority Leader Harry Reid (D-Nev.) "will no doubt try to strip the defund language from the continuing resolution, and right now he likely has the votes to do so."
Under a likely scenario, the Senate would then send a bill sans the defunding language back to the House, where Republicans would have the choice of spiking it or agreeing to give up the fight and simply fund the government. And should House Republicans cave, Cruz is prepared to blame them for failing to defeat ObamaCare.
"House Republicans must stand firm, hold their ground, and continue to listen to the American people," he continued in his statement.
See what he did there?
For Cruz, the defund strategy is a win-win. He can hold it up to conservatives as proof of his commitment to their goal of killing ObamaCare, while dumping the blame, should the House ultimately pass a clean budget bill, squarely on weak-kneed Republicans.
That leaves House Speaker John Boehner (R-Ohio) in an excruciating bind. Afraid of riling up the Right, Boehner has had to go along with a doomed plan and risk shutting down the government in the process — which, in turn, could come back to bite the GOP when voters blame the party for needlessly bringing government operations to a grinding halt.
A government shutdown has the potential to be politically disastrous for the party. A CNN poll last week showed that 51 percent of Americans would blame the GOP in the event of a shutdown, versus 31 percent who would blame President Obama.
Already, Cruz's effort has triggered GOP infighting, with House members privately fuming about his interference.
House Republicans can complain all they like — Cruz stands to gain big from being the primary champion of the defund effort.
While ObamaCare remains unpopular, most Americans don't want Congress to keep trying to kill it. Except Tea Party supporters: Among that group, 64 percent said lawmakers should do everything possible to stop ObamaCare, according to a recent Pew poll.
For a potential 2016 aspirant, standing tall on an issue dear to conservatives' hearts is a winning position.
Even if Cruz fails in his quixotic defunding quest, he is "not likely to suffer much damage to his image in the eyes of his most loyal supporters," writes the Washington Post's Sean Sullivan. "If anything, they'll laud him and his allies for taking up the fight in the first place."
It should be noted that Republicans can't actually delay ObamaCare even if they shut down the government. So with the joint vote moving forward, House Republicans will either be forced to eventually cave to Democrats and be blasted from the right, or hold firm and shut down the government for no purpose whatsoever. Neither option is politically palatable.
Cruz, meanwhile, is sitting pretty — even if it means doing harm to the rest of the party.

Continue reading for free
We hope you're enjoying The Week's refreshingly open-minded journalism.
Subscribed to The Week? Register your account with the same email as your subscription.