The sound and the fury of Bill de Blasio
The populist New Yorker is riding a wave of liberal anger straight to the mayor's office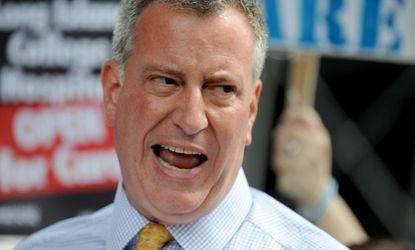 (Image credit: (Dennis Van Tine /Retna Ltd./Corbis))
In an outcome that few but Twitter persona Real Kaplan would have predicted a few months ago, Public Advocate Bill de Blasio has run away with the Democratic primary in the New York City mayor's race, crossing the 40 percent threshold needed to avoid a runoff.
With 97 percent of precincts reporting, initial results show De Blasio garnering just over 40 percent of the primary vote, compared with 26 percent for former Comptroller Bill Thompson and a measly 15 percent for City Council Speaker Christine Quinn, who was once considered the front-runner due to her long and fruitful relationship with outgoing Mayor Michael Bloomberg. (N.B.: Final results could knock de Blasio below the 40 percent cut-off, which would lead to a runoff with Thompson.)
But that relationship ended up being Quinn's downfall, as the race turned into a referendum on the Bloomberg years that revealed the deep extent to which liberals have grown to dislike their billionaire mayor. Indeed, judging by the fire-breathing rhetoric of this odd campaign, you would have thought that Bloomberg had presided over the rapid decay of America's largest city.
Subscribe to The Week
Escape your echo chamber. Get the facts behind the news, plus analysis from multiple perspectives.
SUBSCRIBE & SAVE
Sign up for The Week's Free Newsletters
From our morning news briefing to a weekly Good News Newsletter, get the best of The Week delivered directly to your inbox.
From our morning news briefing to a weekly Good News Newsletter, get the best of The Week delivered directly to your inbox.
Of course, nothing could be further from the truth. Crime is way down. The economy continues to hum despite the fact that Wall Street suffered its most devastating meltdown since the great crash of 1929. And the mayor's much-vaunted public health campaign has produced real results, particularly in reducing smoking rates.
Overall, the vast majority of New Yorkers are satisfied with his performance, with 83 percent saying he has done an excellent, good, or fair job over his 12-year tenure, according to a recent New York Times poll. And as we have seen with other controversial politicians, his approval ratings are only likely to grow once he leaves office.
Bloomberg's failures, however, are also clear. Income inequality is stark, which is obvious to anyone who commutes from the outer boroughs to Manhattan. The mayor's zealous focus on real estate development has crowded out affordable housing. And most problematically, the New York Police Department's stop-and-frisk tactics have resulted in invasive racial profiling of minority citizens.
De Blasio has made an entire campaign of these shortcomings, weaving what he calls "A Tale of Two Cities" in which Bloomberg plays the role of the heartless plutocrat who has callously ignored the city's struggling masses. If de Blasio failed to match the soaring oratory of a Barack Obama, he won converts with the kind of earnest progressivism one would expect from a Park Slope father, which is exactly what he is.
On stop-and-frisk, de Blasio memorably showcased his half-black son denouncing racial profiling in what turned out to be the most influential ad of the campaign season. Depending on your taste, the ad was either oily exploitation or an evocative example of the real-world impact of stop-and-frisk; either way, it clearly resonated with many voters.
The problem is that de Blasio has offered few actual solutions to any of these problems. His main policy proposal to reduce income inequality — which would involve taxing the rich to pay for universal pre-kindergarten — has been widely dismissed as a gimmick that will never fly in Albany. De Blasio "hasn't a snowball's chance of" pulling off such a scheme, said the New York Daily News in an editorial endorsing Quinn.
And as The New York Times put it in another Quinn endorsement, "Once a Mayor de Blasio saw his boldest ideas smashed on the rocks of Albany, then what?"
On stop-and-frisk, de Blasio supports establishing an independent inspector general who would monitor the NYPD to prevent racial profiling. But Speaker Quinn already created precisely that position last month, using her famous clout to marshal enough votes to override a Bloomberg veto. Both candidates say they would respect the recommendations of a recent federal court ruling, which found that Bloomberg's implementation of stop-and-frisk was unconstitutional. Meanwhile, data shows that such stops have plummeted in recent months, a possible indication that much-needed reform is already underway within the NYPD.
Would a Mayor de Blasio end stop-and-frisk, the actual policy of allowing police officers to stop people suspected of criminal activity and search them for weapons or contraband? Of course not. Would he be more effective than Quinn in ensuring that racial profiling does not occur? There's no way to tell, but it's a virtual certainty that a Mayor de Blasio will be much tougher on crime than candidate de Blasio. As Bloomberg himself noted in a combative interview with New York: "I think that if crime starts tweaking up the tiniest bit, there's going to be enormous pressure."
What, then, is the de Blasio campaign based on, beside a primal scream of liberal dissatisfaction? Some platitudes about respecting every teacher and fighting for every hospital, as well as the return of entrenched liberal interest groups that don't always work in the best interests of the city.
That is not to say that de Blasio will necessarily be a bad mayor if, as expected, he goes on to defeat Republican Joe Lhota in the general election in November. However, his campaign, in successfully channeling the anger of the Democratic base, is a testament to the power of raw emotion in electoral politics, not of honesty, pragmatism, or wisdom.

Continue reading for free
We hope you're enjoying The Week's refreshingly open-minded journalism.
Subscribed to The Week? Register your account with the same email as your subscription.