Obama gets tough on Syria: What are America's options?
The president appears to be on the verge of military action. It remains to be seen just how much he can accomplish.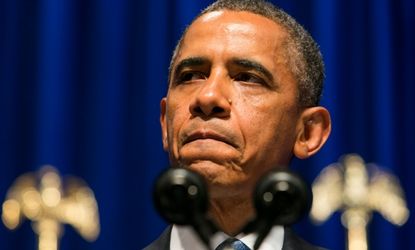 (Image credit: Kristoffer Tripplaar-Pool/Getty Images)
It turns out President Obama's "red line" might mean something after all.
That's the message that came through loud and clear on Monday, when Secretary of State John Kerry forcefully condemned the Syrian government for allegedly using chemical weapons to kill hundreds of people last week. In an address notable for its lack of diplomatic hedging, Kerry said it was "undeniable" that the regime of Syrian President Bashar al-Assad had used chemical weapons against civilians, an atrocity that Kerry searingly described as a "moral obscenity."
"By any standard it is inexcusable," Kerry said, adding, "President Obama believes there must be accountability for those who would use the world's most heinous weapons against the world's most vulnerable people."
Subscribe to The Week
Escape your echo chamber. Get the facts behind the news, plus analysis from multiple perspectives.
SUBSCRIBE & SAVE
Sign up for The Week's Free Newsletters
From our morning news briefing to a weekly Good News Newsletter, get the best of The Week delivered directly to your inbox.
From our morning news briefing to a weekly Good News Newsletter, get the best of The Week delivered directly to your inbox.
The Obama administration has not publicly declared any new policy regarding Assad's regime. But the message Kerry sent was unmistakable, all but committing the government to stepping up its involvement after years of hemming and hawing. Kerry's remarks recalled President George H.W. Bush's approach during the lead-up to the first Gulf War, when the president reacted to Iraq's invasion of Kuwait by declaring, "This will not stand."
There are other signals that Obama has made up his mind. The administration is not waiting to hear the findings of a United Nations investigative team, which was finally able to gain access to the alleged site of the attack after facing fire from Syrian forces.
And it appears the U.S. and its allies no longer believe they need the imprimatur of the U.N. Security Council to move more aggressively against Assad, finally circumventing longstanding obstruction by Russia. "Is it possible to respond to chemical weapons without complete unity on the U.N. Security Council?" asked British Foreign Secretary William Hague in an interview with the BBC. "I would argue, yes it is. Otherwise, of course, it might be impossible to respond to such outrages, such crimes. And I don't think that is an acceptable situation."
The White House's shift in posture was welcomed by both liberals and conservatives commentators, encompassing humanitarian and hawkish arguments for intervention. "The president was right to make chemical-weapons use the 'red line' that Assad must not cross," said Eugene Robinson at The Washington Post. "Upholding the principle that such weapons must never, ever be employed is so important that Obama, in my view, really has no choice."
However, Obama will face obstacles, including a war-weary American public that is understandably wary of embroiling the U.S. military in yet another conflict in the Middle East. That, in turn, could color Congress' response to whatever plan the White House cooks up. Though it's an open question whether Obama will even seek Congress' approval, or act unilaterally, as he did in Libya.
But there's a more important question: Will an allied intervention — presumably led by the U.S., whether from the front or behind — make a difference?
The military options on the table are vanishingly few. Barring a full-scale invasion, which is reportedly not in the cards, the U.S. pretty much has two choices: Launching missile strikes, or combining such strikes with a no-fly zone that would neuter Assad's air force.
Here's Max Fisher at the Washington Post on the missile-strike option:
Some argue that the point of such strikes would be to deter Assad from using chemical weapons again, not to topple him. But there is also the risk of inciting desperate, wild attacks in response. Here's David Lerman and Indira A.R. Lakshmanan at Bloomberg:
Then there's the option of a no-fly zone. Gen. Martin Dempsey, chairman of the Joint Chiefs of Staff, told Congress this month that the U.S. could destroy Assad's air force, but only at the risk of "escalat[ing] and potentially further committ[ing] the United States to the conflict." Fred Kaplan at Slate thinks this may be Obama's only feasible option.
In other words, none of the options facing the Obama administration are likely to produce the type of clear-cut victory that the elder Bush enjoyed after expelling Saddam Hussein's troops from Kuwait. And even if Assad were to fall, there's no guarantee that any opposition group in Syria can be relied on to bring stability to the country, while remaining friendly to U.S. interests.

Continue reading for free
We hope you're enjoying The Week's refreshingly open-minded journalism.
Subscribed to The Week? Register your account with the same email as your subscription.